Triple Eight will return to the Bathurst 12 Hour in 2019 to with a GT3 Mercedes for its current Supercars drivers Craig Lowndes, Jamie Whincup and Shane van Gisbergen.
The team suggested the line-up will be "arguably the most formidable trio ever seen at the mountain".
Between them, the three drivers have 15 wins and 29 podiums across the Bathurst 1000 and 12 Hour.
The #888 entry under the Team Vodafone banner in next February's Intercontinental GT Challenge opener will be a joint effort between Triple Eight and the Scott Taylor Motorsport team that ran Tony D'Alberto and Max Twigg to this year's Australian GT Endurance title.
Triple Eight's only previous foray into the Bathurst 12 Hour was in 2017 in conjunction with Maranello Motorsport, when Lowndes, Whincup and Tony Vilander won.
"It's sort of like the old rat pack back together again, although we've got Shane on board," said Lowndes.
"The car has lots of memories of when we had Vodafone on the supercar [from 2007-12, pictured below], but it's great to see the old colours back, great memories for that era.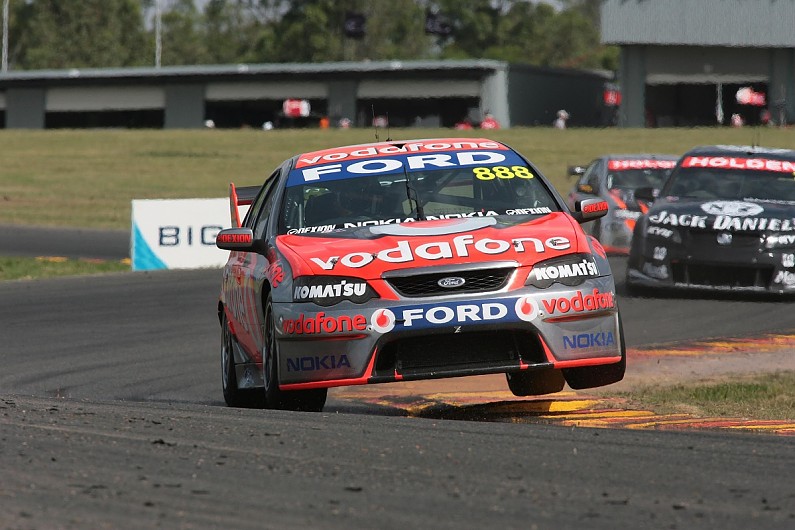 "It's going to be nice, obviously the three of us are very well compatible and we know the circuit very well. To have all three of us in one car is very strong.
"I'll need to get my head around the car, but I'm sure that'll come pretty quickly."
Lowndes is retiring from full-time competition at the end of the 2018 Supercars season.
Van Gisbergen has the most GT experience of the trio, having been part of the 2016 Blancpain GT Series Endurance Cup title-winning line-up.
"It's amazing to team up with these guys," he said of sharing a car with Whincup and Lowndes.
"Working alongside them in the race team has been awesome, but getting to drive with them will be a pretty special moment for me."
Van Gisbergen goes into the Supercars title decider in Newcastle next weekend 14 points behind leader Scott McLaughlin.
"We've got a fair bit of Supercars action to get through before we can fully think about the 12 Hour, but it's definitely good to have everything locked away for it for next year," Van Gisbergen added.