The Honda NSX GT3 already racing in North America as an Acura will go on sale to customers ahead of the 2018 season.
The Japanese manufacturer reaffirmed its commitment to offer cars for sale on the announcement of its GT3 customer programme at Spa today ahead of this weekend's blue-riband round of the Blancpain GT Series.
Honda plans to deliver 12 of the mid-engined cars in time for the start of next season and a minimum of 70 over the seven-year homologation of the car up to the end of 2024.
Honda Motor Europe racing boss Robert Watherston explained that the time was right to launch the customer programme after a successful first season with factory Acura NSXs in the IMSA SportsCar Championship and Pirelli World Challenge in 2017.
Its lead IMSA car (pictured below) is third in the GTD points in the hands of race winners Andy Lally and Katherine Legge, while its best PWC result is a brace of fifth places for Ryan Eversley and Tom Dyer.
"We've led the Daytona 24 Hours, had pole positions and race wins in North America, so having proved the competitiveness of the car, we felt it was the right time to announce a global customer programme," said Watherston.
"GT3 offers a global platform, so it is the perfect opportunity to reach a lot of people with our flagship car."
Watherston revealed that discussions with potential customers for next year had already started.
"Two teams are interested already and we are pretty confident that we are going to have some good conversations this weekend," he explained.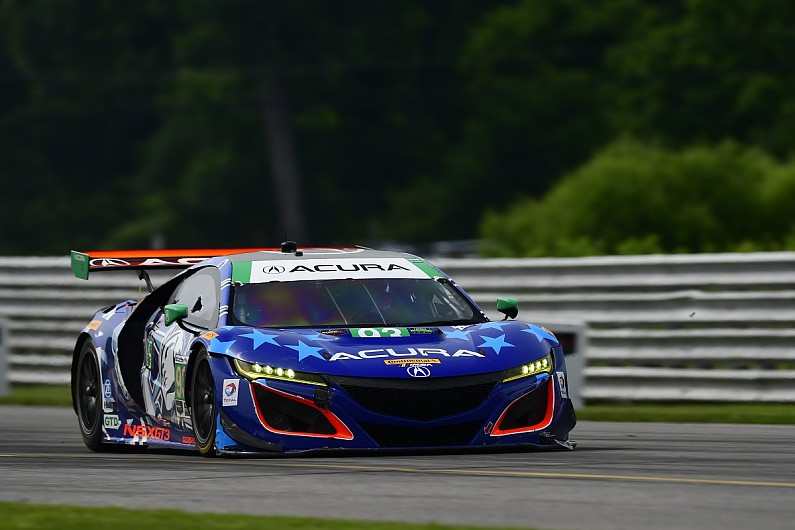 The car will retail for €465,000 (£413,850), which Watherston described as a "competitive price".
Long-time Honda motorsport partner JAS Engineering is building the cars in Italy and will service NSX customers in Europe, while Mugen and Honda Performance Development will perform that role in Japan and the USA respectively.
JAS jointly developed the NSX in conjunction with Honda Racing Development in Japan.
The car was subsequently handed over to HPD for testing ahead of this year's factory programmes with Michael Shank Racing and RealTime Racing in IMSA and the PWC respectively.
The US-built NSX road car is sold in North America as an Acura and a Honda in all other markets.