McLaren's Pure GT Series is probably the most professional GT4 championship you've never heard of. It follows the template laid down by fellow supercar manufacturers Ferrari and Lamborghini, which run their own single-make series for marque enthusiasts who wish to try their hands at high-performance GT racing.
The racing takes place on some of the most iconic circuits in Europe (this year McLaren's Pure GT Series will also visit Bahrain), but it all takes place behind closed doors, thanks to McLaren renting these venues privately for its range of 'Pure McLaren' driving experiences, which have grown in scope alongside the rise of its burgeoning Automotive business and growing range of supercars.
There's everything from half-day tuition in 570S, 600LT or 720S models (£1095), to two-day 'arrive and drive' trackday packages for owners (£23,995), to a three-stage 'Performance Academy' for budding racing drivers, which introduces enthusiasts to slick tyres, race driving tuition and guides them towards earning their race licences (the cumulative cost for all three steps comes in at just under £43,000).
You'll need to budget north of £200,000 if you want to upgrade to the Pure GT Series itself, but this means "from the moment you arrive to the moment you leave, everything is taken care of: accommodation, hospitality, car transport and preparation, one-to-one driver coaching and consumables are all included".
Think of it as motorsport's equivalent of a five-star golfing holiday. This is about enjoying yourself on location while racing GT4 McLarens. As you might expect, the drivers are mostly successful, high-net-worth business types who now want to enjoy the money they've made. The category is strictly for non-professional drivers, mainly trackday enthusiasts who may subsequently wish to graduate to British GT, European GT4 or Blancpain as Bronze-graded drivers. There is a separate sub-class for novices, and success ballast for the top three cars in each race to help keep things close.
There is a strong emphasis on education too, with Danny Buxton and his team of coaches - Warren Hughes, Danny Watts, Jonny Kane, Paul O'Neill, Rob Barff, Phil Glew, Joe Osborne, Duncan Tappy, Bradley Ellis, Tom Onslow-Cole, Ashley Sutton, Josh Cook, Phil Quaife, Ollie Millroy and Paul Rees are among the rotating roster of pros - holding racecraft workshops before every race to help drivers improve.
It's expensive, but you get a lot of track time for your money: a full day of testing on Friday - open pitlane and with coaches allowed to sit alongside the drivers - followed by two days of racing that, with free practice sessions included, totals 200 minutes of driving time. So, you get a lot of bang for your (not inconsiderable) buck, and five-star treatment while you're at it.
Autosport visited the series at its recent visit to Spa, with F1 Racing editor Ben Anderson and Motorsport Network's social media chief Dan Ryan on hand to sample the full racing offering.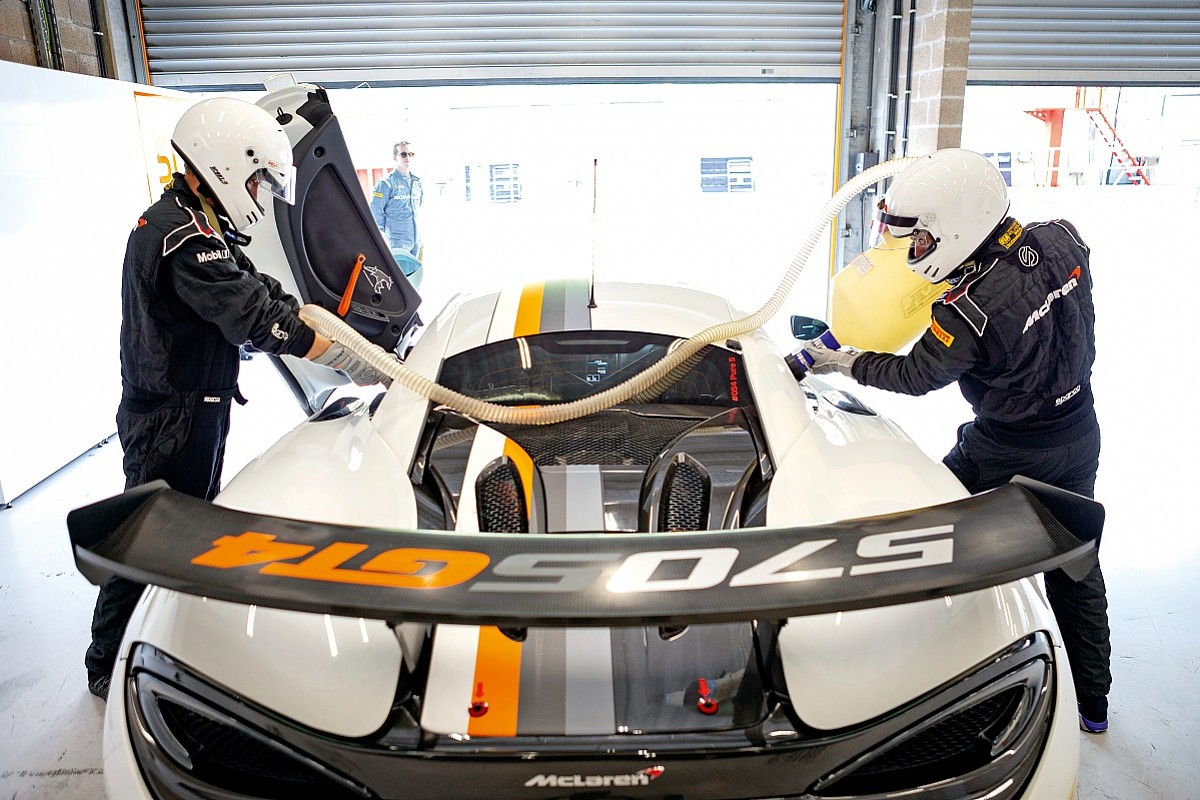 Ben's race
Qualified: 2nd (out of 14)
Race: Finished 3rd (demoted from 1st by 10s track limits penalty)
Best lap: 2m33.506s
The pure joy of driving a car with this much power and grip, around a circuit as wonderful and iconic as Spa, is almost beyond compare for me. Silverstone is fast, but the expansive runoffs make it feel less so. Suzuka, Le Mans, the Nordschleife, Bathurst, Macau are all probably on a similar level - but I haven't been fortunate enough to find that out for myself, yet... What a happy accident that our original race weekend at the Algarve circuit was cancelled due to safety concerns with the tyres.
No such trouble for Pirelli in Belgium, which meant a full schedule of track action for me and my social media 'rival', Dan Ryan. With my extensive racing CV, I expected to have the edge overall. That said, I haven't done much at all in GT cars, and I did wonder if Dan's greater experience of Spa might give him an advantage if he got on well with the 570S.
"Good coaching is the absolute bedrock of this series" Ben Anderson
I absolutely love racing at Spa. Who doesn't? But I hadn't raced there for 10 years, and it turned out my prior experience in Formula Jedi was next to useless anyway. Spa in a big, heavy, powerful GT car is nothing like it is in a super-nimble single-seater, principally because the two fastest sections of the circuit - Eau Rouge and Blanchimont - suddenly become proper corners again, rather than relatively simple extensions of the straights that precede them.
Jonny Kane, the 1997 British F3 champion and winner of the LMP2 class at Le Mans in 2010, says Spa is much tougher in a GT car than in single-seaters or sportscars, and now I understand why. Usually I find I have little trouble committing myself at high speed in an unfamiliar car; it's the finessing of technique in the lower-speed sections that requires most time and effort. But in this case that trend was completely reversed.
With the expert help of 2017 British Touring Car champion Ashley Sutton (who I competed against when he was a car racing rookie in Formula Vee back in 2010) sitting alongside me in Friday's test session, I (reasonably) quickly got a decent handle on the car around much of the track - braking late, managing the tyre slip, achieving rear rotation in the right places, balancing the throttle to achieve strong corner exits, etc. But for the life of me I just could not nail the approach to Eau Rouge and Blanchimont. Solving this problem would be key if I wanted to claim victory in my private battle with the guy sharing my car.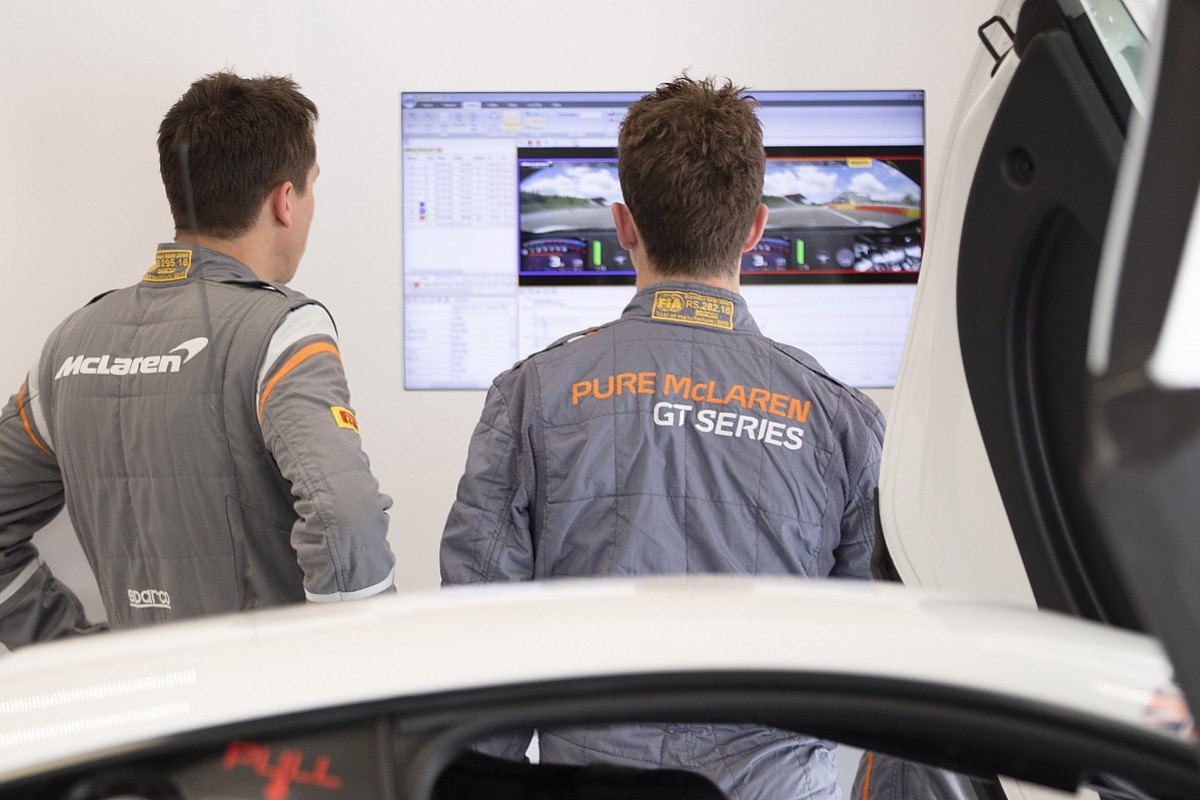 I was way too aggressive as it turned out, and those corners only started to make proper sense once I'd watched Dan at work. It infuriates Lewis Hamilton, but data and video are very useful when you're going wrong! Come the business end of the weekend I was in much better shape - to the point where I qualified on the front row, with 50kg of 'success' ballast in the car. I managed to pressure reigning series champion Mia Flewitt into a mistake at the Bus Stop to win my race on the road, principally because of my pace advantage over her through Blanchimont.
That's all down to good coaching, which is the absolute bedrock of this series. Everywhere you look there are professional drivers with decorated CVs around to guide the (well-paying) customers towards the light. Danny Buxton's rotating cast of seasoned pros does an excellent job of using V-Box data and onboard video to iron out your creases and make sure you're making proper use of the traction circle of the Pirelli tyres.
It's difficult to describe the intensity of the adrenaline rush I got from winning a race at Spa - an emotional high that was shattered by a 10-second track limits penalty administered several hours after the race. Everyone was nevertheless very kind afterwards, praising my performance, which meant a lot in the circumstances.
Despite the bitter disappointment of having the result stripped away, I was delighted with my effort in an unfamiliar car, with limited track time, and a 50kg penalty. The memory of cresting Eau Rouge flat-out at more than 120mph will not leave me quickly.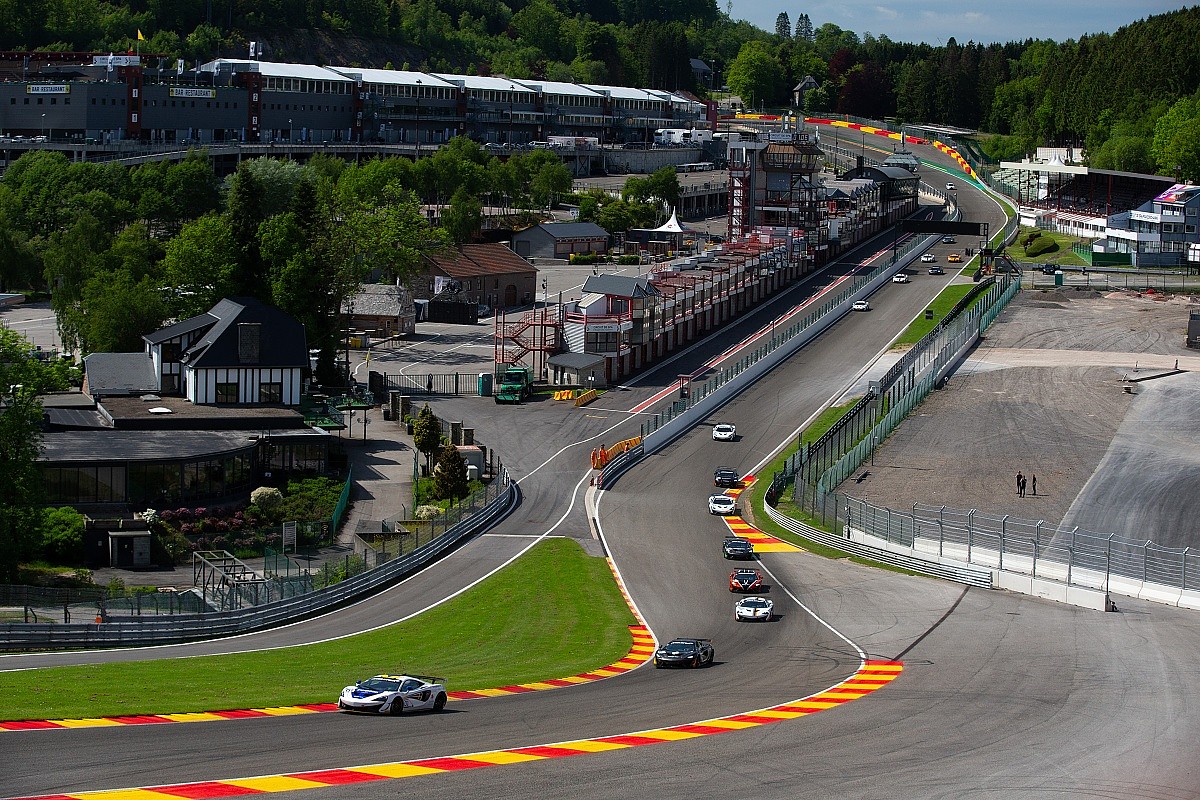 Dan's race
Qualified: 10th out of 14
Race: Finished 13th of 14 (after a pitstop for a coil replacement)
Best lap: 2m35.183s
Would I like to race a McLaren GT4 at Portimao? It didn't take long to answer our editor-in-chief in the affirmative! Before I knew it, we were whisked away to the Autodromo do Algarve by the McLaren Pure GT team, which would allow Ben and me to contest Autosport's 'battle for the ages' between print and social media.
It all seemed too good to be true, and after a short while it was. Due to safety concerns with the Pirelli tyre, the Autodromo do Algarve was ruled off-limits. However, after sampling some of McLaren's road cars on track, we were invited to head over to the Kartodromo do Algarve, where I took a clean sweep of pole position and race wins (including from a reversed grid)!
"This is an unparalleled programme that pushes all drivers to develop their abilities in an intense timeframe" Dan Ryan
Fast forward a month and there we were in the paddock at Spa-Francorchamps with the McLaren Pure GT team welcoming us back. Danny Buxton arrived to introduce us to our driver coach - Ben and I started guessing who from Danny's extensive list of factory drivers and professional racers we'd be teamed with.
Step forward 2017 BTCC champion Ashley Sutton, who immediately had Ben and me switching in and out of the car during open testing. He sat in the passenger seat coaching us, something I found incredibly beneficial in learning the car (and a thing or two about technique). I thought my previous Spa seat-time in the Citroen C1 24-hour race last summer, and the multiple one-hour endurance races in classic saloons I've done here, would work to my advantage. I just had to get to grips (quite literally) with slick tyres and the electronic driving aids.
After my first few laps - some 30 seconds faster than I had ever been around this circuit before - I returned to the garage with an incredible amount of data to digest that identified my room for improvement. By the close of play I was within a second of my 'rival' and feeling good.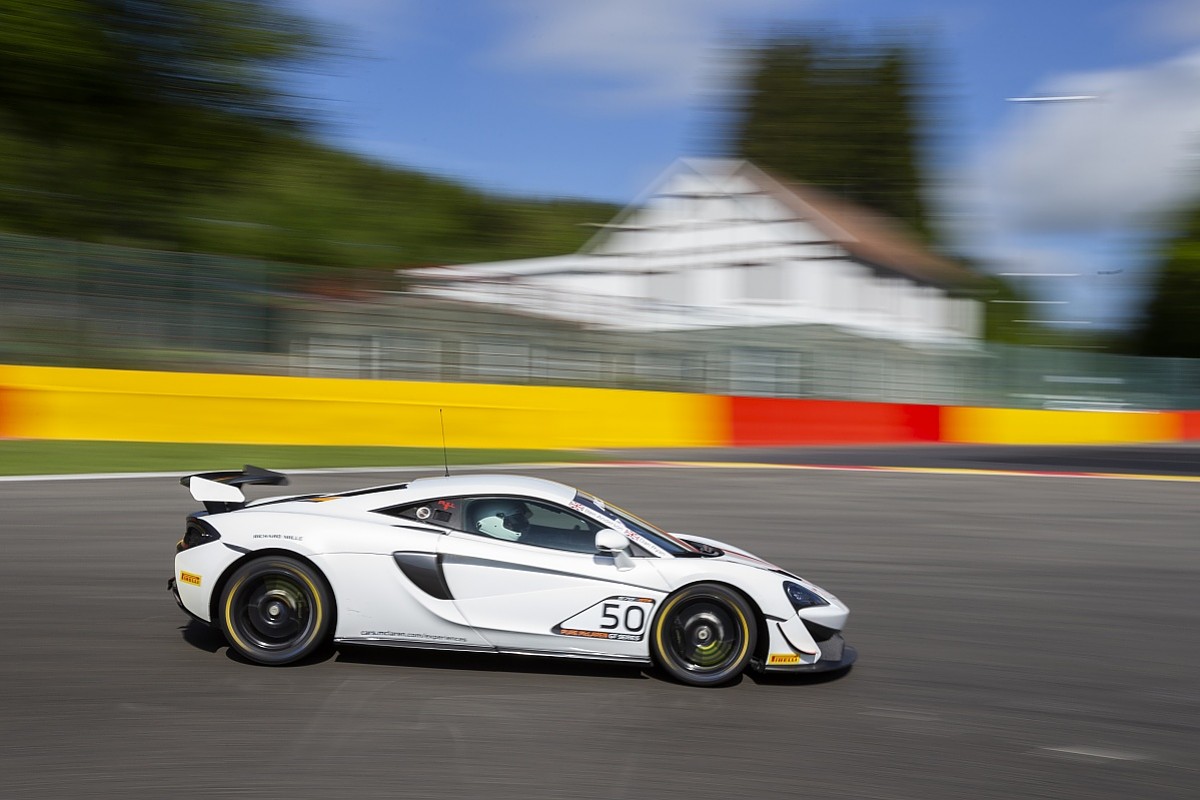 I spent my Saturday watching Ben battle it out at the front, before resuming driving duties on Sunday. Despite many of my competitors getting a full extra day of track time, I managed to end the first free practice session fifth fastest, right where I wanted to be. But in qualifying, I pushed too hard and made mistakes, which moved me backwards in the classification for the first time all weekend. P10 is where I would line up on the grid.
After making a flying start, I found myself in sixth going up the Kemmel Straight after passing another car through Eau Rouge. Then suddenly I was at the back of the pack after the door was shut on me as I arrived at the apex of Les Combes, having thought I had completed another overtake in my effort to get into the top five. After closing back up and beginning to work my way through the field again, I was forced to pit. The car hadn't skipped a beat all weekend and in the very last session it had developed a misfire... Two laps down, I headed back out and, after unlapping myself, took the chequered flag in 13th.
The Pure GT programme was a far cry from a typical race weekend for me, which usually involves going straight into qualifying on old tyres and then into the race, with the data on the timesheet the only real reference available. What's on offer here is an unparalleled programme that pushes all drivers to develop their abilities in an intense timeframe. There's an incredible amount of track time and information to process and learn from, with help from professional driver coaches who pair up with competitors for the full season, allowing you to push on at every round.
Although we had more limited track time, as Ben and I were sharing the car across the weekend, I made a marked improvement and can only imagine the progress I'd make if I had the budget to do a full season. It's a very competitive environment on track, but there's also a huge sense of camaraderie off track.
I didn't come away with the result I'd hoped for, but I did overtake someone going up Eau Rouge in a McLaren!