Jaguar Racing took its first ABB FIA Formula E victory in the Rome E-Prix after Mitch Evans won a dramatic duel with Andre Lotterer in a chaotic race.
Evans becomes the seventh winner in seven races in 2018/19 after holding on to the lead despite missing the exit of the activation zone to arm his second use of attack mode, allowing Lotter to close right in over the last six laps.
Not only did he have to hold off several half-attempts from Lotterer at some of the Rome circuit's most overtaking-friendly corners, but he had to back off ahead of the penultimate lap to ensure he would not need to do another tour and run out of useable energy as a consequence of the 45-minute plus one lap format.
The decisive moment in the lead battle came on lap 16 of 29 when then second-placed Evans attempted a cutback at the Turn 10 right-hander before pulling alongside the DS Techeetah at the Turn 11/12 chicane.
Lotterer left enough room for Evans to squeeze by with minor contact, with both earning a warning from the race director as part of FE's response to excessive contact in races this season.
Evans and Lotterer finished well clear of HWA's Stoffel Vandoorne, who stopped on track with a suspected broken driveshaft moments after securing third place despite, Venturi providing the team with an update to its troublesome part ahead of the race.
Envision Virgin Racing's Robin Frijns was fourth after a late move on Nissan e.dams Sebastien Buemi while using attack mode.
Team-mate Oliver Rowland was sixth ahead of Audi's Lucas di Grassi, who carved his way through the field from 14th.
His best move came on title rivals Antonio Felix da Costa as he stormed past the BMW Andretti driver (pictured leading di Grassi) at Turn 9.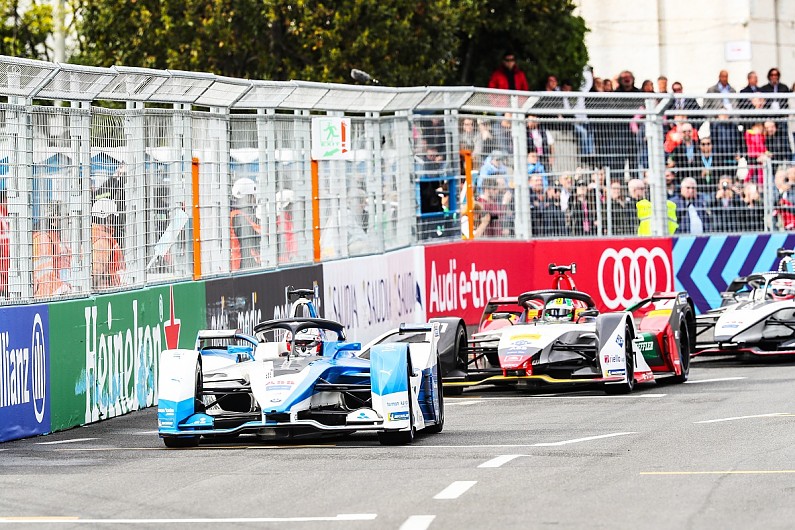 Mahindra Racing's Jerome D'Ambrosio joined that contest and would finish eighth ahead of da Costa, as Pascal Wehrlein rounded out the top 10.
D'Ambrosio held onto the championship lead by a point as a result of finishing ahead of da Costa.
The race was halted for more than 45 minutes following a lap-two pile-up that blocked the track after Dragon Racing's Jose Maria Lopez lost control at Turn 16 and ploughed into the wall, catching out the unsighted Gary Paffett and Jean-Eric Vergne.
Lopez had also clashed with Sam Bird, an incident that earned the Dragon driver a drivethrough penalty that would consign him to 16th after Bird picked up significant damage from colliding with the wall.
An impressive repair job under red flag conditions allowed Bird to rejoin the race, and he recovered to 11th.
Defending champion Vergne earned a point for the fastest lap but picked up a drivethrough penalty that dropped him to 14th after overtaking da Costa under a full-course yellow caused by Venturi's Felipe Massa.
Both Massa and Edoardo Mortara's retirements were due to what the team called "transmission problems".
BMW's Alexander Sims was 17th behind Lopez after his squad was forced to replace his e-motor and inverter after his qualifying exit, with the grid penalty converted into a drivethrough penalty.
Maximilian Gunther ran out of energy on the final lap after earning multiple penalties. He had earlier spun unaided on the first lap, which caused bodywork damage.
Result - 29 laps
| Pos | Driver | Team | Car | Gap |
| --- | --- | --- | --- | --- |
| 1 | Mitch Evans | Jaguar | Jaguar | 1h33m51.140s |
| 2 | Andre Lotterer | DS Techeetah | DS | 0.979s |
| 3 | Stoffel Vandoorne | HWA | Venturi | 6.399s |
| 4 | Robin Frijns | Virgin | Audi | 9.181s |
| 5 | Sebastien Buemi | e.dams | Nissan | 9.778s |
| 6 | Oliver Rowland | e.dams | Nissan | 11.262s |
| 7 | Lucas di Grassi | Audi | Audi | 24.340s |
| 8 | Jerome d'Ambrosio | Mahindra | Mahindra | 28.633s |
| 9 | Antonio Felix da Costa | BMW | BMW | 30.651s |
| 10 | Pascal Wehrlein | Mahindra | Mahindra | 30.735s |
| 11 | Sam Bird | Virgin | Audi | 32.272s |
| 12 | Alex Lynn | Jaguar | Jaguar | 42.238s |
| 13 | Oliver Turvey | NIO | NIO | 48.616s |
| 14 | Jean-Eric Vergne | DS Techeetah | DS | 49.732s |
| 15 | Tom Dillmann | NIO | NIO | 52.253s |
| 16 | Jose Maria Lopez | Dragon | Penske | 1m10.373s |
| 17 | Alexander Sims | BMW | BMW | 1m11.373s |
| 18 | Daniel Abt | Audi | Audi | Not running |
| 19 | Maximilian Guenther | Dragon | Penske | Not running |
| - | Felipe Massa | Venturi | Venturi | Transmission |
| - | Edoardo Mortara | Venturi | Venturi | Transmission |
| - | Gary Paffett | HWA | Venturi | Accident |
Drivers' championship standings
| Pos | Driver | Points |
| --- | --- | --- |
| 1 | Jerome d'Ambrosio | 65 |
| 2 | Antonio Felix da Costa | 64 |
| 3 | Andre Lotterer | 62 |
| 4 | Mitch Evans | 61 |
| 5 | Lucas di Grassi | 58 |
| 6 | Robin Frijns | 55 |
| 7 | Jean-Eric Vergne | 54 |
| 8 | Sam Bird | 54 |
| 9 | Edoardo Mortara | 52 |
| 10 | Daniel Abt | 44 |
| 11 | Pascal Wehrlein | 37 |
| 12 | Oliver Rowland | 35 |
| 13 | Sebastien Buemi | 30 |
| 14 | Stoffel Vandoorne | 18 |
| 15 | Alexander Sims | 18 |
| 16 | Felipe Massa | 15 |
| 17 | Oliver Turvey | 6 |
| 18 | Gary Paffett | 4 |
| 19 | Jose Maria Lopez | 2 |
| 20 | Nelson Piquet Jr. | 1 |
| 21 | Tom Dillmann | 0 |
| 22 | Maximilian Guenther | 0 |
| 23 | Alex Lynn | 0 |
| 24 | Felipe Nasr | 0 |
Teams' championship standings
| Pos | Team | Points |
| --- | --- | --- |
| 1 | DS Techeetah Formula E Team | 116 |
| 2 | Envision Virgin Racing | 109 |
| 3 | Audi Sport ABT Schaeffler | 102 |
| 4 | Mahindra Racing | 102 |
| 5 | BMW i Andretti Motorsport | 82 |
| 6 | Venturi Formula E Team | 67 |
| 7 | Nissan e.Dams | 65 |
| 8 | Panasonic Jaguar Racing | 62 |
| 9 | HWA Racelab | 22 |
| 10 | NIO Formula E team | 6 |
| 11 | Geox Dragon | 2 |