Venturi's Edoardo Mortara says learning from a mistake he made at last year's Hong Kong E-Prix was key to winning the 2018/19 ABB FIA Formula E race at the same venue.
Venturi and Mortara's first win in the series came after Sam Bird and Andre Lotterer clashed on the penultimate lap, dropping the latter out of contention while Bird earned a post-race five-second time penalty that lost him the victory.
Mortara led the second Hong Kong race in last year's season by a commanding margin but lost the rear of the car with just three laps to go in what Mortara then called a "stupid" mistake caused by "over-confidence".
This time around Mortara was put under pressure by an attack mode-boosted Lucas di Grassi late on to hold onto what was initially third, which became a win hours after the race and his second podium finish in a row.
When asked by Autosport if the Hong Kong win meant he could put his previous error behind him, Mortara said: "Yeah definitely.
"It's a good story to not make any mistakes and to learn from them. I think 99% of the job was done there [in the 2017/18 Hong Kong finale], and I did a mistake.
"I learned from that."
Mortara added that he knew he could not compete with the superior pace of Bird and Lotterer after he moved from sixth on the grid to third behind the pair.
"You don't want your first win from a stewards decision. Anyway we take it," he said.
"We're improving our car, it's getting better and better. We're still not there yet, being honest. The others are still quicker and you could see it with Andre and Sam, they had much better pace and would have deserved to finish ahead of me.
"I ran a trouble-free race and when you do that in Formula E you normally have good results, especially starting from the front."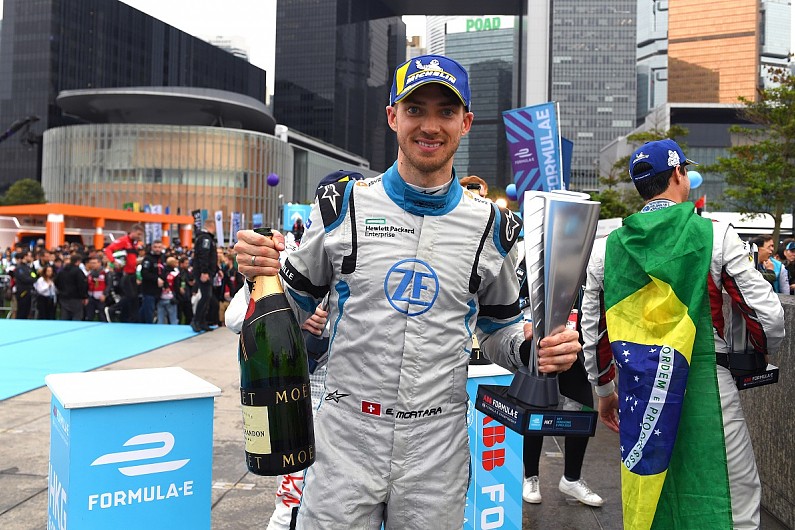 Mortara's victory means Susie Wolff has collected her first victory as a team boss, and she described the moment as "special".
"In motorsport a win is a win and Edo was in the right place to pick up the penalty and take over the race victory," Wolff told Autosport.
"Really over the moon as so much hard work has gone at Venturi and obviously with the difficult start but we've made a lot of progress with steps in the right direction.
"We're showing consistency, not just speed, so to say I'm proud of my team is an understatement.
"I called Gildo [Pallanca Pastor, CEO of Venturi Automobiles] immediately when we got the news and it's a very special day for me today.
"I'm not long into this job but I managed to get a great team of people together and they've helped drive this through as a team and to have my first win as a team principal is a special moment.
"I don't want to talk us down by saying we're a small team fighting manufacturers because we have some great technical partners on board and we have to say thank you for the brilliant powertrain they have provided."