Nelson Piquet Jr claimed the inaugural Formula E Championship in a dramatic finale in Battersea, won by Sam Bird.
Team China Racing driver Piquet pipped Sebastien Buemi by a single point despite starting 10 places behind his nearest championship rival going into the race.
Piquet took seventh position, two places behind Buemi's e.dams entry, to take a championship victory that looked a long shot after the Brazilian qualified only 16th.
Piquet said: "Today was such a hectic race.
"I tried to avoid asking my team any questions and I didn't know that I had won until I cross the line."
The ex-Formula 1 driver gained four places at the start before conserving energy to go at least one lap longer than the rest of the field in his first car.
Piquet rejoined in 10th in his second Spark-Renault SRT_01E and moved into a position to win the championship on lap 23 of 29.
Team-mate Oliver Turvey let Piquet through into ninth position and then the Brazilian passed Salvador Duran around the outside of the fast Turn 13 left-hander to move into eighth, two places behind Buemi.
The move effectively sealed the championship victory for Piquet; the promotion of the championship challengers to fifth and seventh after Stephane Sarrazin, who won the race on the road was penalised for power over-use, had no bearing on the outcome.
Buemi, who had qualified sixth, looked on-course to win the championship until the final stages.
The Swiss driver spun on his out-lap after the car changes with the loss of one position, which ultimately proved crucial.
Buemi got alongside Bruno Senna in an attempt to regain the lost position on the final lap, but ultimately fell short.
The second of the two races on the final weekend of the first season of Formula E was won by Virgin Racing driver Bird.
The Briton ran fourth to the changes of car, then jumped to third and overtook Loic Duval's Dragon entry for second with seven laps to go.
He then hassled Sarrazin over the final laps, but was unable to pass.
The French Venturi driver exceeded his energy allocation in his attempts to stay ahead and was penalised 49 seconds and dropped to 15th in the final results.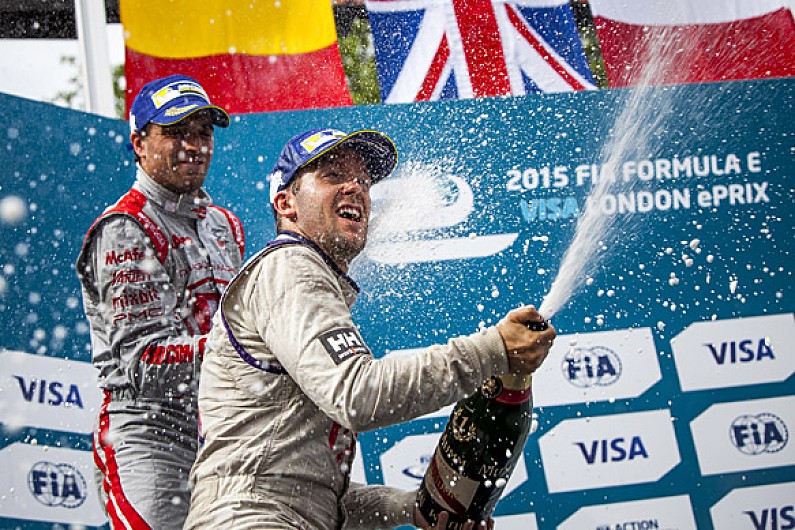 RESULTS - 29 LAPS:
| Pos | Driver | Team | Gap |
| --- | --- | --- | --- |
| 1 | Sam Bird | Virgin | 45m48.792s |
| 2 | Jerome d'Ambrosio | Dragon | 6.973s |
| 3 | Loic Duval | Dragon | 9.430s |
| 4 | Bruno Senna | Mahindra | 10.147s |
| 5 | Sebastien Buemi | e.dams | 10.689s |
| 6 | Lucas di Grassi | Abt | 11.204s |
| 7 | Nelson Piquet Jr. | China | 11.561s |
| 8 | Salvador Duran | Aguri | 12.402s |
| 9 | Oliver Turvey | China | 14.142s |
| 10 | Nicolas Prost | e.dams | 14.535s |
| 11 | Daniel Abt | Abt | 23.170s |
| 12 | Simona de Silvestro | Andretti | 24.610s |
| 13 | Karun Chandhok | Mahindra | 31.501s |
| 14 | Alex Fontana | Trulli | 38.423s |
| 15 | Stephane Sarrazin | Venturi | 48.680s |
| 16 | Jean-Eric Vergne | Andretti | 1 Lap |
| - | Nick Heidfeld | Venturi | Retirement |
| - | Fabio Leimer | Virgin | Retirement |
| - | Jarno Trulli | Trulli | Retirement |
| - | Sakon Yamamoto | Aguri | Retirement |
FINAL CHAMPIONSHIP STANDINGS:
| Pos | Driver | Points |
| --- | --- | --- |
| 1 | Nelson Piquet Jr. | 144 |
| 2 | Sebastien Buemi | 143 |
| 3 | Lucas di Grassi | 133 |
| 4 | Jerome d'Ambrosio | 113 |
| 5 | Sam Bird | 103 |
| 6 | Nicolas Prost | 88 |
| 7 | Jean-Eric Vergne | 70 |
| 8 | Antonio Felix da Costa | 51 |
| 9 | Loic Duval | 42 |
| 10 | Bruno Senna | 40 |
| 11 | Daniel Abt | 32 |
| 12 | Nick Heidfeld | 31 |
| 13 | Jaime Alguersuari | 30 |
| 14 | Stephane Sarrazin | 22 |
| 15 | Scott Speed | 18 |
| 16 | Franck Montagny | 18 |
| 17 | Karun Chandhok | 18 |
| 18 | Charles Pic | 16 |
| 19 | Oriol Servia | 16 |
| 20 | Jarno Trulli | 15 |
| 21 | Salvador Duran | 13 |
| 22 | Oliver Turvey | 4 |
| 23 | Vitantonio Liuzzi | 2 |
| 24 | Takuma Sato | 2 |
| 25 | Justin Wilson | 1 |
| 26 | Ho-Pin Tung | 0 |
| 27 | Antonio Garcia | 0 |
| 28 | Simona de Silvestro | 0 |
| 29 | Michela Cerruti | 0 |
| 30 | Marco Andretti | 0 |
| 31 | Matthew Brabham | 0 |
| 32 | Alex Fontana | 0 |
| 33 | Katherine Legge | 0 |
| 34 | Fabio Leimer | 0 |
| 35 | Sakon Yamamoto | 0 |