Formula E has now completed its first half-decade, encompassing 58 races in which 64 drivers have competed - with 13 of them getting wins and 20 having poles to their names.
We asked Motorsport Network FE experts Alex Kalinauckas, Benjamin Vinel, Andrew van de Burgt and Scott Mitchell, plus FE television commentator Jack Nicholls, to nominate their top 10 drivers from FE's five seasons so far and explain their reasoning.
Using the FE points system, we used their votes to create the definitive top 10 driver ranking from the first five years of FE.
10. Nick Heidfeld
Eight podium finishes in seasons 1-4, seventh in 2016/17 championship
Highest vote ranking: 8th, Scott Mitchell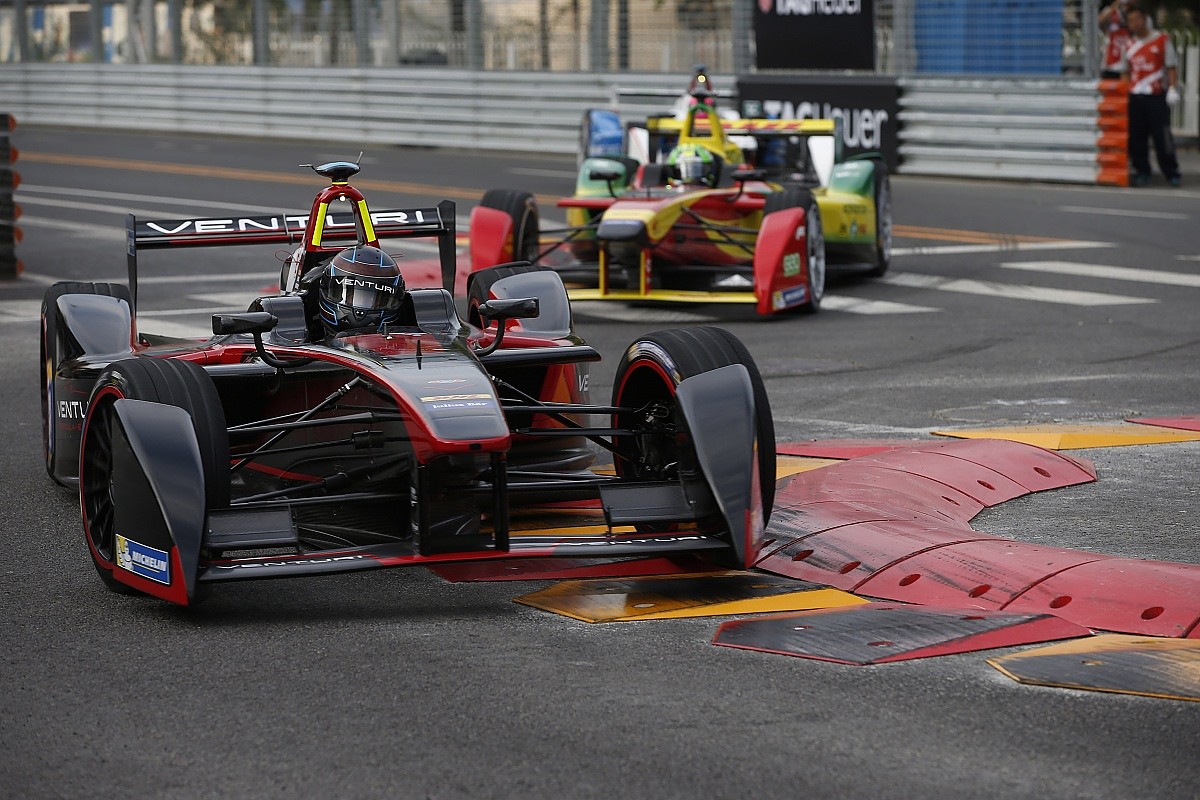 Scott Mitchell: Heidfeld makes it into my list for the classy consistency of his first three FE seasons, including an impressive podium haul alongside Rosenqvist. Even his final season, by which he was aged 40, yielded a podium.
Jack Nicholls: Nick Heidfeld's Formula E career was classic Nick Heidfeld. Friendly, funny and relaxed, with an exceptional turn of speed but results that never came to fruition.
He was denied race wins on multiple occasions in 2014/15, had the measure of Bruno Senna in '15/16, and finished on the podium the same amount of times as his title-challenging Mahindra team-mate Felix Rosenqvist in '16/17 - though predictably Heidfeld was never on the top step.
Andrew van de Burgt: The best FE driver not to win a race, and that's an infuriating echo of his F1 career. Of course, he would have been the winner of the inaugural race if it wasn't for that move by Nico Prost.
9. Oliver Turvey
One pole, one podium, 10th in 2017/18 championship
Highest vote ranking: 6th, Jack Nicholls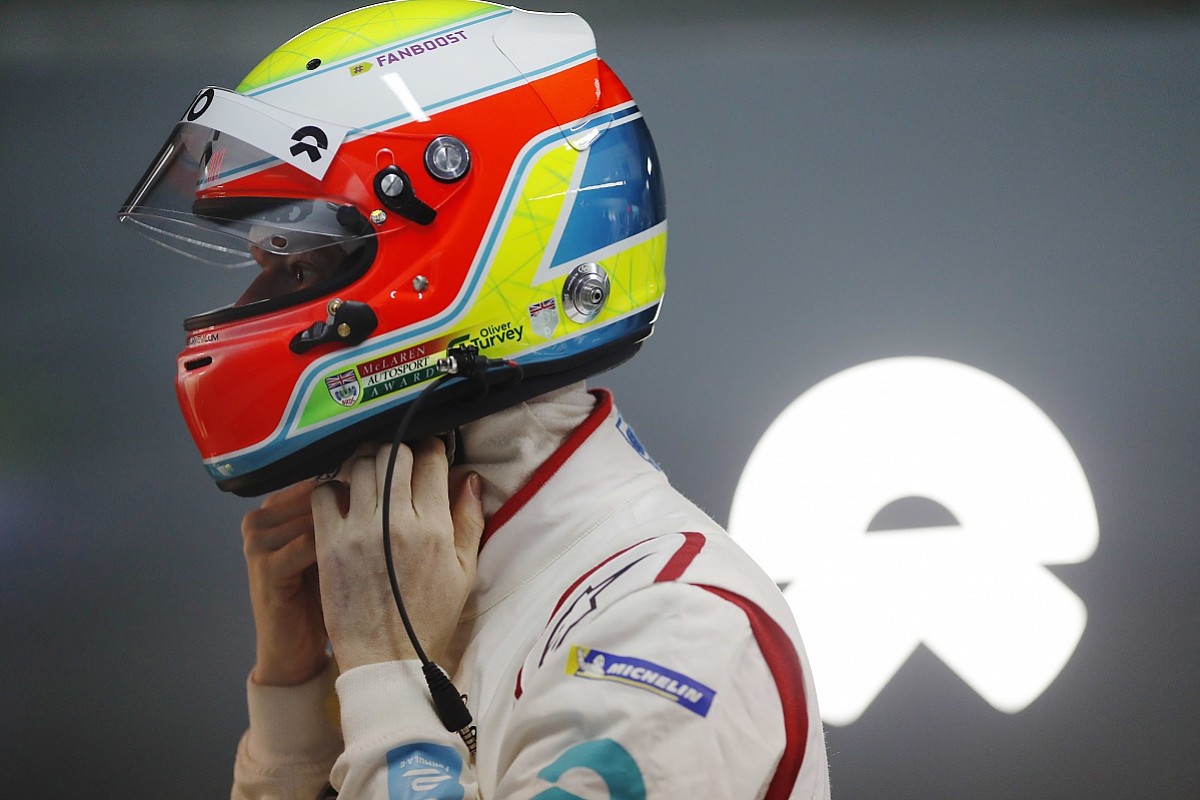 JN: Forever the 'underrated' driver of Formula E, Turvey has never been in a good car. It's his qualifying that is particularly impressive.
There was a spell through seasons 2-4 where in 25 races he was only outside the top 10 on the grid on three occasions - a remarkable achievement given his machinery.
Sadly, things don't look to be getting any better for the NIO team, so perhaps Turvey will continue to be underrated.
AvdB: Surely if everybody claims someone is underrated then they're not anymore? Whatever, Turvey consistently delivers even if often he's found himself in a car that's off the pace. Put him in a frontrunning team and watch him go!
SM: Mr Reliable. He may never have the machinery to do his talent justice but Turvey is capable of rapid qualifying performances and has proven (too often, sadly) that he can haul even the worst cars into the points.
8. Antonio Felix da Costa
Two race wins, sixth in 2018/19 championship
Highest vote ranking: 6th, Ben Vinel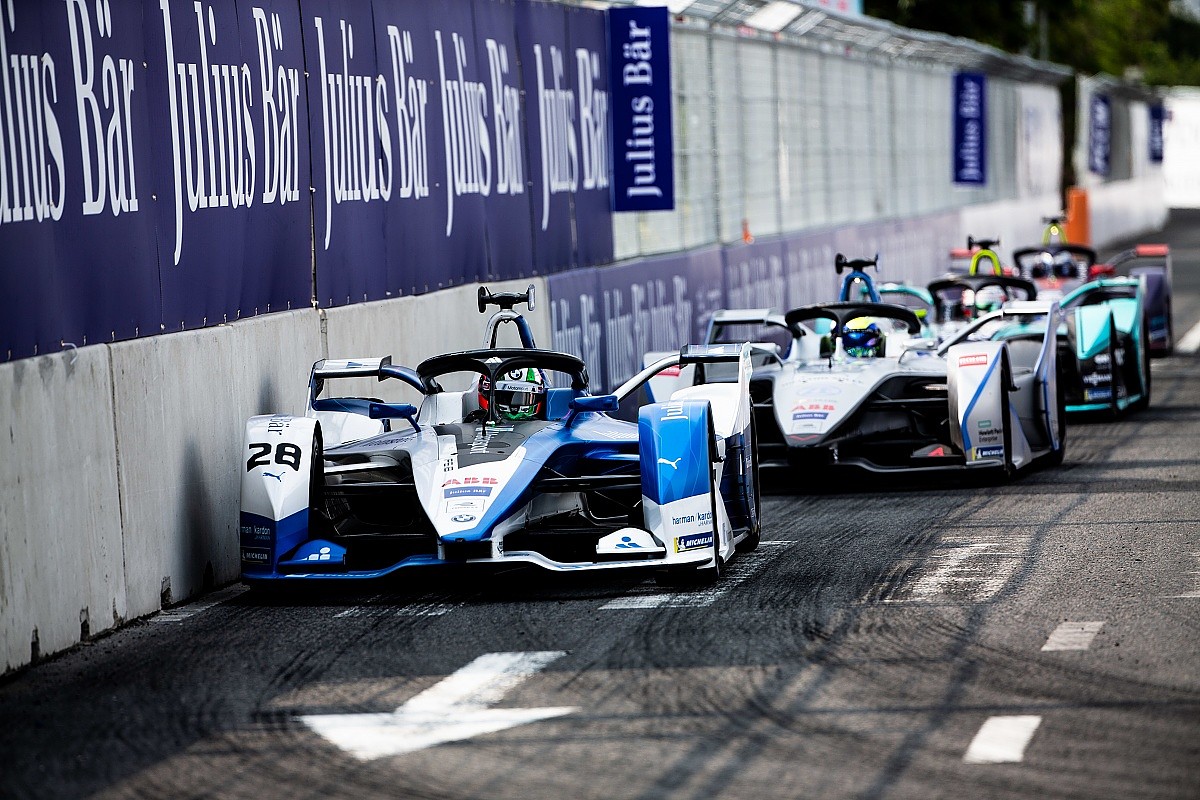 Benjamin Vinel: Da Costa initially never had really competitive machinery in Formula E, hence quite average results in the first four campaigns besides a win in Punta del Este. But could he have done much better?
When BMW got more involved in the Andretti team, da Costa looked like he was consistently getting the best out of his package and outperformed rookie team-mate Alexander Sims.
Alex Kalinauckas: It would be interesting to imagine da Costa's FE results if he'd had the machinery to back up his obvious skills. Two FE race wins - including one when all things were equal right at the beginning of the championship - show his capabilities.
But one statistical note that really sets him apart is the fact he was the only driver to run in group one all season in 2018/19, which demonstrates his consistency by staying in the title hunt for so long while regularly having the worst of the track conditions. It shows speed, too - he still made it to superpole on three occasions, the most of any of the championship contenders.
JN: Last season finally looked like it would be da Costa's year. Not even to be a title contender, just to have a decent car after four miserable seasons with flashes of brilliance but no chance to truly prove himself.
Then his big chance came and it was slightly underwhelming. Despite that, he's landed a DS Techeetah seat for the new season - which will make or break him in the series.
SM: His title-winning ambitions in 2018/19 had a false dawn but da Costa is a flamboyant talent. He still needs to refine his craft if he's to bridge the gap between himself and FE's proven upper echelon, but he's a class act on his day.
7. Robin Frijns
Two race wins, fourth in 2018/19 championship
Highest vote placing: 6th, Alex Kalinauckas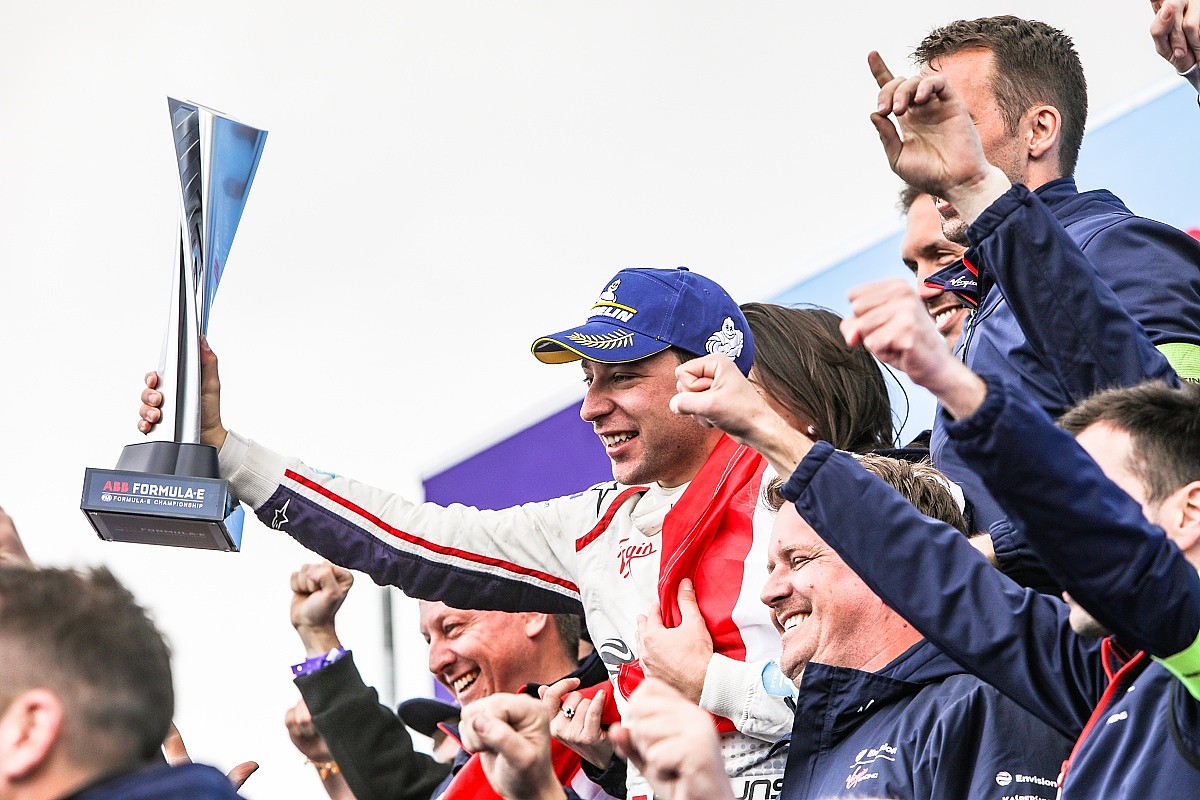 AK: Frijns would have deserved a spot on this list regardless of his performance in the 2018/19 championship, but his two wins in that campaign underline his talent.
Plus, and especially since Rosenqvist departed, he is comfortably the championship's most exciting driver to watch over a qualifying lap.
JN: As the first team-mate to beat Sam Bird in FE history, Frijns has succeeded where Jaime Alguersuari, Jose Maria Lopez, Alex Lynn and even Jean-Eric Vergne couldn't.
AvdB: Like Da Costa, Frijns is a driver whose highs match the best out there but who can also leave you scratching your head after an unexpectedly anonymous display.
SM: I've been a massive fan of Frijns ever since he crabbed his way to a podium in Putrajaya four years ago, and got sideways launching a monster move into the hairpin in Berlin the same season. Often rough around the edges, he showed a touch more consistency with Virgin. All he's missing now is a sustained title bid.
6. Mitch Evans
One race win, fifth in 2018/19 championship
Highest vote placing: 5th, Scott Mitchell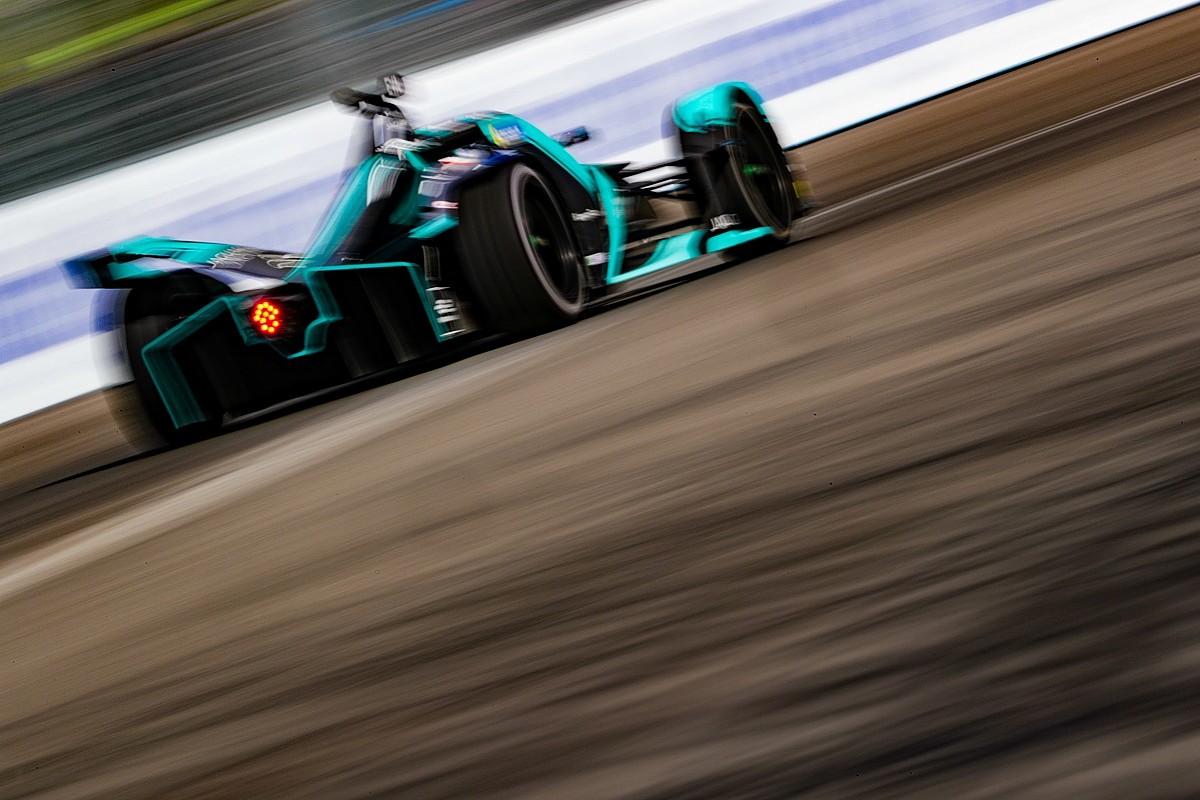 SM: Jaguar's leading man has dismissed an A1 Grand Prix champion and an FE champion in his short career, and unsurprisingly had the legs on new team-mate Lynn in the final races of last season.
It was fitting that he ended Jaguar's wait for a win and he keeps getting better. If we pick our top 10 again after FE's first decade, Evans will surely be in the running for #1.
BV: Evans has outperformed all of his team-mates, even though he sometimes struggled to convert his usually quick pace into good results - due to a combination of mechanical issues, race incidents and driver errors. But last season he proved that he was a force to be reckoned with.
AK: Evans is shining in FE after a promising single-seater career didn't ultimately lead to Formula 1. His record of one win in 37 race starts may not appear ground-breaking, but that says more about the performance of the Jaguar packages he's been driving.
5. Felix Rosenqvist
Third in 2016/17 championship, three race wins
Highest vote placing: 2nd, Jack Nicholls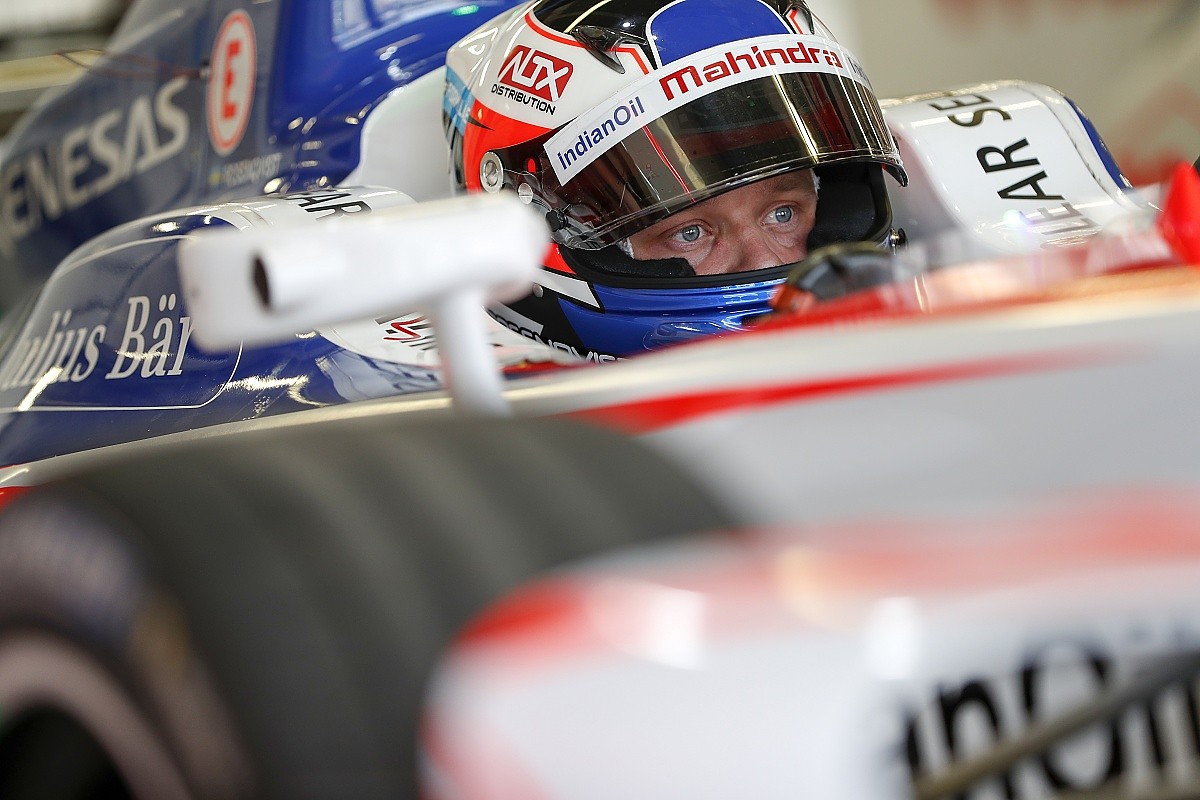 JN: Rosenqvist was looking like a title contender in his rookie year, while it was the other contenders' third seasons.
Then when the following season provided his big chance to take the title, mechanical retirements from the lead in Mexico and Rome put paid to that, and he and Mahindra seemingly lost their way towards the end of the year.
But he's a spectacular racer who took the fastest lap on his FE debut, and a pole position at his second race.
AvdB: A star from the moment he stepped into the car, Rosenqvist was the best FE driver to watch trackside as he danced his Mahindra between the walls. It would have been great to see him in Gen2 machinery.
SM: Rosenqvist was a revelation in his rookie season and achieved things I've not seen before or since in FE. His sophomore campaign had serious promise, but the title challenge faded. Had he stuck around for more than two years he might even be at the very top of this list.
BV: The only rookie ever to win an FE race. That says a lot! His one-lap pace was spectacular - he almost matches Sebastien Buemi in terms of pole position rate (24% versus 25%) but Buemi has arguably had quicker cars.
AK: The fact he was racing for the capable but very wildly inconsistent Mahindra squad means his reputation is further enhanced.
4. Sam Bird
Third in 2017/18 championship, eight race wins
Highest vote placing: 4th (Everyone)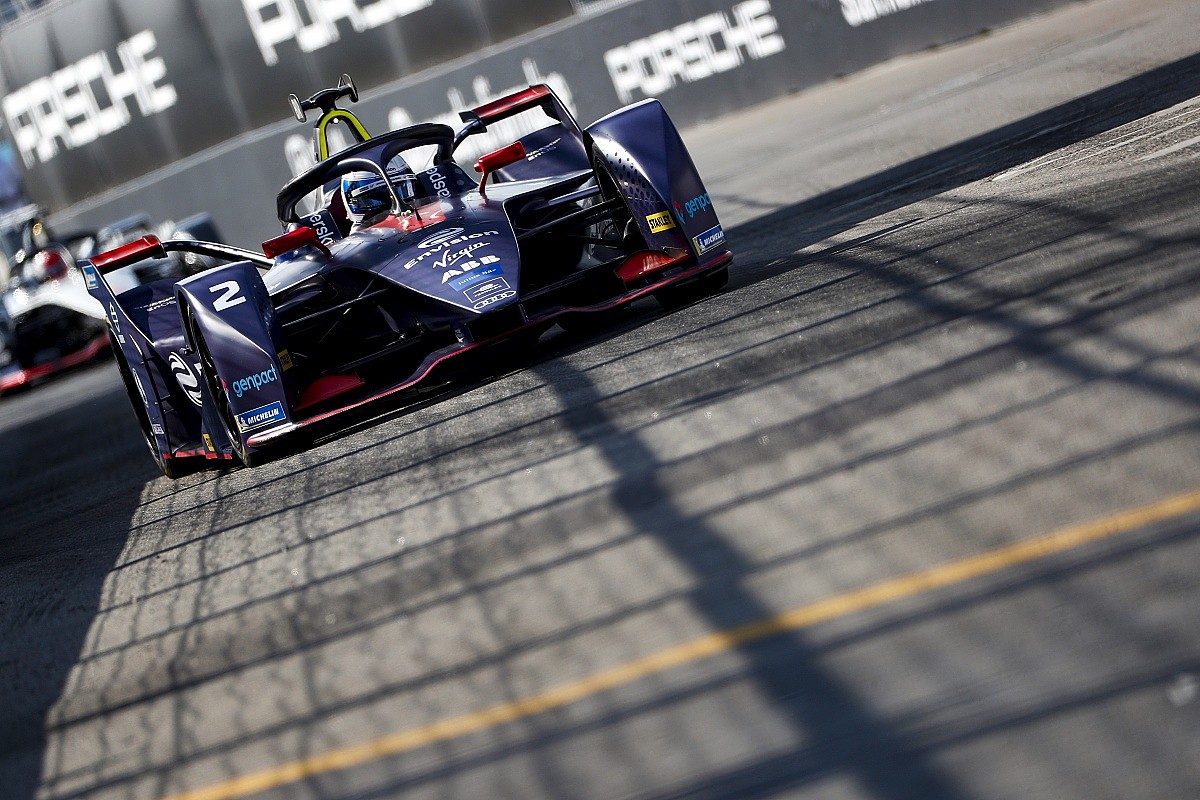 JN: Wins in every season, despite never having the fastest car, are what put Bird so high on my list. Having been a perennial outsider in the title fights, last season looked to be his shot but a collision on the opening lap at Sanya while leading the championship seemed to derail him. Whatever car he has under him, there's always a chance Bird is going to win.
BV: Bird is just a solid racer, one who would definitely deserve a title on his record given his performances. He's never had the fastest car but has always fought at the front, winning races, and he gave Vergne a run for his money in the 2017/18 title race despite an overweight DS Virgin car.
He also outperformed Vergne when they were team-mates at Virgin in 2015/16 and he thrashed the promising Lynn in '17/18.
AK: Surely one of FE's unluckiest and pluckiest drivers. He's one of only two racers to have won in each of FE's five seasons so far - the other is di Grassi - but time and time again his machinery has let him down or circumstances have conspired against him.
SM: Placing Bird in this list is a microcosm of every title bid during his FE career. He's probably as good as those ahead of him, but he doesn't quite end up on top. But he's an absolutely clinical performer to whom Richard Branson's team owes everything.
3. Lucas di Grassi
2016/17 champion, 10 race wins
Highest vote placing: 1st (Ben Vinel)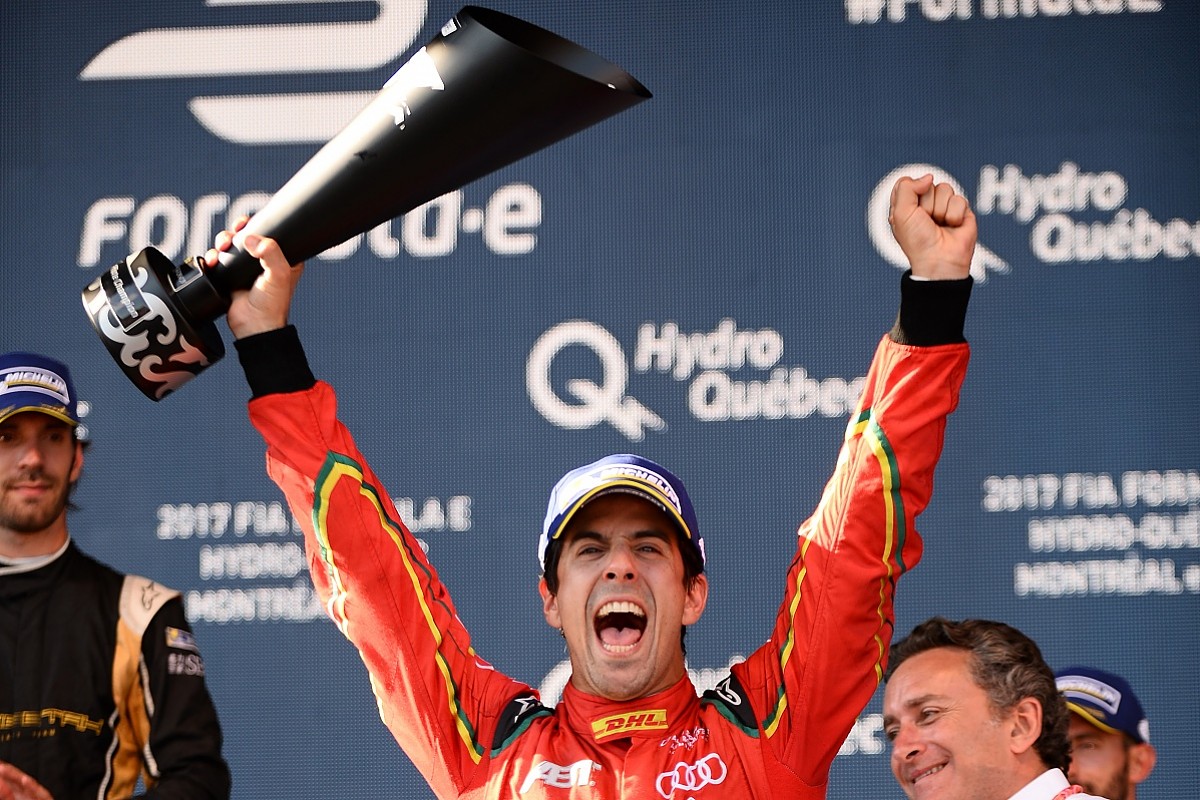 BV: Whenever there's an opportunity, you can count on di Grassi to seize it. Just take Mexico City 2017 as an example: he drove his way from the back of the field to the win, through a mixture of luck and racecraft - capitalising on an early safety-car period to make an unlikely strategy work, pitting then and covering the last 28 laps (out of 45) with the same car. That's the kind of thing di Grassi does. No wonder he's been on the podium at more than half the FE races in history.
SM: One-lap pace has always been di Grassi's Achilles' Heel but his track record speaks for itself. Not for nothing does he have more points and podiums than any other driver in FE. Ultra-consistent, doggedly determined and utterly deserves to stand as one of FE's few champions.
JN: Di Grassi maybe could have doubled his championship tally were he not disqualified from his victory in Berlin in 2016. At the same time, his Battersea Park collision with Buemi that year doesn't help his cause. A wily racer, who maybe doesn't have the outright pace of some of his rivals but can always be relied upon to deliver.
AK: Di Grassi is a worthy FE champion, who has produced some of the best race performances of any driver. But where he falls down compared with his nearest rivals is in qualifying, since he has taken just three poles in 58 races. Where di Grassi really shines is in terms of consistency - he is always there or thereabouts.
AvdB: Always a factor and a canny political operator behind the scenes. His racecraft is second to none, but there are times when his one-lap pace has left him with too much to do in races.
2. Jean-Eric Vergne
2017/18 and 2018/19 champion, eight race wins
Highest vote placing: 2nd (SM, AK, AvdB)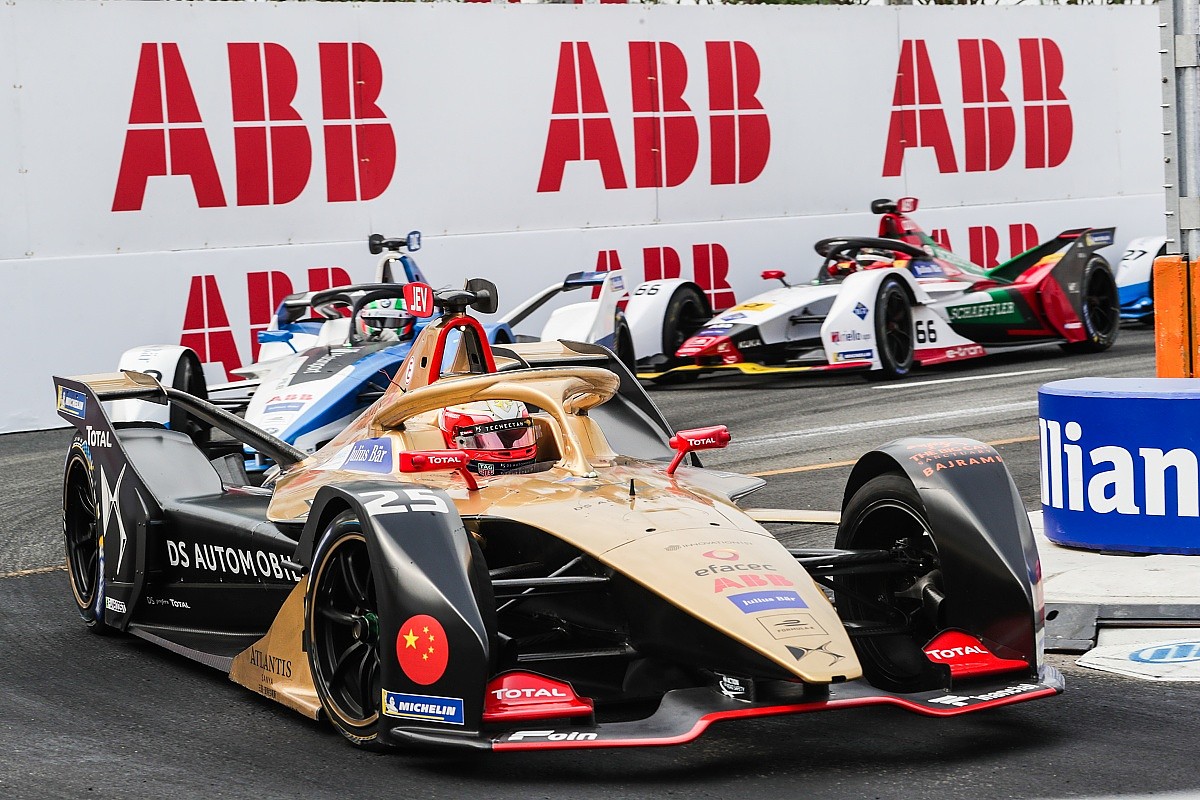 AvdB: The pace was clear from the off, but the attitude and consistency were lacking. Now both those factors have been addressed and JEV has developed into a relentless winning machine.
AK: It used to be that FE was viewed as a two-horse race between Buemi and di Grassi (which woefully undersold Bird's contributions), but Vergne's performance in the last three seasons has destroyed that perception.
It seemed he could do no wrong in 2017/18 as he took a maiden title through a mixture of pure pace, consistency and finally showing the fruits of his work to improve in the energy-management stakes. Although it should be noted that Audi's reliability gremlins at the start of the campaign aided his charge, he still took a customer powertrain package to the title.
Last season he had to surf the early chaos and didn't appear to have the same grip on the title, until he turned things around right when it mattered in the championship run-in. He's a comfortable second on the all-time pole list and is equal third in the win stakes.
BV: Vergne has always had pace, as shown by three pole positions in his first season, but it took him a while getting to grips with the intricacies of FE.
Particularly impressive performances from qualifying group one at the end of last season are what allowed him to become FE's first double champion. Apart from the first race in New York, he never cracked under pressure.
JN: Heading into the new season, Vergne is almost an unstoppable force. Five years ago he took pole position for his debut race, but it took time for the big results to come.
After a lacklustre two years with Andretti and DS Virgin, Vergne found his stride through 2016/17 with the new Techeetah team, before obliterating the opposition over the next two seasons.
SM: Vergne started out as a rapid but erratic F1 reject with a chip on his shoulder. Now stands as possibly FE's best all-round driver, and the only two-time champion. I'm sad to have missed Vergne's title victories in person but privileged to have been there to witness his metamorphosis.
1. Sebastien Buemi
2015/16 champion, 13 race wins
Highest vote ranking: 1st (AvdB, SM, AK, JN)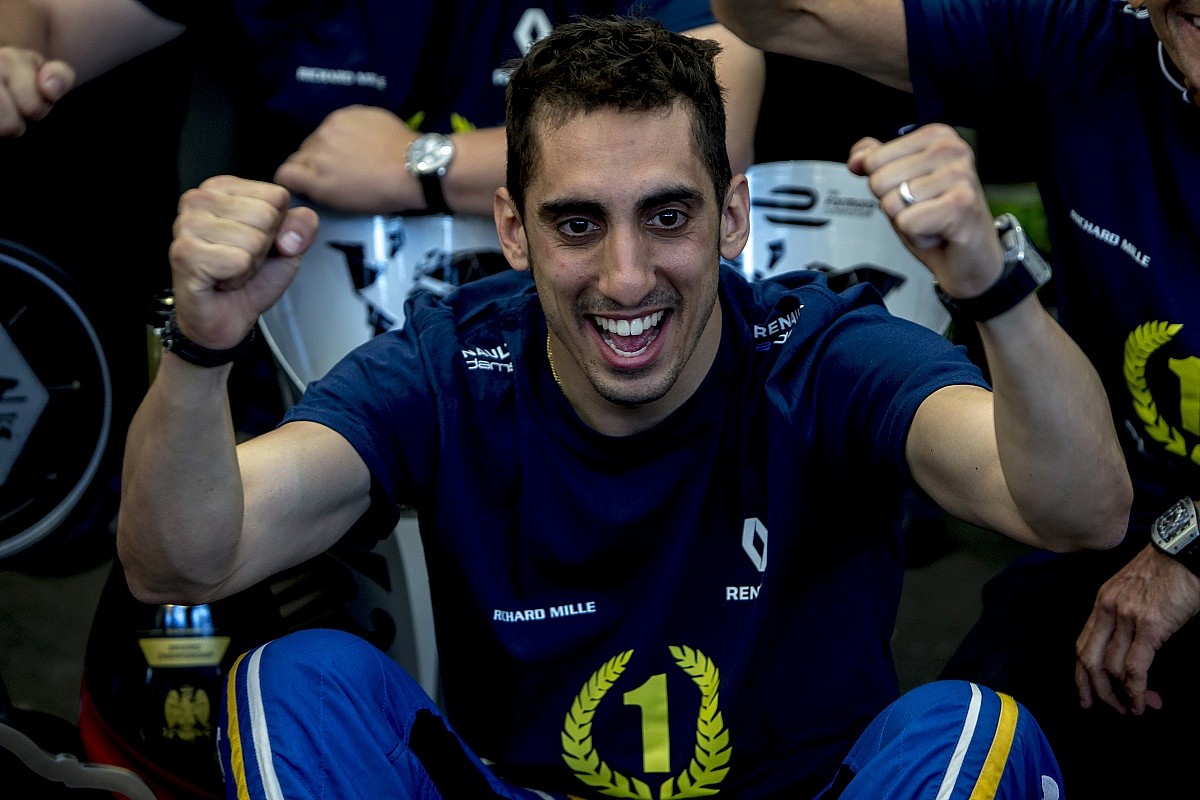 JN: Buemi could easily have been a four-time champion. Every driver has their hypothetical seasons, but if his team hadn't misread the minimum pitstop time in Moscow, he would have been the inaugural champion.
If he hadn't been forced to miss New York City by a World Endurance Championship clash, he would have been 2016/17 champion. If Nissan's reliability hadn't been so poor this year, he would have been champion.
He's not immune to making mistakes, but having the most pole positions and wins in FE speaks for itself.
SM: I hate agreeing with Jack Nicholls. It's in my Room 101. But I have a soft spot for Buemi.
The most wins (13) and poles (14) of any FE driver are statistics that back up his racecraft and pure speed. Circumstances have conspired to limit him to one title, but he's FE's most bankable talent.
AvdB: Despite a win drought that lasted almost two seasons, he remains the most successful FE driver in terms of wins and poles and is a formidable opponent in wheel-to-wheel racing.
BV: Buemi might just be the fastest driver in FE. His amazing stats were facilitated by Renault e.dams's dominance of the 2015/16 and '16/17 seasons, but even though he had the quickest car, Buemi usually was unbeatable back then and thoroughly outperformed team-mate Prost.
Of course, he sometimes loses composure more than his peers - those French-speaking radio messages to the e.dams team are quite entertaining - but he's just a really passionate man.
AK: There's an alternate universe where Sebastien Buemi is a four-time FE champion and the series' reputation for being hard to dominate is in tatters.
Renault e.dams reckoned the loss in 2016/17 - which was down to that WEC event clash - cost Buemi the following season, but there's no guarantee he would have beaten Vergne in '17/18 given the Techeetah driver's supremacy.
And had Buemi not lost either of the races in Santiago or Paris last season (he crashed while leading in the former and was given a puncture-causing tap by Frijns while running first in the latter) he'd have had enough points to depose Vergne in 2018/19 - assuming everything else played out identically.
Add in that Buemi holds the record for most FE wins, poles and fastest laps and the case for any other driver taking the top spot simply falls apart.
That isn't to say he's in a league of own, or has even been the best FE driver for the past two seasons (that's probably Vergne) but taking the championship as a whole it has to be Buemi at number one.