The first season of Formula E's Gen2 era ended with the same champion as the previous year in Jean-Eric Vergne, but a much-shuffled line-up of teams and drivers behind him - plus the change of car - made FE 2018/19 an incessantly intriguing story.
Motorsport Network Formula E writers Alex Kalinauckas, Tom Errington and Ben Vinel got together to discuss the best and worst performances and moments, on and off the track.
Best drive of the season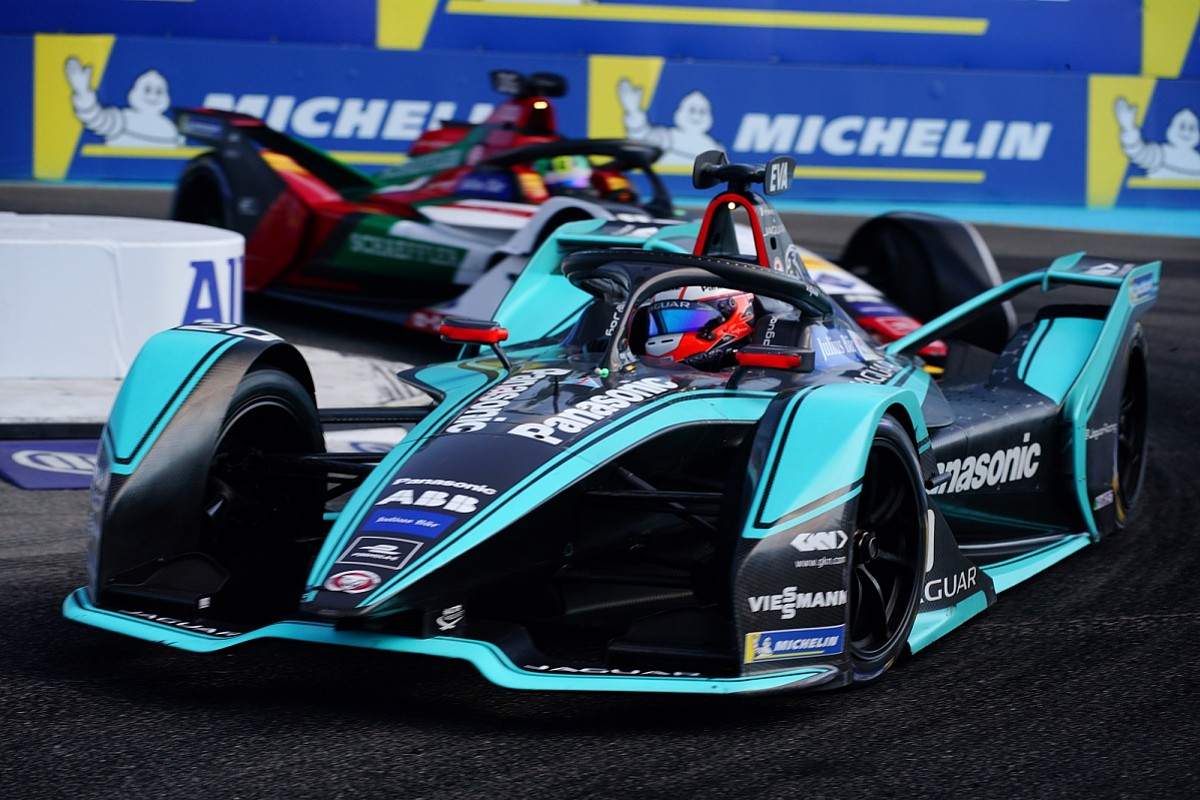 Alex Kalinauckas: For me, while Vergne's performances in Monaco and Bern were nothing short of sublime, he had basically won them by taking pole and then defending from the front - he even said in Bern that he didn't really bother with race management practice, but instead focused on nailing qualifying during his sim sessions.
So, in terms of "drive" of the season - and I'm taking that to mean race drive - it has to go to Mitch Evans in the first New York race.
Here's why: He qualified 13th and charged up the order to second when the title - even if it was a faint hope - was utterly on the line. He pulled off some smashing passes too.
Tom Errington: You rightly mention Vergne's approach to Monaco and Bern proved correct, but the way he held on to win in Bern without practicing race management makes it all the more impressive.
Evans, comfortably one of the best performers this year, put him under relentless pressure and Vergne never once looked unsettled. When you factor in the ridiculous pile-up and the delay that caused, and the emotions that ran high - something Vergne has previously been guilty of - it sums up the reborn driver he's become.
He managed surprising and difficult moments at a crucial period for his title defence. On and off the track, he showed why he was a worthy double champion that day.
AK: Fair shout - but he so nearly lost it in the wet right at the end, and the track was so narrow.
Benjamin Vinel: I think both of you have really good points - the thing is, this is Formula E and there are so many drives that deserve to be named here!
I quite like your Evans suggestion, Alex, but I was going to mention another race of his - maybe a bit more mainstream: I quite appreciated the savvy use he made of the attack mode to take Jaguar's maiden win in Rome, with a commanding overtake on Andre Lotterer.
Otherwise, I think Pascal Wehrlein also deserves a shout given what he achieved in just his third race in Formula E: he led until the very last lap in Mexico and nearly became the second ever rookie to win in this series!
AK: Yeah, Evans did race extremely well in Rome and the tactical use of attack mode was indeed probably the best example we saw of how that can be used in different ways, but I'd argue he only had one other car to beat - they were in a different league that day - whereas in New York he had heaps of overtaking to do and the pressure of the title.
Best event of the season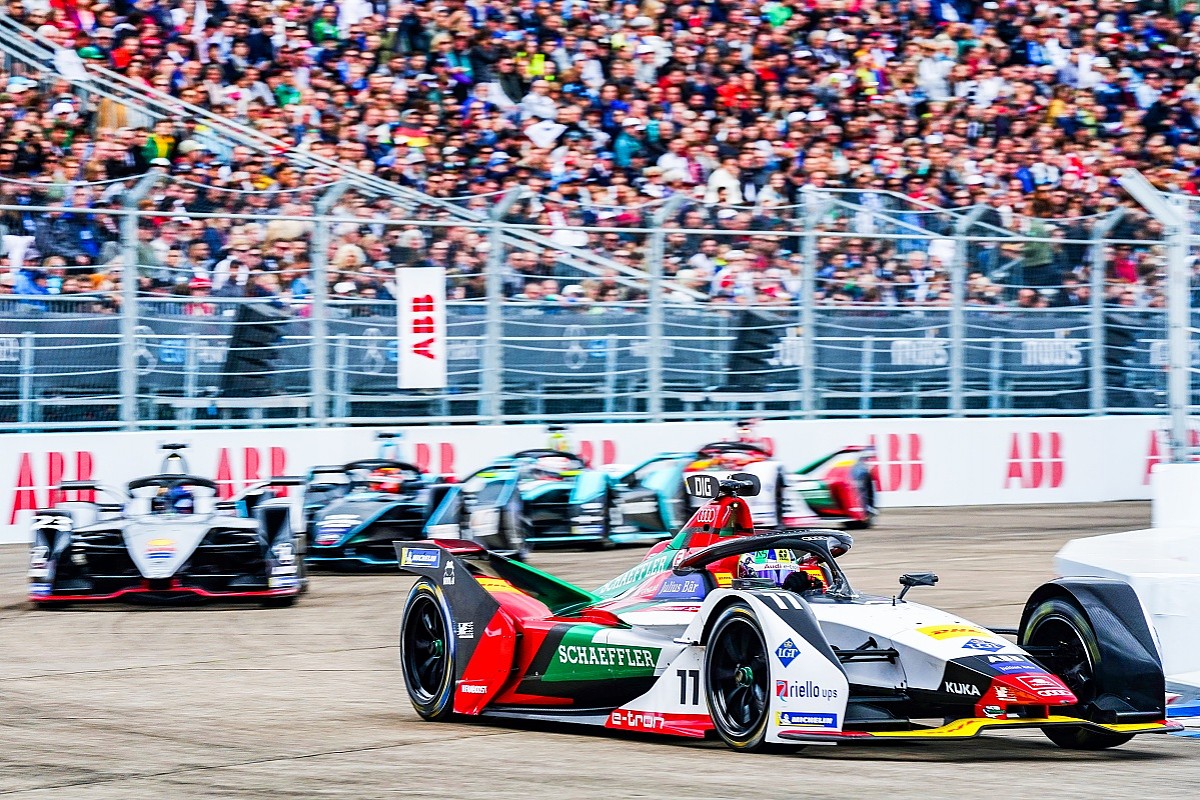 AK: Tom, what was it for you? Presumably not Riyadh, Marrakech or Santiago as you made your paddock debut in Mexico?
TE: As much as you really sold that Santiago heat to me, it's not that. My first race was tough to beat, considering it was Mexico and we had that incredible ending!
But actually, for me, it was Berlin. It felt like a template for what motorsport could be in the future - an easy location to get to, a genuine day out vibe with Nico Rosberg's Green Tech festival, and a track that lends itself to great racing by being wide open - as Vergne showed - but still being challenging.
As you've argued before, Alex, that potential can be built on by experimenting by using that enormous expanse to try different layouts and the like. It feels like a must-stay for the calendar long-term.
AK: Yeah I've gone for Berlin too - in terms of access, it's pretty unparalleled for spectators and the e-village is the best I've seen, and as you mentioned Tom the RosbergFest added something else as well.
The track setting at Tempelhof airport is just so atmospheric and you can see the cars very well from quite a few different positions - the opening sequence is a great stadium too, only Mexico has that for a real comparison.
It's also almost impossible to cause a safety car there - although Alex Lynn did manage it this year - which means we should have seen the true pecking order there, but the drivers managed to save enough energy to force a flatout race. Hopefully the new rules to take energy away under safety cars and full course yellows will fix that for next season.
I am guilty of declaring every FE event to be my favourite - mainly because of the cities it visits - but everything Berlin has as an event tips it over the line for me.
BV: I wish I'd been able to join you in Berlin! I have attended only two race events this season, but it seems to me that Marrakech, Berlin and New York provided us with the best racing.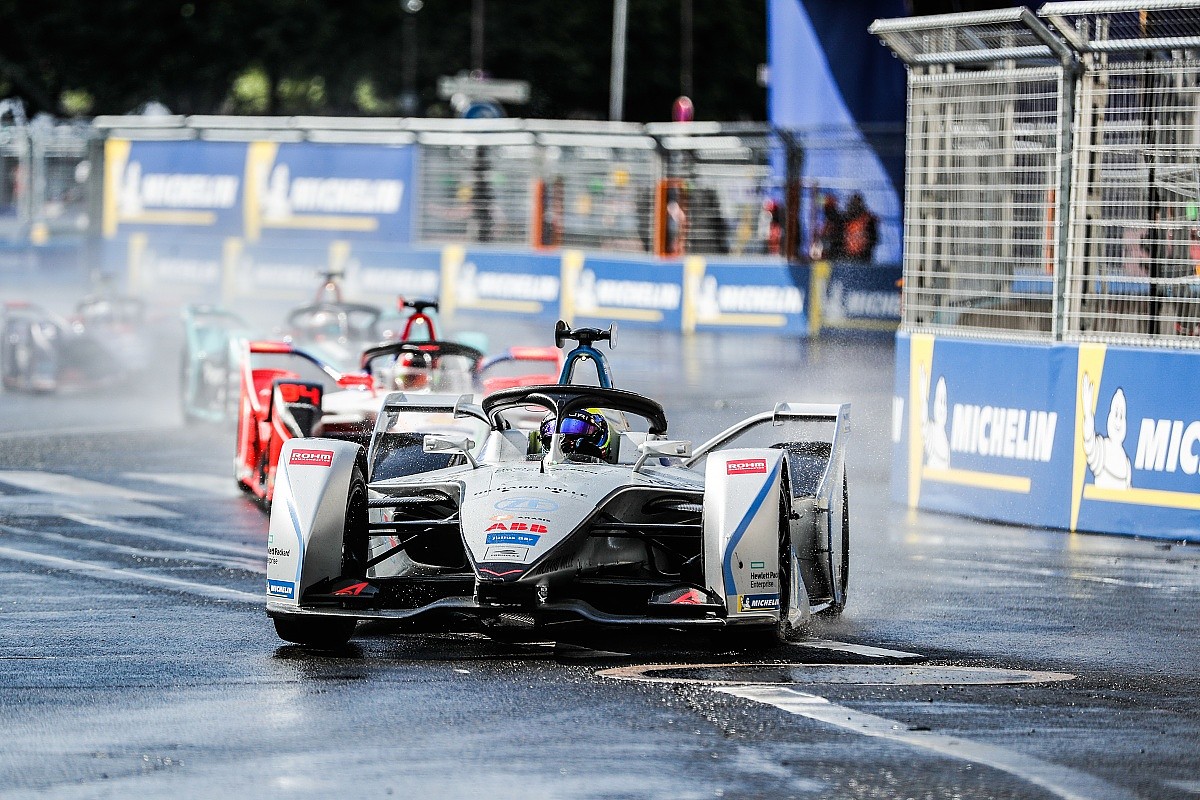 However, I've attended the Paris E-Prix pretty much every year, the way it's organised seems to get better and better... and we did have that first rainy race at Les Invalides! Wasn't that exciting?
AK: Yeah, it was a great race thanks to the rain - and I would say Paris is absolutely the best location for an FE race as that area of the city is so popular, cultural and is a proper city-centre, which is something FE is doing less and less these days to avoid upsetting the residents and ensuring it can come back by racing in quieter or more industrial areas.
BV: Absolutely Alex, and that definitely makes up for the track... not being the most exciting layout, let's say.
TE: Paris certainly has one of the best backdrops of the season, but the wet conditions made a race that was too chaotic to be overly enjoyable and got too close to a crashfest for my liking. But I can only judge off the back of one visit!
AK: That's a good point about the crashes - but I'm blaming the tyres more here. Yes, they do work in all conditions, but they don't work brilliantly in all conditions.
And Edoardo Mortara's move on Lynn was optimistic at best and desperate at worst.
Best team and worst team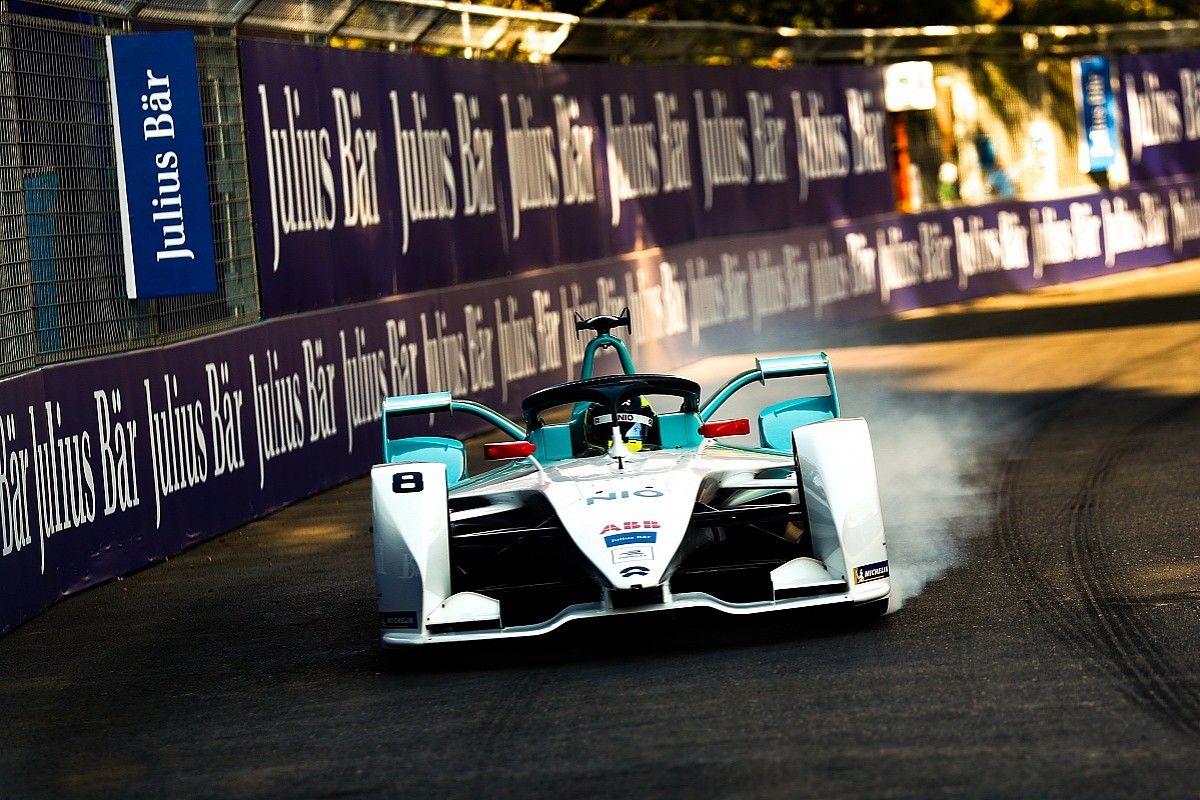 AK: Ben, what are your picks? I suspect we're going to have some consensus on the second part...
BV: Once again, it is hard to choose! DS made huge strides with its powertrain compared to the previous season, and Techeetah certainly made the most of its new technical partnership. It's won the teams' title, so it's an obvious pick.
Nissan e.dams certainly deserves a mention after designing an innovative twin-motor powertrain - it clearly had the fastest car in terms of one-lap pace but seldom put it together in the race.
The field was so tight that nobody actually deserves to be named as the worst team, but last-placed NIO was the only one that wasn't within 101% of the fastest in terms of dry-track one-lap pace on average, so it's a reasonable shout.
AK: I think NIO absolutely deserves to be named the worst in field!
TE: I can't argue with NIO as the worst team - it says something when even your team principal describes the season as a nightmare. In qualifying, races and even changeable conditions it never looked like moving itself away from the back of the field.
'Best' is difficult to assess, especially when there weren't many chances to see who had developed the overall best package.
I'd argue Nissan deserves to be up there considering it managed to do something innovative - which admittedly set it back as the dual-motor option proved a headache to master. But by the end of the season Sebastien Buemi was looking a serious threat and Oliver Rowland had a very impressive season as an under-prepared rookie. In some ways, it's a shame we won't see the fruits of Nissan's innovation next season.
AK: Yeah, I think Nissan deserves credit for its innovation - even if it did lead to a few race-costing crashes.
I'll reveal my 'best' pick then return to NIO...
For me, the top two squads in the championship were outstanding, and I probably would have just picked DS Techeetah over Audi because it had two drivers in title contention, but they are both usurped by the team that came third: Envision Virgin Racing.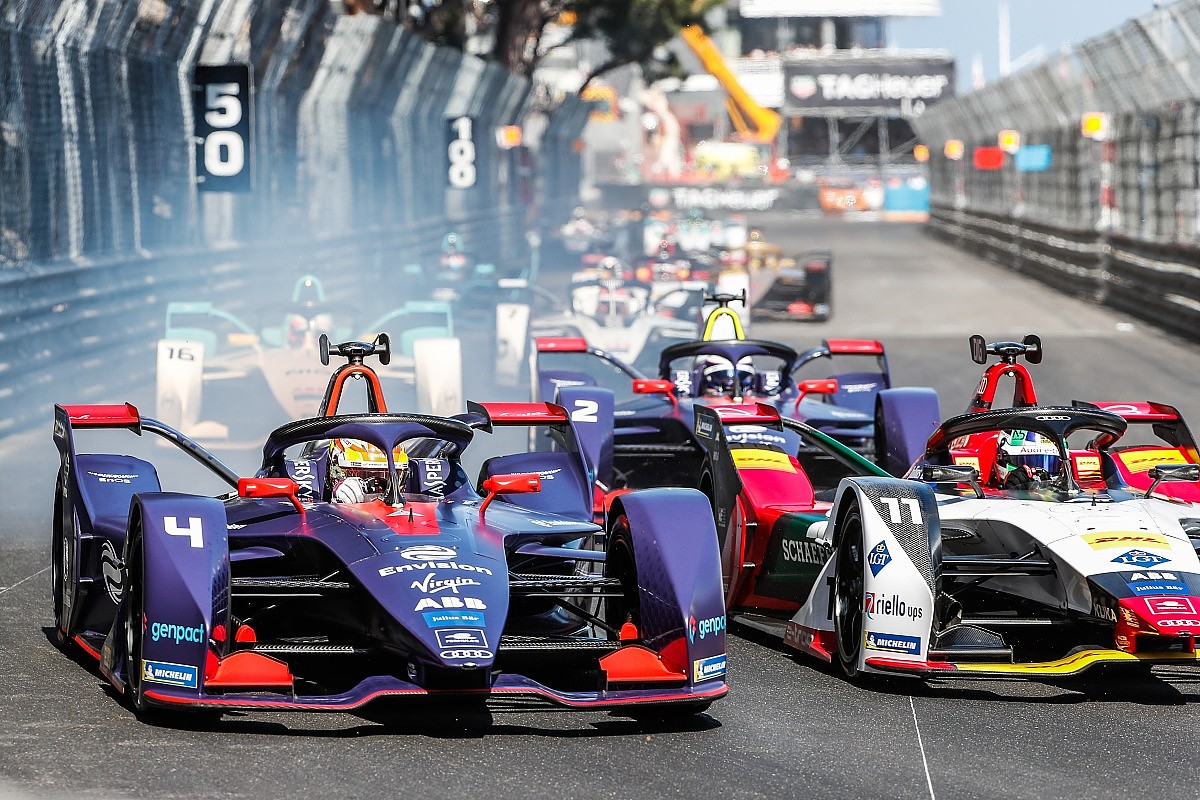 It had so little testing as a privateer outfit - yes, Audi did give over three days before the Valencia test, but with such little preparation it made such a great start and showed its talent as a race operation. Ultimately the lack of testing did cost it in terms of the biggest prizes - the team felt it was still learning about the car right at the end of the season - but finishing third is pretty remarkable, up there with what Techeetah achieved with Renault in 2017/18.
So, to NIO. It ended up miles off in the points, apparently with a hefty budget, and at no point did it look remotely like a fast or efficient car.
The few points it did score were by complete luck as others dropped out. When a driver of Tom Dillmann's calibre doesn't score a single point you have to look at the package, which despite what the times did show in Valencia testing (I'll defend that for as long as I have to), was way off.
BV: Then again, the fact that NIO's seven points is the lowest total ever for a Formula E team is testament to both how competitive the series has always been and how it's become even tighter.
AK: I'd argue that shows the team in an even worse light. HWA turned up as a customer squad and finished with over six times the number of points!
BV: I respectfully disagree: I think the fact that even HWA can put it on pole as the ninth-placed team in the championship shows how much harder it can get if you're struggling a little bit like NIO, just because everyone else is so close to nailing it.
AK: Hmmm - I take your point, but I think that exposes the bad job NIO did. And on the HWA pole, it did benefit from favourable qualifying groups at every round, which isn't to take away from the achievement or Stoffel Vandoorne's podium in Rome.
BV: That's right!
Best and worst moments
AK: Tom - what have you picked from the on-track action?
TE: The worst moment started on the track and hit its nadir off the track. The pile-up at Bern was a consequence of the places Formula E races at requiring tight chicanes, but I'm relieved to hear FE and the FIA are working to get rid of them.
The crash at Bern not only looked daft to those watching, but then seeing the drivers confront an FIA official in the manner they did was appalling. People love to hit out at the likes of football when referees are surrounded by players over a controversy, but this was just as bad. The only positive of that episode is that the fallout was handled well: the drivers were spoken to and a look into track design is happening.
AK: Yeah, that pitlane episode was rather unedifying.
TE: The best moment for me was Jaguar's first win in Rome. That had been such a difficult situation as Jaguar struggled to make inroads in Formula E - as well as the Nelson Piquet Jr saga - but Evans was utterly superb, his race-winning pass on Lotterer was one of the moves of the season. The relief on the faces of the likes of James Barclay was a great moment to experience and Evans went on to become an outside title contender.
The fact a high-profile manufacturer can arrive in FE and find success hard to come by but eventually make a turnaround is a lesson the likes of Porsche and Mercedes would do well to learn from.
AK: Oh the relief across the whole Jaguar squad was palpable.
BV: To be fair, there had been so many times when Evans was quick in free practice and something went wrong in qualifying and/or the race!
AK: Yeah, he did have some pretty unlucky moments - his halo catching a massive bit of track signage at Sanya was one!
Ben, what did you pick out as the best/worst moments?
BV: I picked Bern as my worst moment, and Tom absolutely nailed why! My best moment might be New York's first race, which was fascinating - though chaotic - for many reasons: so much overtaking throughout in the field, the championship leader struggling with several incidents, Buemi taking his first win for two years and surprisingly keeping himself in championship contention.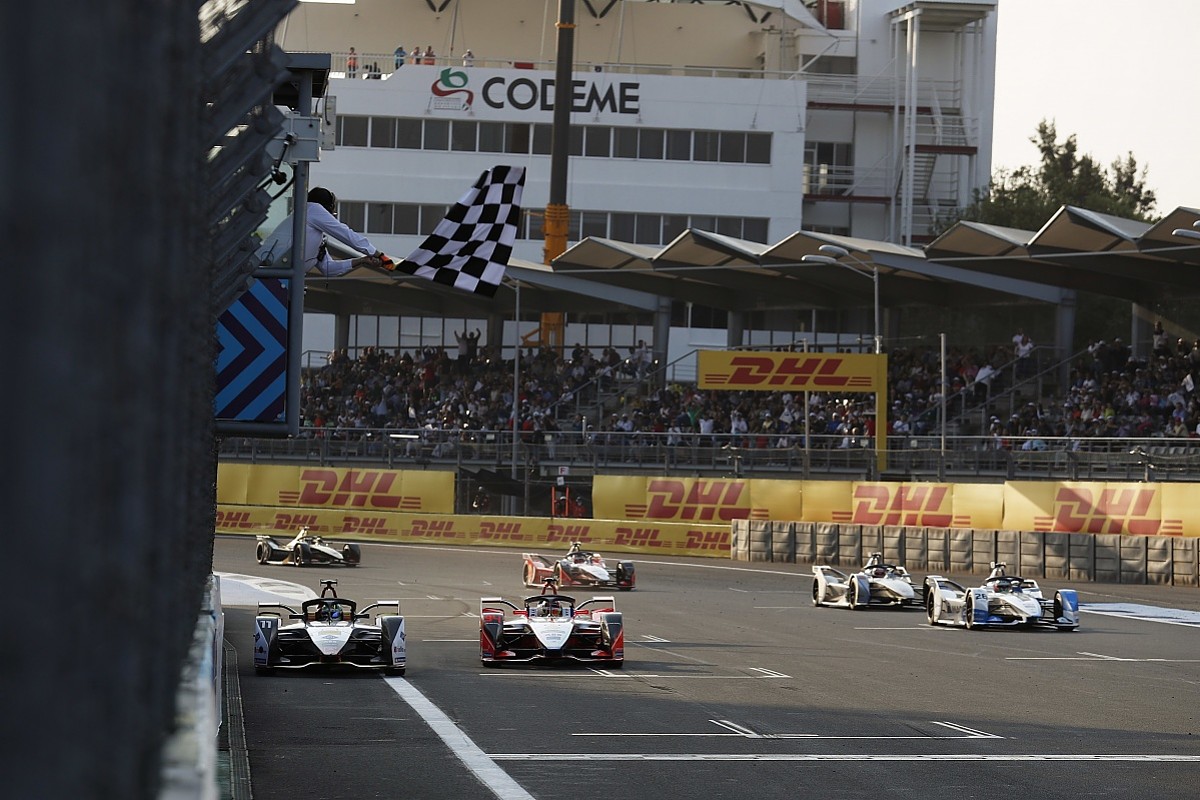 AK: Both excellent shouts there. For me the best moment has to be the Mexico finish - it's up there with the best moments in all of motorsport this season. Simply remarkable drama at the line, with Wehrlein showing exactly how good he is as a driver throughout that event. Di Grassi was relentless and Rowland was fantastic too - what a race, absolutely the race of the season.
The "worst" moment I've picked is the BMW-Andretti collision in Marrakech - even if it was more great drama. I could easily have gone with DS Techeetah losing a one-two in Riyadh due to a complex technical penalty - which FE doesn't need when it's trying to attract fans. But team-mates colliding is inexcusable, and I don't care what the official team line is, after that crash it wasn't ever a genuine frontrunner again and it didn't win another race all year.
TE: Yeah, considering at the start BMW was picked out by the other teams as one to watch, it's hard to argue that it wasn't disappointing - even if Antonio Felix da Costa was usually very impressive in qualifying and Alexander Sims suffered an unfair amount of bad luck.
BV: Yeah, it was impossible not to feel sorry for the BMW guys in Marrakech, especially as there had been some really tough times for Andretti in the Gen1 era before BMW became more involved in the team.
I remember da Costa telling me that they were going to turn it around in season five, and I wasn't sure what to think, but they did! That one-two would have been special.
The overlooked stars of the season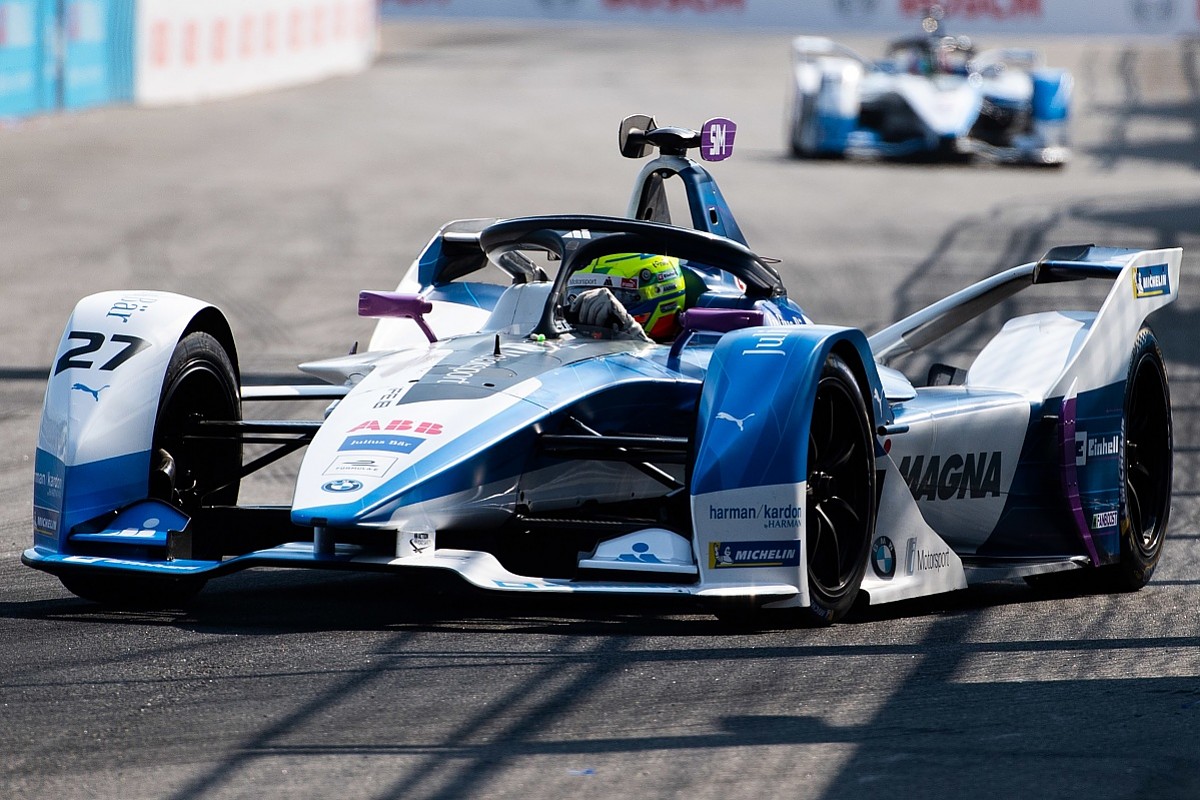 AK: I'll start. Tom, you mentioned Sims's bad luck and I think that's why I've gone for him here.
If you look at the final standings he's down in 13th, which doesn't reflect the speed he showed. So many times he was caught up in incidents that weren't of his own making - although there were a few that were. He should have won in Marrakech and could have been on the podium in Santiago. He thoroughly deserved his pole and podium in New York, even if there was no stopping Robin Frijns' charge to the win in the finale.
Sims absolutely deserves to hold onto his drive and I think BMW would be making a bad choice if it dropped him, especially with the speculation around da Costa's future right now.
TE: Sims is a good shout, but for me it's Maximilian Gunther. He never once got clarity over his season - every time I asked it was "race by race" - and yet he never let that uncertainty plague him. He was continually impressive in qualifying, occasionally erratic in races, but outscored experienced Dragon team-mate Jose Maria Lopez by 20-3 at the end of the season.
BMW must hold a similar opinion considering he's now tested for it, and I'm intrigued as to what his FE future will be. He's certainly keen to stay.
AK: Yeah and I'd say Gunther has attracted a bit of a reputation in some quarters that he doesn't deserve - he looked very good from my point of view.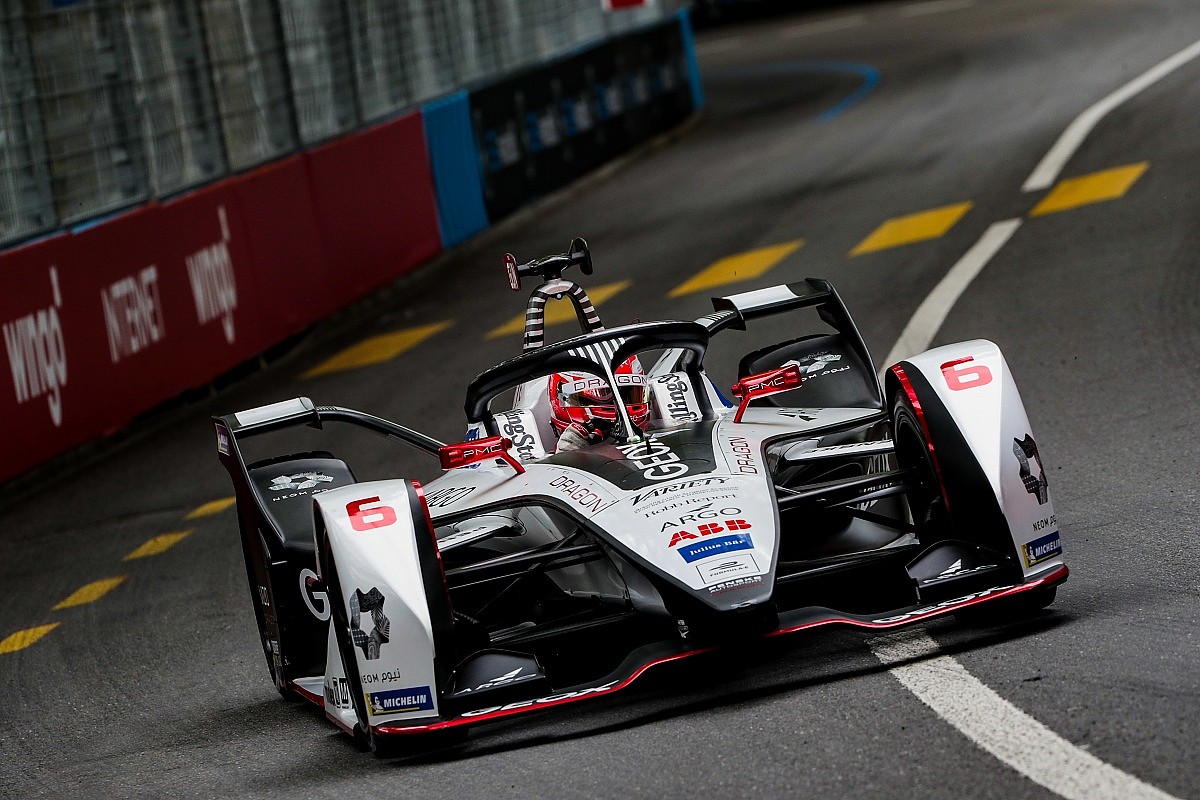 BV: I agree that Sims is a good shout (and I definitely think BMW should hold on to him), but my pick was Gunther, for the same reasons as you mentioned, Tom. I've been really impressed with how he dealt with the uncertainty over his future and how he outperformed Lopez.
Other valid options might be Rowland - one tends to forget he barely took part in pre-season testing at all, yet he still adapted really quickly to the Gen2 car with several pole positions and podiums. Also, da Costa definitely didn't have it easy as he was in the first qualifying group for every race this season, which makes his overall performance all the more impressive.
AK: Da Costa's group one consistency was pretty sensational - and that rule worked so well for the championship, until Vergne ruined everything right at the end...
TE: Rowland pushing Buemi so hard was seriously impressive and the inexperience rarely told, how he kicks on is one of the key storylines to watch next season.
BV: Definitely! I was initially somewhat disappointed that Alex Albon chose Formula 1 over FE, but Rowland performing so well actually makes me glad it turned out this way (especially with the opportunities Albon's getting in F1, too!).
Personal highlights and lowlights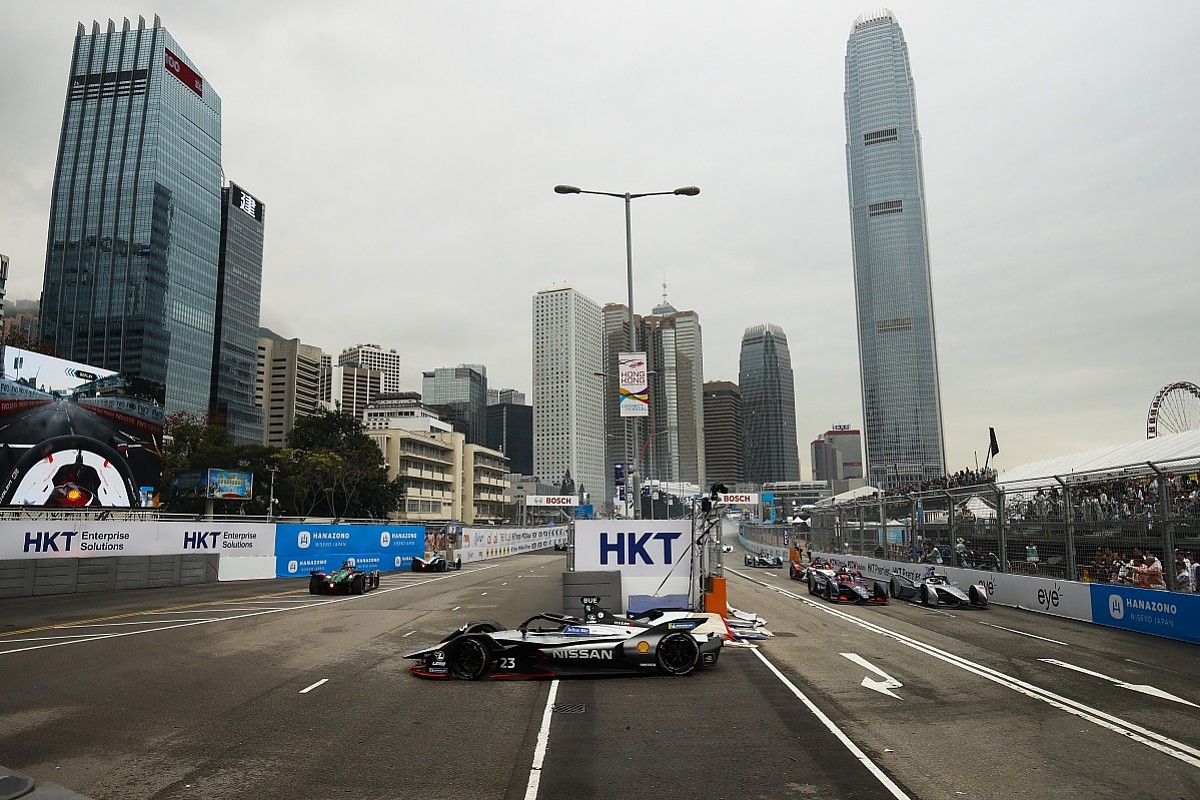 AK: Tom, as the newest FE contributor, you can go first. I'm kind like that.
TE: I don't want to make it all about me, but the personal lowlight was "Monegasque pizza" after we went for dinner after leaving the Monaco track late. It was soggy bread that was lying about being pizza and it took me until the Misano DTM round to find a pizza good enough to banish that one to the history books.
AK: I cannot believe you haven't picked the Bern accommodation with no curtains! I had that down as a sure thing!
TE: That was fairly terrible, but who doesn't love a 5am wake up call? But that pizza was supremely terrible.
Highlight was Hong Kong, my first visit to Asia. The culture was wonderful, the people were lovely and the food was even better. Getting lucky enough to have nearly 24 hours in the city after the race meant a rare chance to be a proper tourist. FE can sometimes exaggerate the 'racing in city centres' line, but even then the appeal of being anywhere near iconic cities makes it all that more special to go to.
AK: Ben - what were your lowlights and highlights?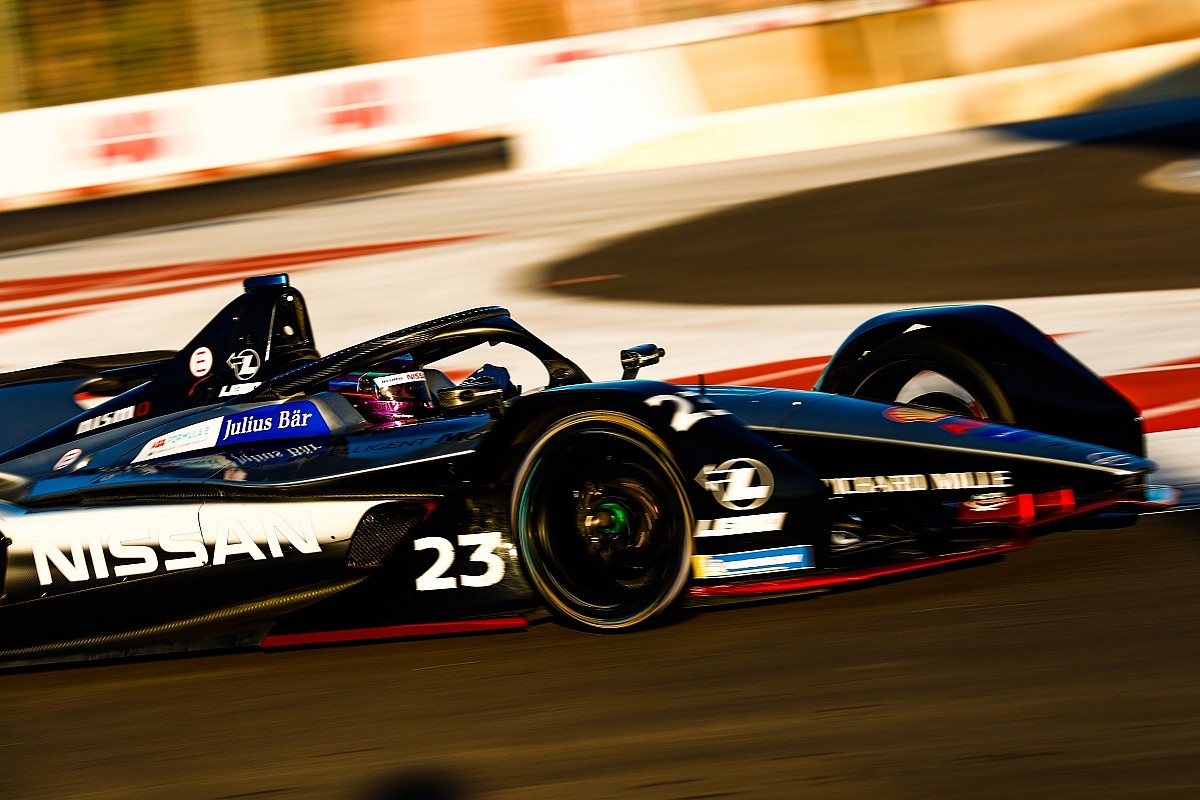 BV: Having attended just two races this year, I'd say my highlight was the Marrakech rookie test, because it's always super interesting to see how drivers from very different backgrounds adapt to Formula E and it's also a great opportunity to spend more time trackside and in the paddock compared to a very busy race day.
As I picked a riad complete with hot water this time around in Marrakech (last year's cold showers were a nightmare), there are no lowlights for me. It's been as fun as ever!
AK: My personal lowlight was absolutely the Friday in Hong Kong. After spending most of the day feeling a little the worse for wear following a few drinks for the road with Tom and a press room colleague the night before, I managed to mistime a paddock trawl walk late in the day and got caught in one of the massive showers that hit the event all weekend and wouldn't have been any drier had I just jumped into the South China Sea.
My personal highlight of the season was the story we broke the night before race day in Rome regarding the FIA instructing the FE stewards to clamp down on contact and that it was introducing the 'yellow card' warnings.
Chasing breaking news is the most exciting part of this job for me, and it took some good sourcing and door-stepping to break that, plus we ended up with a very thorough explanation from the FIA that led to more stories and an understanding on why the Gen2 car had been built to be as strong as it is.
Plus we had three sublime pizzas in Rome this year, which made up for me picking three awful ones the year before!