Ex-Red Bull Formula 1 junior Dan Ticktum says the speed of the new Formula 3 car around Macau is "dangerous".
For 2019, a new FIA F3 championship was created by merging the GP3 Series and the European F3 series and a new car based on the old GP3 machine produced.
The new car is heavier than the Dallara F317 used for the Macau Grand Prix previously, but has more power, more downforce and the F1 overtaking aid DRS.
---
Watch the Macau Grand Prix - plus the WTCR races, Motorcycle GP and FIA GT World Cup - live on Autosport this weekend
---
Macau and the FIA elected to use the machine for the non-championship event this year.
In the first session of the weekend, six drivers beat last year's pole time - Marcus Armstrong going four seconds quicker than the best time set in the equivalent practice in 2018.
Red Bull junior Juri Vips took pole position for Saturday's qualification race, the first driver to crack the 2m05s, and his lap was 4.193s quicker than last year's pole time set by Ticktum.
"I think the racing is going to be very exciting, and very dangerous," Ticktum told Autosport before final qualifying.
"It'll be exciting to watch for everyone at home.
"A message to all drivers, you've got to be a little bit careful I think in the races. It's going to be interesting."
Ticktum was speaking before suffering an accident in practice two. David Beckmann had crashed at the outside of Police corner, leaving a small gap that Alessio Lorandi squeezed through.
Following Lorandi, Ticktum came through quicker and his rear-left corner hit the rear of Beckmann's car in his attempts to avoid him.
It compromised both drivers in qualifying as Ticktum was 13th and Beckmann managed 24th. The stewards investigated but deemed Ticktum didn't have enough time to avoid the incident and elected to take no further action.
Talking to Autosport before his practice crash, Ticktum discussed the differences between the new and old car at the Guia circuit.
"The car itself around here simply is not quite as nice to drive because of the weight," he added.
"However, it's better than I was expecting it to be.
"I do think it's going to be pretty dangerous also, not going to lie, we are going pretty bloody quickly now.
"You will get close to the limiter with the tow.
"The weight of the cars and how fast we're going, it's more dangerous.
"The actual tubs themselves are stronger you could argue, but when you hit a wall at a higher speed, it's going to hurt more basically.
"It's still got that Macau feel in terms of how fun it is, trying to get close to the limit and rewarding you for how close you get to the wall."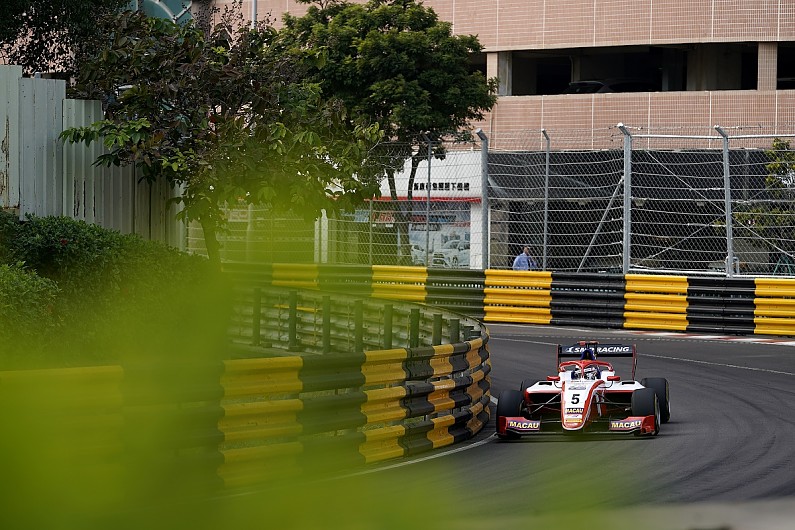 Most drivers have praised the new car in Macau, including 2019 FIA F3 champion and Ferrari junior Robert Shwartzman - who said "I was expecting way worse at this track with this car, but it actually handles really well".
When asked about Ticktum's comments, polesitter Vips told Autosport: "If it's too fast, drive slower.
"I think you can race any car around here, it's not going to be dangerous.
"I guess it's more scary than last year, so for rookies I think it's harder than it was last year. But I wouldn't say it's more dangerous. It's just harder.
"Safety-wise they made a lot of improvements from last year.
"I think the dangerous stuff that can happen they've tried to correct. I have no concerns over that."
With the introduction of the new F3 car, the circuit organiser and the FIA have combined to make changes to the track for 2019, as the increased power-to-weight ratio of the car meant the Guia circuit needed an upgraded homologation status.
Seven aspects of the circuit have been changed, including reducing the gap between the inside barrier and kerb at the Lisboa corner, where Sophia Florsch crashed heavily last year. She labelled the changes the "right thing".
Stuart Robertson, FIA head of circuit and rally safety, said: "We are continually striving to develop circuit safety and the new additions at Macau are very much part of that.
"Safety innovations such as the SAFER barriers, Tecpro and the latest generation of light panels are key elements in our commitment to ensuring that circuits are as safe as they can be for competitors, spectators and officials."