Renault Formula 1 junior Christian Lundgaard became the fifth driver to top Formula 3 qualifying in as many rounds, in a nightmare session for two of Prema Racing's championship contenders.
Marcus Armstrong was fastest after the first set of runs, besting the Red Bull-backed Juri Vips by 0.180 seconds as his fellow Ferrari junior and Prema team-mate Robert Shwartzman sat 0.290s adrift.
But Friday's rain washed away the rubber on track, meaning drivers would be able to go quicker later in the session as more rubber was laid down on the drying surface.
Lungaard hooked up three session-best sectors in the final two minutes to land pole, ending a poor run of form for GP3 teams' champion ART Grand Prix.
Vips, who is third in the championship and has won the two most recent races where qualifying has determined the starting order, failed to best Lundgaard and improve with his last effort and will start second, albeit ahead of his championship rivals.
Lungaard's team-mate and fellow Renault junior Max Fewtrell was confident after practice and backed that up by securing third ahead of points leader Shwartzman - who was the only Prema driver in the top 10, despite the team dominating the series this year and having three drivers in the top four in the championship.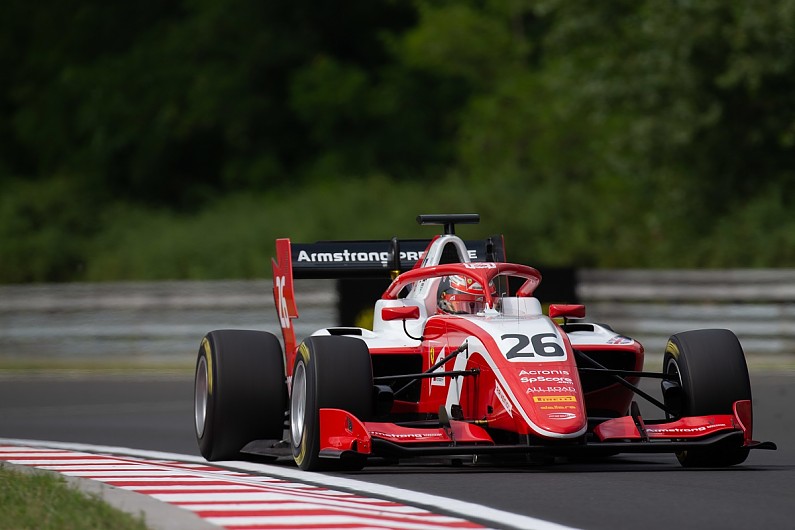 Armstrong ran wide at Turn 4 on his penultimate effort and had to settle for 13th on the grid, while his team-mate Jehan Daruvala turned a last-gasp lap to take 17th, having been 21st before it.
Behind Shwartzman, Niko Kari led team-mate Pedro Piquet in one of the best sessions of the year so far for Trident Racing, the pair qualifying within two tenths of pole.
Jake Hughes of HWA made a late improvement to take seventh, ahead of the third ART-run car of David Beckmann.
Red Bull's Yuki Tsunoda took ninth, his best starting spot of the season, ahead of Carlin's Felipe Drugovich.
The top 10 was covered by less than 0.6s, and the top 21 of 30 cars by less than a second.
Qualifying result
| Pos | Driver | Team | Gap |
| --- | --- | --- | --- |
| 1 | Christian Lundgaard | ART Grand Prix | 1m31.761s |
| 2 | Juri Vips | Hitech GP | 0.125s |
| 3 | Max Fewtrell | ART Grand Prix | 0.136s |
| 4 | Robert Shwartzman | Prema Racing | 0.142s |
| 5 | Niko Kari | Trident | 0.213s |
| 6 | Pedro Piquet | Trident | 0.226s |
| 7 | Jake Hughes | HWA | 0.276s |
| 8 | David Beckmann | ART Grand Prix | 0.316s |
| 9 | Yuki Tsunoda | Jenzer Motorsport | 0.436s |
| 10 | Felipe Drugovich | Carlin | 0.595s |
| 11 | Leonardo Pulcini | Hitech GP | 0.614s |
| 12 | Sebastian Fernandez | Campos Racing | 0.615s |
| 13 | Marcus Armstrong | Prema Racing | 0.624s |
| 14 | Alex Peroni | Campos Racing | 0.641s |
| 15 | Raoul Hyman | Charouz | 0.725s |
| 16 | Richard Verschoor | MP Motorsport | 0.804s |
| 17 | Jehan Daruvala | Prema Racing | 0.832s |
| 18 | Yifei Ye | Hitech GP | 0.860s |
| 19 | Logan Sargeant | Carlin | 0.931s |
| 20 | Liam Lawson | MP Motorsport | 0.934s |
| 21 | Teppei Natori | Carlin | 0.966s |
| 22 | Fabio Scherer | Charouz | 1.112s |
| 23 | Simo Laaksonen | MP Motorsport | 1.184s |
| 24 | Lirim Zendeli | Charouz | 1.226s |
| 25 | Devlin Defrancesco | Trident | 1.286s |
| 26 | Bent Viscaal | HWA | 1.303s |
| 27 | Keyvan Andres | HWA | 1.332s |
| 28 | Giorgio Carrara | Jenzer Motorsport | 1.611s |
| 29 | Andreas Estner | Jenzer Motorsport | 1.708s |
| 30 | Alessio Deledda | Campos Racing | 3.255s |