The HWA FIA Formula 3 team can still fight for the drivers' title this year according to Jake Hughes, after technical issues blighted his Barcelona season opener.
Hughes lacked full power in qualifying which meant he was unable to use DRS. Despite a huge time loss in the first two sectors, Hughes was third fastest in the third sector - the only one in Barcelona not to use DRS.

The verdict on the start of the new FIA F3 era
Hughes was also fifth in practice, the fastest car that did not use a second set of new tyres.
Having qualified 29th on the grid, Hughes ended the first race 17th. In race two, he was collected in a crash between Yifei Ye and Raoul Hyman.
"The pace has been mega," said Hughes. "In practice, we looked strong, we didn't run the extra set of tyres as some teams did and we were still fifth, so I think that was a good indication.
"We had a mechanical issue in qualifying which meant I didn't have full power and therefore DRS, so it's no contest for me.
"It's a bit of a shame because even with no power and no DRS we were only a tenth off the best third sector, so I think it just shows what we were capable of.
"Just looking at the data from practice with time lost on the straights I would have been P3 [in qualifying], I can never confirm that but it shows we could be there or thereabouts.
"But starting 29th, I've never been that far back in my life, I couldn't even see the lights or the second set of lights!
"I found 12 places in 20 laps, so I suppose that's OK. But after qualifying, we were hoping to get into position to fight for points today so we saved a set of tyres, unfortunately, someone took me out in Turn 1 so weekend finished.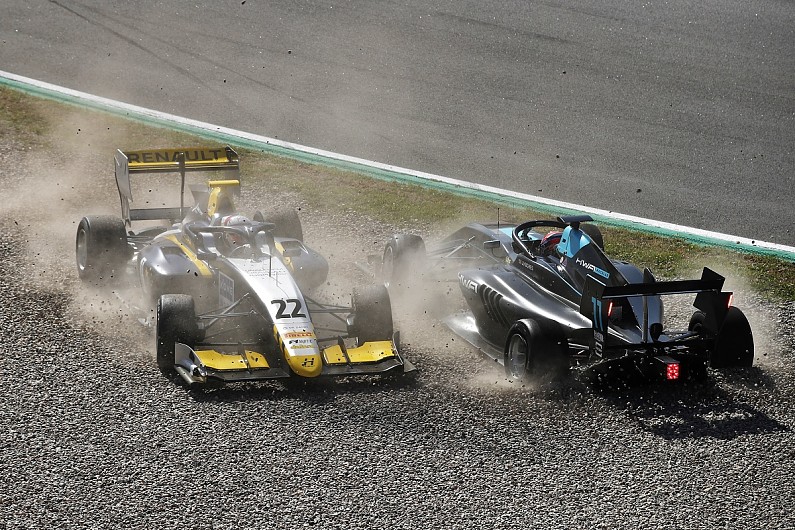 "The race two is disappointing in itself, but that's what you get starting 29th when our pace should have had us starting in the top six."
HWA is making its debut as a full junior single-seater team in F3 this year.
Hughes has been joined at the squad by Euroformula Open runner-up Bent Viscaal and European Formula 3 refugee Keyvan Andres.
Viscaal took the teams best results, finishing 13th in both races in Spain.
HWA team principal Thomas Strick said: "The lads did a good job. Of course, not everything went as we had hoped.
"But we are right up there in terms of pace.
"That was especially clear to see during Jake's practice session and with his chasing performance in the first race.
"I feel sorry for him. Who knows what he could have achieved from a better grid position on Saturday? But we can't change that now.
"We can be optimistic as we look forward to the second race weekend. We have a long break now, which we can use for analysis and detailed preparation."