British teenager Dan Ticktum has been given the all-clear by the FIA to contest the Macau Grand Prix after being monitored in the Formula 3 European Championship finale at Hockenheim.
The 17-year-old was making his first race appearance since the end of his 12-month ban for an incident in the penultimate round of the 2015 MSA Formula series at Silverstone.
Ticktum has been taking part in private F3 tests - for which a licence is not needed - this year with Double R Racing with a view to competing in European F3 in 2017, and has a deal with the Woking team for next month's Macau GP.
But first he had to satisfy the FIA's requirements at Hockenheim, where he competed with Carlin.
Ticktum started each race from the pitlane and his weekend was not without incident, including collisions with Pedro Piquet in race two and with Nikita Mazepin in the finale.
But he was not held at fault for either of these by the race stewards.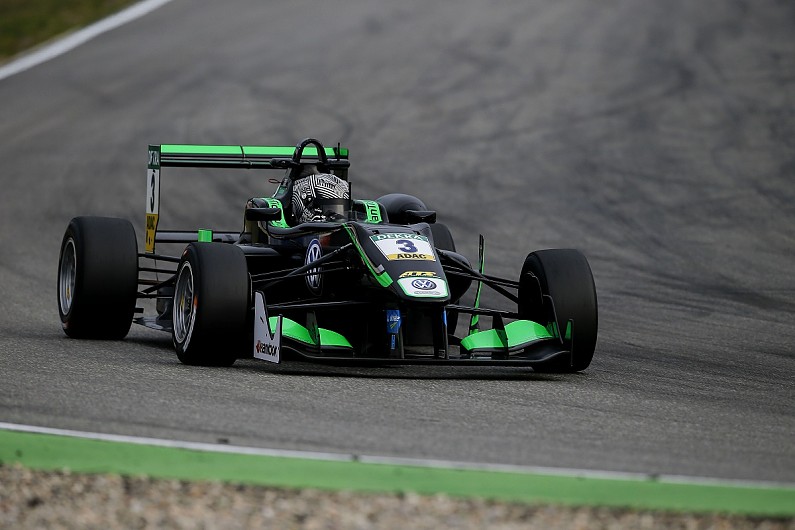 Ticktum's manager, Infinity's Harry Soden, said: "Dan's a racer as we know, but he knows he has to be on his best behaviour.
"He's learned his lesson and he was driving on the side of caution, and if you've not been racing for a year you're always going to be out of practice.
"Now he goes to Macau on a level playing field."
Ticktum picked up the pace over the Hockenheim weekend and set the 10th fastest lap of the final race. Thirteenth in the opener was his best finish.
"It was good to get it under his belt," added Soden.
"Dan proved capable of running in the top 10 from his pace and he'll only get better - and he started from the pitlane and overtook quite a few cars."
Ticktum, who will contest the BRDC British F3 Autumn Trophy at Snetterton on October 29-30 with Double R, is testing with leading European F3 team Motopark at the Hungaroring on Thursday and Friday of this week.
Joining him are Motopark's 2016 Euro F3 rookie champion Joel Eriksson and German Euroformula Open racer Keyvan Soori.
Out with Hitech GP at the same venue are team regular Mazepin and 16-year-old Euro F3 podium finisher David Beckmann.
Meanwhile, Van Amersfoort Racing tested at Hockenheim on Tuesday and Wednesday with Pedro Piquet, Euroformula Open ace Ferdinand Habsburg, German Formula 4 Championship racer Kami Laliberte and Soori.