Britain's Alex Lynn stormed to an emphatic win in the second Formula 3 European Championship race of the weekend at Vallelunga.
While Lynn seemed in a different class to his opponents, it was a nightmare for his title-chasing Prema Powerteam team-mate Raffaele Marciello.
The Ferrari-backed Italian, leading the points, was stranded on the grid as the rear end of his car was shrouded in a plume of smoke (pictured below).
The problem was a burnt-out airbox, caused by the long holds on the grid before both starts so far this weekend.
His problem allowed Felix Rosenqvist, who started from the back of the grid after his qualifying dramas, to unexpectedly make inroads into Marciello's points advantage after charging through to ninth.
Alexander Sims made the most of Marciello's issue to get up to second at the start.
The T-Sport Dallara-Nissan driver zapped the Carlin Dallara-Volkswagen of Daniil Kvyat at the start, then head to fend off a concerted challenge from the Russian at the second restart, but held firm to complete a British one-two.
"If only races were like that all the time," said Lynn. "Our pace was really, really strong. I was using two new tyres and knew that Alexander wasn't, so I expected to be faster, but didn't expect to be that much faster.
"We changed quite a few things overnight and the balance came to us - a big thanks to the guys at Prema."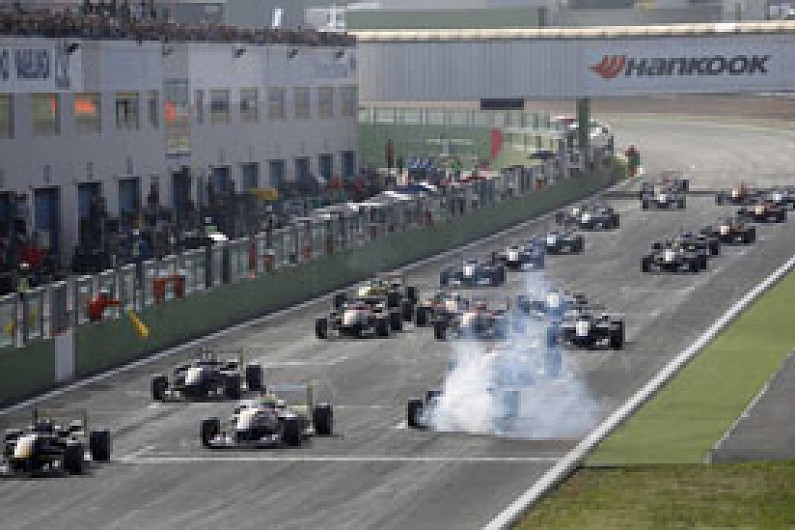 Eddie Cheever's good weekend continued, and the Italian improved further on his season-best result to claim fourth in his Prema car.
Team-mate Lucas Auer was behind, the Austrian having to work his way past the Fortec Motorsport machine of Pipo Derani.
Antonio Giovinazzi and Sven Muller were a little bit out of reach for Rosenqvist, who headed home fellow Swede John Bryant-Meisner.
With Kvyat unregistered for the championship, Carlin team-mate Nicholas Latifi picked up the final point for 11th, just ahead of Tom Blomqvist.
The first safety car was caused when Jann Mardenborough went off on the opening lap, while the second was precipitated when Lucas Wolf, who had just rejoined after a pitstop, hit the barriers at the Cimini curve.
There was a further incident when Felix Serralles crashed out for the second time this weekend, this time after being launched onto two wheels by Latifi at the slow infield left-hand hairpin.
It was a miserable race for the other Brits, with Jordan King retiring in the early stages and Harry Tincknell struggling home 18th.
Results - 22 laps:

Pos  Driver              Team/Car                          Time/Gap
 1.  Alex Lynn           Prema Dallara-Merc              35m18.375s
 2.  Alexander Sims      T-Sport Dallara-Nissan             +5.034s
 3.  Daniil Kvyat        Carlin Dallara-VW                  +6.912s
 4.  Eddie Cheever       Prema Dallara-Merc                 +7.834s
 5.  Lucas Auer          Prema Dallara-Merc                 +9.095s
 6.  Pipo Derani         Fortec Dallara-Merc               +11.456s
 7.  Antonio Giovinazzi  Double R Dallara-Merc             +12.022s
 8.  Sven Muller         Van Amersfoort Dallara-VW         +13.034s
 9.  Felix Rosenqvist    Mucke Dallara-Merc                +15.645s
10.  John Bryant-Meisner Fortec Dallara-Merc               +17.872s
11.  Nicholas Latifi     Carlin Dallara-VW                 +19.862s
12.  Tom Blomqvist       Eurointernational Dallara-Merc    +20.509s
13.  Roy Nissany         Mucke Dallara-Merc                +21.888s
14.  Mitchell Gilbert    Mucke Dallara-Merc                +23.226s
15.  Michael Lewis       Mucke Dallara-Merc                +23.921s
16.  Dennis van de Laar  Van Amersfoort Dallara-VW         +24.920s
17.  Spike Goddard       T-Sport Dallara-Nissan            +25.042s
18.  Harry Tincknell     Carlin Dallara-VW                 +27.179s
19.  Andre Rudersdorf    Ma-con Dallara-VW                 +27.766s
20.  Tatiana Calderon    Double R Dallara-Merc             +31.576s
21.  Sean Gelael         Double R Dallara-Merc             +31.978s
22.  Sandro Zeller       Zeller Dallara-Merc               +32.251s

Retirements:

     Felix Serralles     Fortec Dallara-Merc                 7 laps
     Lucas Wolf          URD Dallara-Merc                    7 laps
     Raffaele Marciello  Prema Dallara-Merc                  0 laps
     Jordan King         Carlin Dallara-VW                   0 laps
     Jann Mardenborough  Carlin Dallara-VW                   0 laps