Ferrari protege Raffaele Marciello took a double pole position for the penultimate round of the Formula 3 European Championship at Vallelunga, while title rival Felix Rosenqvist suffered a nightmare.
Marciello stamped in the fastest time in the opening session, which began on a damp track and was red-flagged twice - the second time when Rosenqvist went off.
While Marciello took the overall best time in that session, on second-best times (which set the grid for race two) he narrowly lost out to Prema Powerteam Dallara-Mercedes team-mate Alex Lynn, who set the overall third-best time.
But he won't be too bothered about that, as Rosenqvist will line up 27th and last for the first two races.
In the second session, Marciello once again stormed to the head of the times to take pole for race three, while Rosenqvist - after the Mucke Motorsport team had checked his car over for gravel damage - could only finish 13th as the squad struggles to find a competitive set-up for the technical Italian track.
Alexander Sims bounced back onto form in the T-Sport Dallara-Nissan to take the other front-row spot for race one, while Pipo Derani claimed second on the grid for the final race in his Fortec Motorsport Dallara-Merc.
It is the first time the Brazilian has earned a front-row slot from qualifying for an F3 race at this level.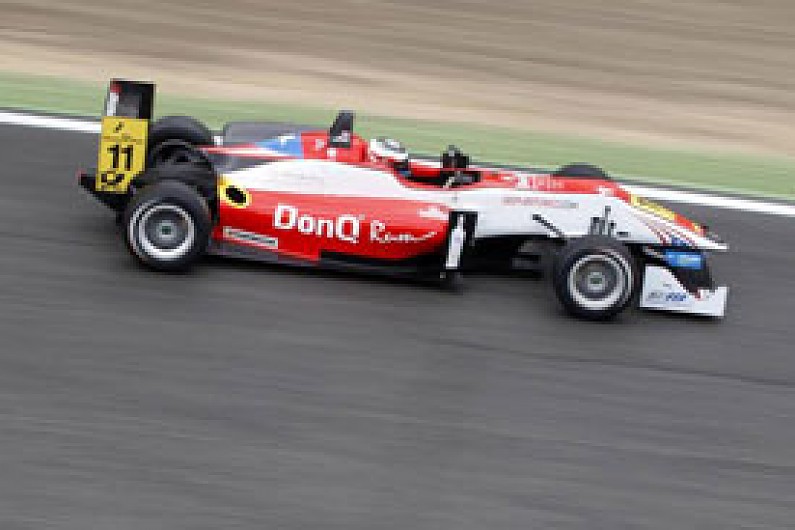 Felix Serralles made it two Fortec cars in the top three for the final race, edging out Sims and Lynn.
Serralles also completed the top five in the opening session, just behind Carlin-run Russian Daniil Kvyat, who took a pair of second-row positions.
Eddie Cheever and Jordan King were the other drivers to sneak in top-six efforts.
Of the other Brits, Harry Tincknell bounced back from a difficult opening session to go 11th on the grid for race three, Jann Mardenborough also took a best grid slot of 11th, and Tom Blomqvist found himself well down the order with a highest position of 16th.
The other red flag in the first session was caused by a spin for Sean Gelael, while the second was halted with four minutes remaining due to a light crash for Roy Nissany.
Race one grid:

Pos  Driver              Team/Car                        Time       Gap
 1.  Raffaele Marciello  Prema Dallara-Merc              1m29.564s
 2.  Alexander Sims      T-Sport Dallara-Nissan          1m29.648s  +0.084s
 3.  Alex Lynn           Prema Dallara-Merc              1m29.689s  +0.125s
 4.  Daniil Kvyat        Carlin Dallara-VW               1m29.710s  +0.146s
 5.  Felix Serralles     Fortec Dallara-Merc             1m29.738s  +0.174s
 6.  Eddie Cheever       Prema Dallara-Merc              1m29.769s  +0.205s
 7.  Pipo Derani         Fortec Dallara-Merc             1m29.856s  +0.292s
 8.  Jordan King         Carlin Dallara-VW               1m29.982s  +0.418s
 9.  Lucas Auer          Prema Dallara-Merc              1m30.057s  +0.493s
10.  Antonio Giovinazzi  Double R Dallara-Merc           1m30.087s  +0.523s
11.  Jann Mardenborough  Carlin Dallara-VW               1m30.102s  +0.538s
12.  Sven Muller         Van Amersfoort Dallara-VW       1m30.104s  +0.540s
13.  John Bryant-Meisner Fortec Dallara-Merc             1m30.181s  +0.617s
14.  Dennis van de Laar  Van Amersfoort Dallara-VW       1m30.209s  +0.645s
15.  Spike Goddard       T-Sport Dallara-Nissan          1m30.209s  +0.645s
16.  Harry Tincknell     Carlin Dallara-VW               1m30.223s  +0.659s
17.  Nicholas Latifi     Carlin Dallara-VW               1m30.228s  +0.664s
18.  Mitchell Gilbert    Mucke Dallara-Merc              1m30.243s  +0.679s
19.  Roy Nissany         Mucke Dallara-Merc              1m30.354s  +0.790s
20.  Michael Lewis       Mucke Dallara-Merc              1m30.356s  +0.792s
21.  Tom Blomqvist       Eurointernational Dallara-Merc  1m30.467s  +0.903s
22.  Tatiana Calderon    Double R Dallara-Merc           1m30.549s  +0.985s
23.  Lucas Wolf          URD Dallara-Merc                1m30.667s  +1.103s
24.  Andre Rudersdorf    Ma-con Dallara-VW               1m30.685s  +1.121s
25.  Sean Gelael         Double R Dallara-Merc           1m30.916s  +1.352s
26.  Sandro Zeller       Zeller Dallara-Merc             1m31.122s  +1.558s
27.  Felix Rosenqvist    Mucke Dallara-Merc              1m31.951s  +2.387s

Race two grid:

Pos  Driver              Team/Car                        Time       Gap
 1.  Alex Lynn           Prema Dallara-Merc              1m29.794s
 2.  Raffaele Marciello  Prema Dallara-Merc              1m29.801s  +0.007s
 3.  Daniil Kvyat        Carlin Dallara-VW               1m29.819s  +0.025s
 4.  Alexander Sims      T-Sport Dallara-Nissan          1m29.849s  +0.055s
 5.  Eddie Cheever       Prema Dallara-Merc              1m29.927s  +0.133s
 6.  Pipo Derani         Fortec Dallara-erc              1m29.927s  +0.133s
 7.  Felix Serralles     Fortec Dallara-erc              1m29.964s  +0.170s
 8.  Jordan King         Carlin Dallara-VW               1m30.014s  +0.220s
 9.  Lucas Auer          Prema Dallara-Merc              1m30.088s  +0.294s
10.  John Bryant-Meisner Fortec Dallara-Merc             1m30.207s  +0.413s
11.  Antonio Giovinazzi  Double R Dallara-Merc           1m30.259s  +0.465s
12.  Spike Goddard       T-Sport Dallara-Nissan          1m30.272s  +0.478s
13.  Dennis van de Laar  Van Amersfoort Dallara-VW       1m30.288s  +0.494s
14.  Jann Mardenborough  Carlin Dallara-VW               1m30.344s  +0.550s
15.  Sven Muller         Van Amersfoort Dallara-VW       1m30.365s  +0.571s
16.  Tom Blomqvist       Eurointernational Dallara-Merc  1m30.520s  +0.726s
17.  Nicholas Latifi     Carlin Dallara-VW               1m30.568s  +0.774s
18.  Roy Nissany         Mucke Dallara-Merc              1m30.570s  +0.776s
19.  Tatiana Calderon    Double R Dallara-Merc           1m30.596s  +0.802s
20.  Mitchell Gilbert    Mucke Dallara-Merc              1m30.651s  +0.857s
21.  Lucas Wolf          URD Dallara-Merc                1m30.672s  +0.878s
22.  Andre Rudersdorf    Ma-con Dallara-VW               1m30.705s  +0.911s
23.  Harry Tincknell     Carlin Dallara-VW               1m30.872s  +1.078s
24.  Michael Lewis       Mucke Dallara-Merc              1m30.913s  +1.119s
25.  Sean Gelael         Double R Dallara-Merc           1m31.004s  +1.210s
26.  Sandro Zeller       Zeller Dallara-Merc             1m31.166s  +1.372s
27.  Felix Rosenqvist    Mucke Dallara-Merc              1m41.785s +11.991s

Race three grid:

Pos  Driver              Team/Car                        Time       Gap
 1.  Raffaele Marciello  Prema Dallara-Merc              1m29.329s
 2.  Pipo Derani         Fortec Dallara-Merc             1m29.465s  +0.136s
 3.  Felix Serralles     Fortec Dallara-Merc             1m29.468s  +0.139s
 4.  Alexander Sims      T-Sport Dallara-Nissan          1m29.478s  +0.149s
 5.  Alex Lynn           Prema Dallara-Merc              1m29.488s  +0.159s
 6.  Jordan King         Carlin Dallara-VW               1m29.514s  +0.185s
 7.  Sven Muller         Van Amersfoort Dallara-VW       1m29.574s  +0.245s
 8.  Daniil Kvyat        Carlin Dallara-VW               1m29.608s  +0.279s
 9.  Lucas Auer          Prema Dallara-Merc              1m29.644s  +0.315s
10.  Eddie Cheever       Prema Dallara-Merc              1m29.653s  +0.324s
11.  Harry Tincknell     Carlin Dallara-VW               1m29.721s  +0.392s
12.  Nicholas Latifi     Carlin Dallara-VW               1m29.798s  +0.469s
13.  Felix Rosenqvist    Mucke Dallara-Merc              1m29.878s  +0.549s
14.  Dennis van de Laar  Van Amerfoort Dallara-VW        1m29.913s  +0.584s
15.  Mitchell Gilbert    Mucke Dallara-Merc              1m29.949s  +0.620s
16.  Jann Mardenborough  Carlin Dallara-VW               1m29.963s  +0.634s
17.  Michael Lewis       Mucke Dallara-Merc              1m30.000s  +0.671s
18.  Spike Goddard       T-Sport Dallara-Nissan          1m30.037s  +0.708s
19.  John Bryant-Meisner Fortec Dallara-Merc             1m30.040s  +0.711s
20.  Roy Nissany         Mucke Dallara-Merc              1m30.047s  +0.718s
21.  Antonio Giovinazzi  Double R Dallara-Merc           1m30.059s  +0.730s
22.  Tom Blomqvist       Eurointernational Dallara-Merc  1m30.145s  +0.816s
23.  Lucas Wolf          URD Dallara-Merc                1m30.230s  +0.901s
24.  Andre Rudersdorf    Ma-con Dallara-VW               1m30.234s  +0.905s
25.  Sean Gelael         Double R Dallara-Merc           1m30.317s  +0.988s
26.  Tatiana Calderon    Double R Dallara-Merc           1m30.556s  +1.227s
27.  Sandro Zeller       Zeller Dallara-Merc             1m30.848s  +1.519s