Felipe Nasr has a tough act to follow in British Formula 3 this season. He hails from Brazil, which has quite an affinity with this country's premier single-seater series.
The likes of Emerson Fittipaldi, Nelson Piquet, and the late, great Ayrton Senna all won British F3 titles before going on to become Formula 1 world champions. In a patriotic nod to the past, the Dallara-Volkswagen Nasr will race for current category kings Carlin this season will carry the yellow, green and blue colours of his homeland, as the 18-year-old attempts to emulate those heroes of Brazilian motorsport.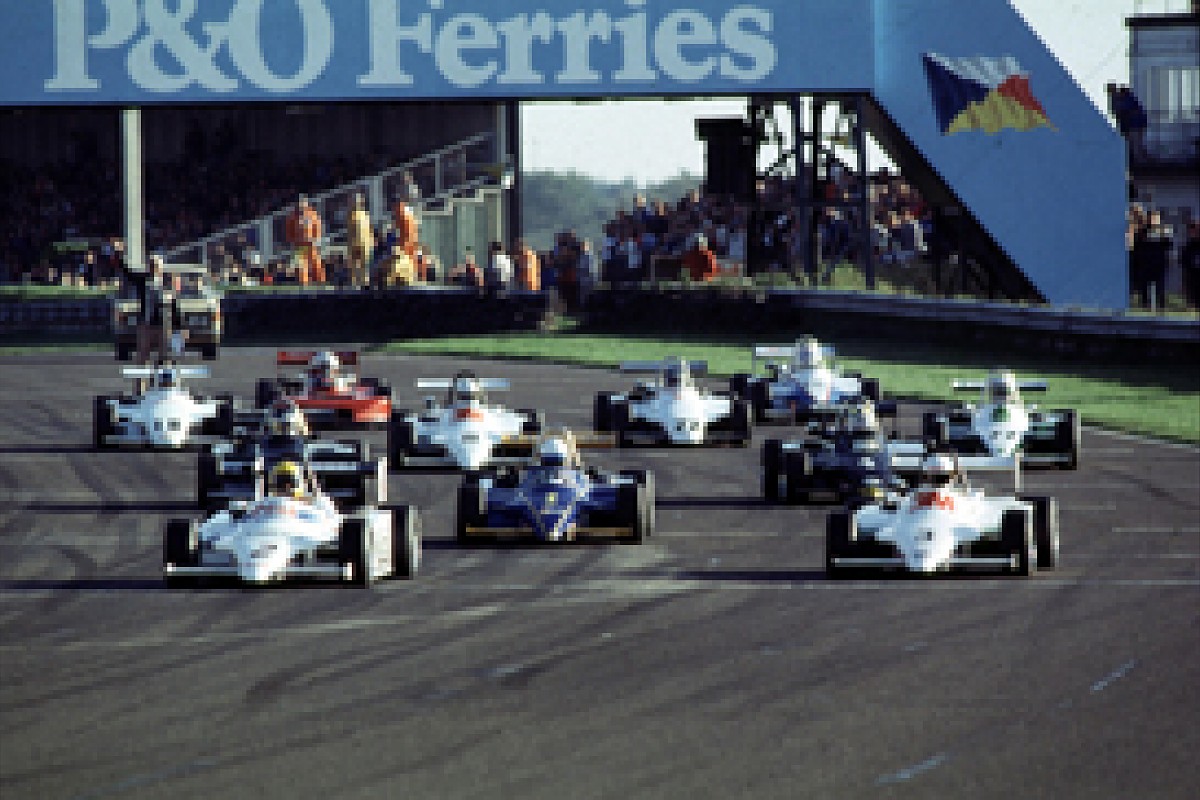 Ayrton Senna (leading) made his name in British F3 in 1983 © LAT
"It's good to put the colours of Brazil [on the car] to represent the country and call more attention to what I'm doing," says Nasr, who exudes a calm focus when he talks. "Lots of good drivers from Brazil did well in F3 and I want to succeed as well.
"There's a lot of expectation to do well this year. I've learnt most of the tracks, I've learnt how to drive an F3 car, [now] I need to prove I'm here to win."
Winning is something Nasr has got used to in his relatively short career thus far. He burst to prominence by winning the 2009 Formula BMW Europe championship, in his first full season of car racing. His performances on the support bill to the European Formula 1 races brought Nasr to the attention of the Red Bull Junior Team, and ex-British F3 frontrunner-turned-driver manager Steve Robertson, who along with father David helped guide Jenson Button into F1, and looks after the interests of 2007 world champion Kimi Raikkonen.
"The first year in BMW, when he won the championship, was his first proper year in motor racing," explains Steve. "He beat much more experienced team-mates like [then Red Bull-backed Spaniard Daniel] Juncadella, and to see how composed he was, the way - if he had a problem - he came through from the back without having any incidents - was impressive.
"We saw similarities with Kimi: A smart driver with this awareness about him - a great racer, with a great turn of speed. We have a lot of drivers contact us, but we tend to be very, very selective. We don't take a driver every year and we like to make sure he has the potential, not only to get to F1, but to be a world champion."
Nasr says this selective attitude was a key factor in his decision to throw his lot in with the 'Robbos' rather than Helmut Marko and co. "If you look at the whole package, the best option was to be with the Robertsons," he says. "They only have Kimi and me, which means they can give me more attention, be here at the races - a real manager.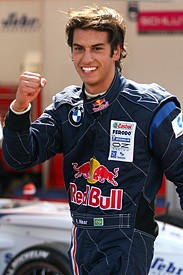 Felipe Nasr earned the Robertsons' backing with his Formula BMW performances
"They really trust me and are convinced that I'm going to get there [to F1], and that's really important. It's difficult with Red Bull to get a seat - they have all these drivers, but what are they going to do? If we get there, they [the Robertsons] can have the option because they are not only [aligned with] Red Bull."
Given the 'Robbos' co-owned a British F3 team (Raikkonen Robertson Racing), it was no surprise to find Nasr placed there for his graduation from Formula BMW last season. The jump from BMW to F3 is a big one, and Nasr took time to adapt to the high-downforce demands of the car, but he got the better of more experienced team-mates (sound familiar?), scored a breakthrough win at Rockingham, and was among the fastest drivers in the category come season's end.
Many expected Nasr to move on to GP3 or Formula Renault 3.5 for 2011, but his manager decided he would be better off spending another season in Formula 3. "I'm a big supporter of British F3," Robertson asserts. "If you look at the history of the championship, so many champions have gone on to F1.
"If you look at the track time a driver gets, they're doing double that of a GP3 driver. You get to work with an engineer - it's like a mini F1 - and when you start moving up [to other categories], they reduce the mileage. Felipe is still very young, so it was a simple decision."
Only the title will do for a second year talent such as Nasr, and the Robertsons felt a switch to rival squad Carlin would be the best bet for their young charge to realise his British F3 ambition.
They also found other drivers were reluctant to race for Double R while Nasr was there, because of a perception that it would be 'his' team. So the Robertsons sold theirs and Kimi's stake in Double R - allowing team boss Anthony Hieatt to assume full control - and signed a deal with Trevor Carlin's six-car team.
"We've known Carlin for a number of years and when you look at their record, you can't argue against it," Robertson explains. "They've won the last three championships and I feel it's the right direction to move.
"F3 is such a qualifying Formula - like F1 - and one or two tenths can separate four or five drivers, so you've got to have any little advantage that could take you to the top of the grid."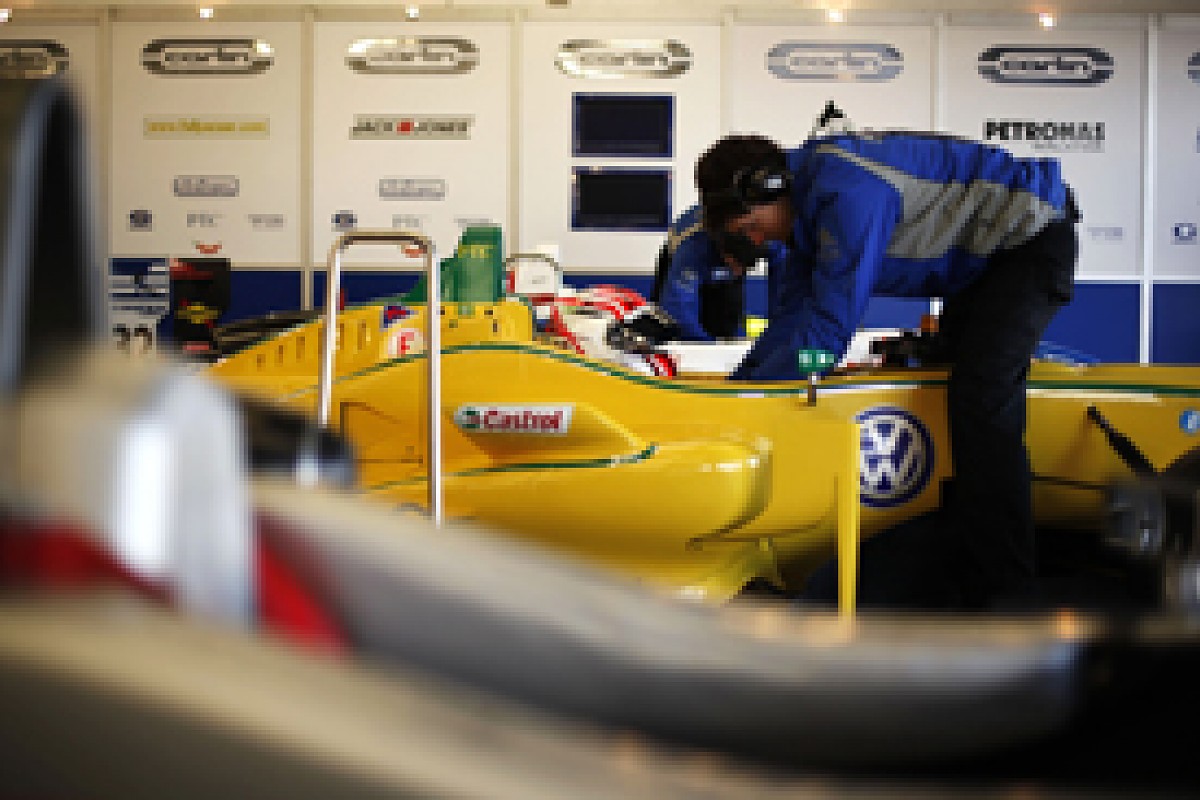 Nasr has settled in quickly at Carlin © LAT
Nasr has settled in well at his new team and has been among the fastest drivers in pre-season testing. "We knew they were the best team out there," says Nasr. "They have won the last three championships and we could see their car was consistently quicker everywhere [last year].
"We [Double R] could be quickest sometimes, on a few tracks, but not consistently over the whole year. I immediately felt it was a different car [with Carlin] - especially the grip I could find in the car. I couldn't imagine an F3 car could be so different! The first thing is there's more grip, but it's [also] easier to drive, really consistent, really stable - all I need for sure!"
Team boss Trevor Carlin has been impressed by Nasr's ability to learn quickly since switching squads, and says the Brazilian has been almost mistake-free in pre-season.
"We did a four-day test in Valencia [before Christmas] and we were a bit underwhelmed first off when we compared him to [team-mate] Kevin [Magnussen]," says Carlin. "He was good, but we didn't see that magic.
"We tried to teach Felipe a few things, but come this year we thought 'typical Brazilian - playing football with his mates on the beach over the winter, he'll forget everything we've taught him'.
"He turned up at Pembrey, remembered everything [chief engineer] Mark [Owen] had told him and just got on with it. He did the fastest lap the team's ever done around Pembrey, and the fastest lap we've ever done at Rockingham.
"When you consider the people that have driven that car before, it's a fair comparison with [former champions] Daniel Ricciardo and Jean-Eric Vergne, and we have to say this kid's pretty good.
"Mark especially said he was super impressed, and for Mark [who worked with multiple champions Michael Schumacher and Alain Prost in F1] to say that is amazing."
This weekend's British F3 season-opener, at legendary Italian Grand Prix track Monza, will give us the first indication of whether Nasr can live up to the hype, and follow in the footsteps of the great Brazilians that have gone before him.