Round 1: Paul Ricard
Mortara leads at Paul Ricard
After all the pre-season talk of Volkswagen domination, it was a Mercedes car that took pole position for the season opener in the hands of Prema rookie Daniel Juncadella. Signature was keen to point out that its speed trap figures were no different to the Mercedes runners, but everyone in the paddock had noticed that the blue and white cars were the only ones not running minimum downforce.
Edoardo Mortara made up for a low-key qualifying by climbing from fifth to first with ease, while Marco Wittmann followed him home for a Signature 1-2. Of the other title contenders, Valtteri Bottas got his season off to an awful start when he was penalised for not lining up in his grid box correctly.
Alexander Sims charged from sixth to win in race two, while Mortara stole the show with a three abreast pass on Roberto Merhi and Wittmann to take second on the final lap.

Points:
1. Mortara     15
2. Sims        12
3. Wittmann    12
4. Merhi        7

Round 2: Hockenheim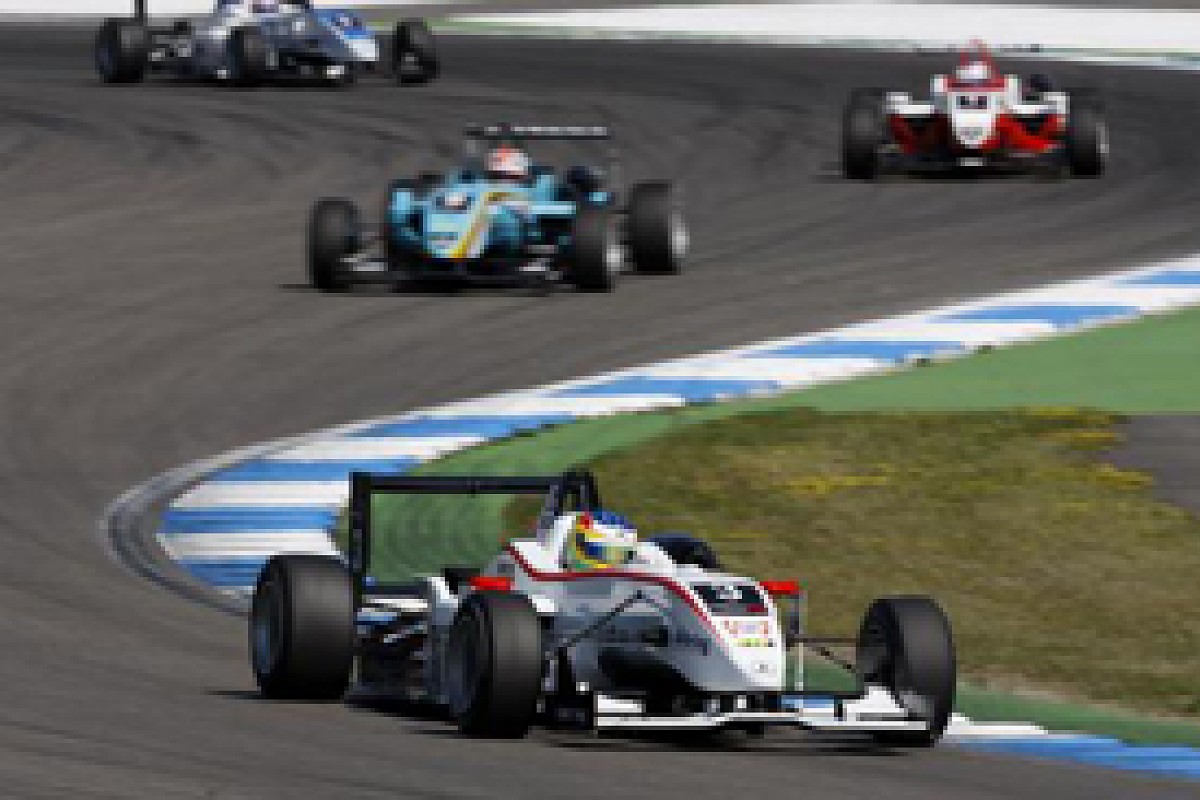 Merhi's first win came at Hockenheim
Wittmann showed his form in France was no fluke by winning the first race of the weekend from pole. He'd given the lead up to Juncadella at the start, but was back ahead once they'd got to the end of the back straight. Mortara followed suit soon after for another 1-2, and this time it was Sims losing ground in the title race as he launched himself over the back of Laurens Vanthoor on the opening lap.
Merhi made it two first-time winners in Germany with a reverse-grid success ahead of Juncadella, while Mortara racked up another podium. There were more woes for ART, as Bottas spun while running third early on.

Points:
1. Mortara     27
2. Wittmann    26
3. Merhi       18
4. Juncadella  13

Round 3: Valencia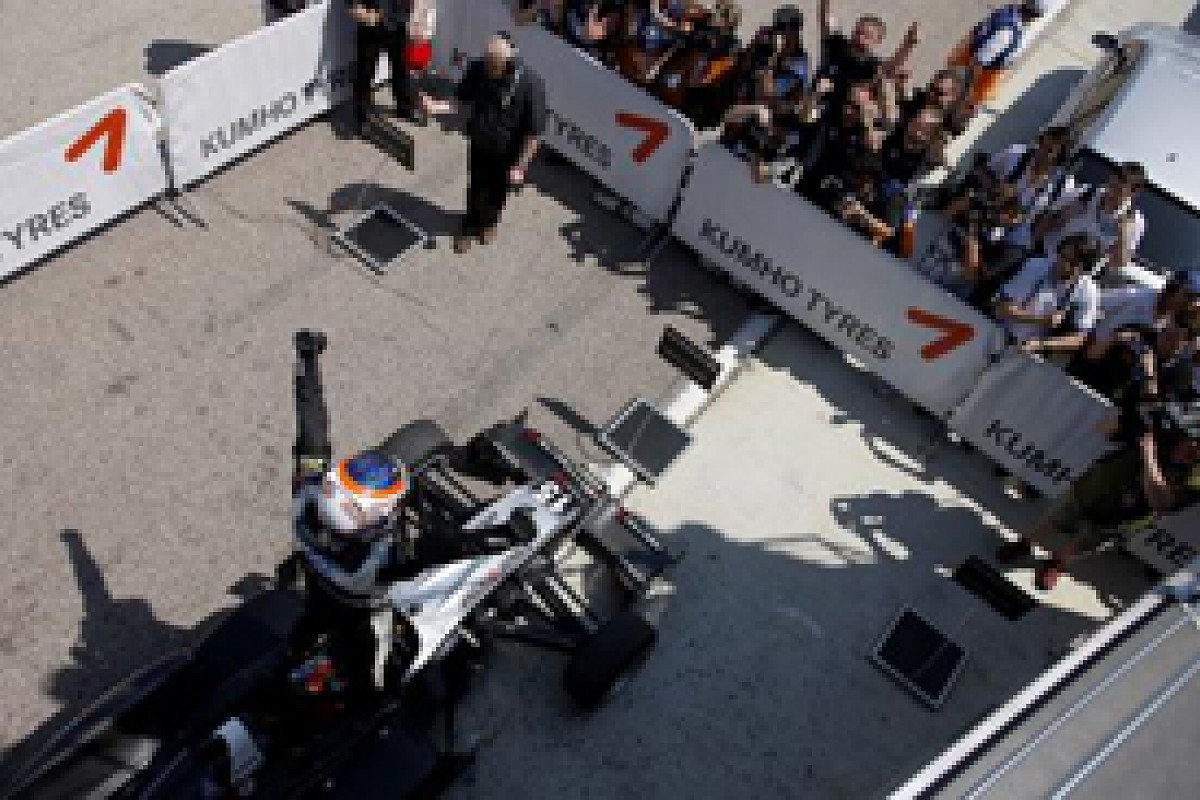 Magnussen was a shock winner at Valencia
The Spanish track was a no passing zone all weekend. Mortara kept up Signature's Saturday wins record by comfortably holding off Bottas and Sims, who led the chase once Juncadella had served a drive-through penalty for jumping the start.
Even a reverse-grid couldn't add to the excitement on Sunday. Pole-sitter Nicolas Marroc was beaten to the first corner by Kevin Magnussen, who was making his only appearance of the year in the Euro Series. As Marroc held up the rest of the field for the entire race, Magnussen kept his cool out front and streaked away to a dominant victory.

Points:
1. Mortara     39
2. Wittmann    26
3. Merhi       23
4= Sims        20
4= Bottas      20

Round 4: Norisring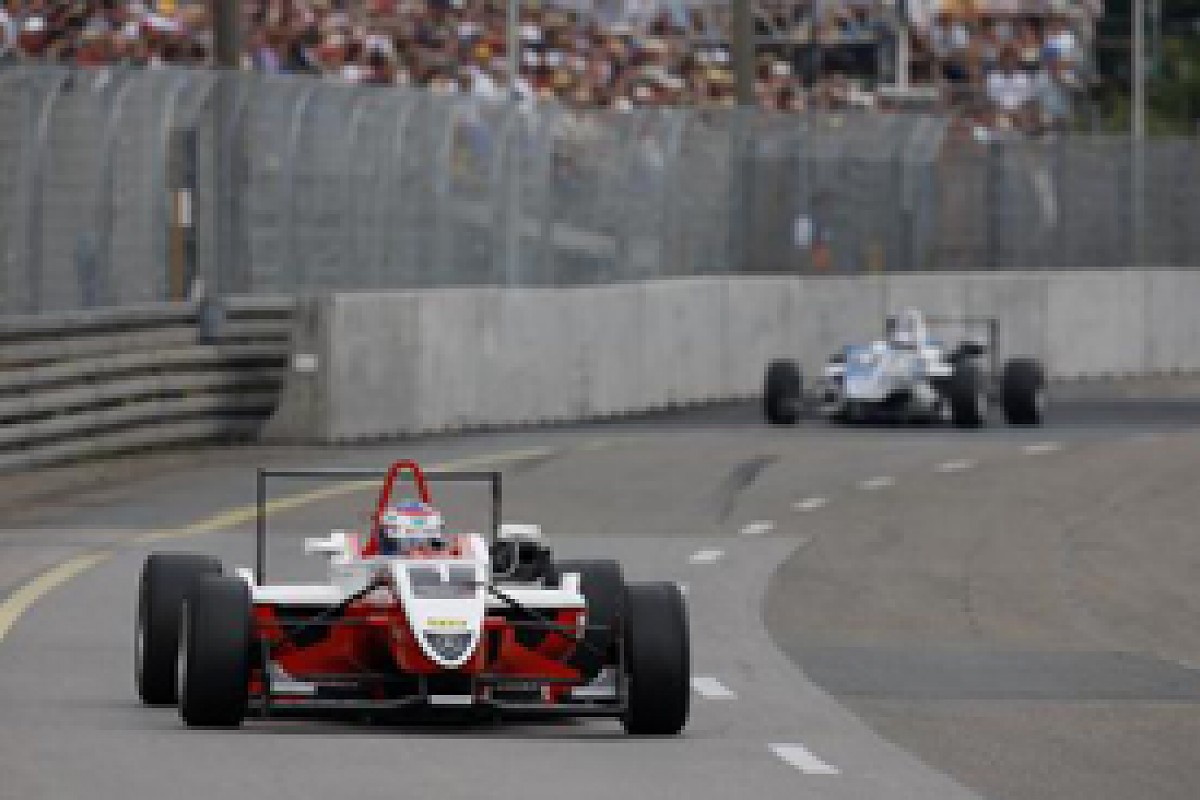 Bottas' breakthrough came at the Norisring
Mortara dealt with a late restart to win again on the Saturday, while Bottas's despair continued as he went from trying to pounce after the safety car to losing second place to Wittmann.
Bottas finally took his maiden Euro Series win in race two, where he, Mortara and Wittmann all hunted down race leader Sims. The Finn was able to make a gap while the struggling Sims battled with the Signature cars, and it was Wittmann who triumphed in the scrap for second when Mortara and Sims clashed.

Points:
1. Mortara     54
2. Wittmann    39
3. Bottas      32
4. Sims        28

Round 5: Nurburgring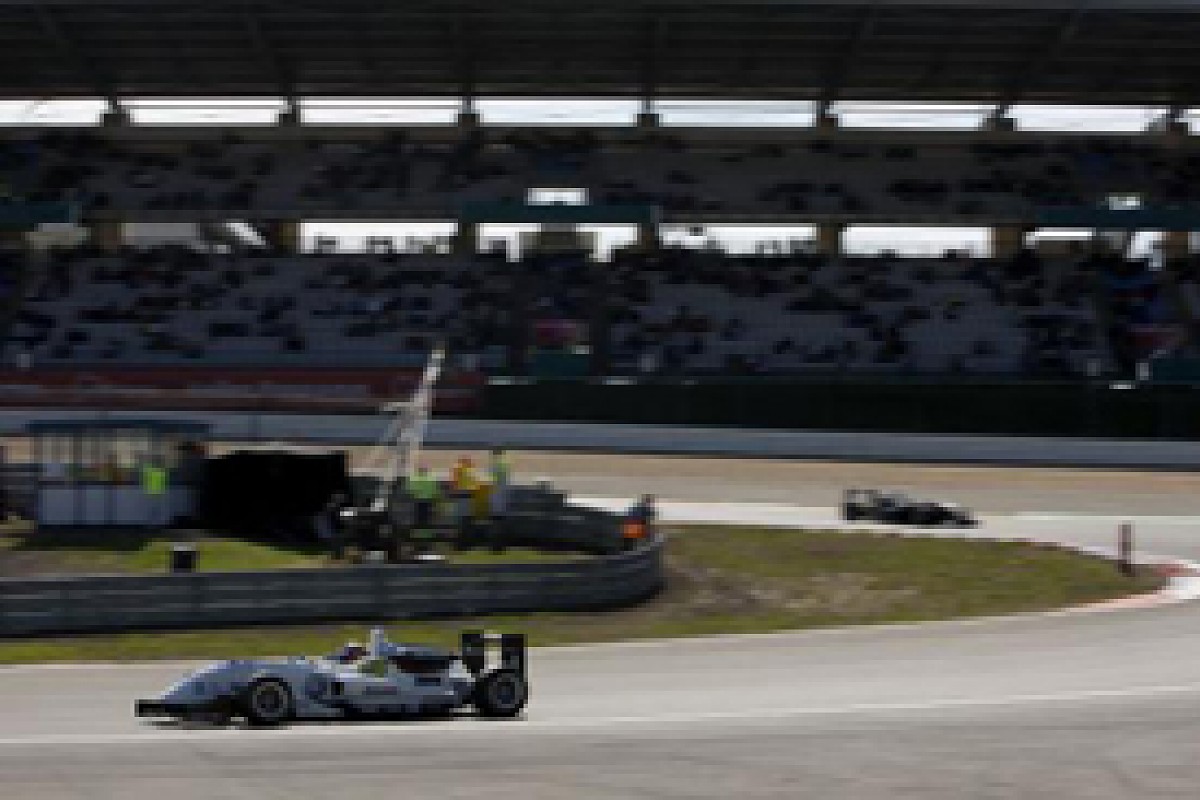 Mortara pulls away at the Nurburgring
Mortara chalked up another win after Vanthoor was too kind to him into Turn 1, while ART's defence of its six-year streak of titles took another blow. Bottas should have joined Mortara on the front row, but he was given a 10-place penalty due to a missing engine seal. To make matters worse for Bottas, he then stalled from third on the grid in race two.
The Sunday honours went to Antonio Felix da Costa, who held off Wittmann for most of the race after both had dispatched of pole-sitter Jim Pla.

Points:
1. Mortara     66
2. Wittmann    48
3. Sims        37
4= Bottas      35
4= Merhi       35

Round 6: Zandvoort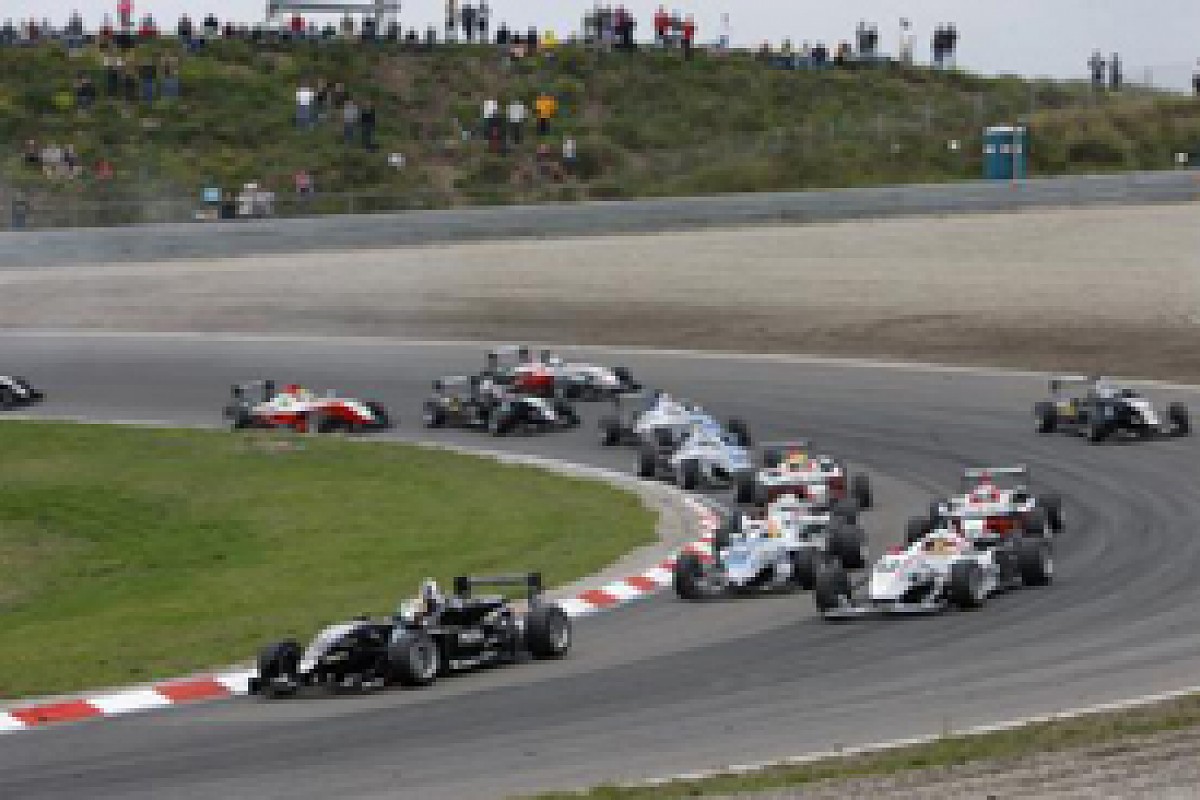 Da Costa leads the start at Zandvoort
Another Saturday, another Mortara victory. ART had arrived in Holland in high spirits having taken a 1-2 there at the Masters earlier in the year. But Signature had made progress since then, and it was another easy win. Bottas at least jumped Wittmann at the start for second, which helped Mortara's title bid.
Da Costa scored a second consecutive Sunday victory from pole, but further back there were the first signs of some needle in the title fight. Wittmann dived down the inside of Mortara on the opening lap and contact was made as his team-mate refused to yield. Mortara went up in the air, spun and politely pointed out afterwards that Wittmann had just lost an ally in his battle for second in the points.

Points:
1. Mortara     77
2. Wittmann    55
3. Sims        44
4= Bottas      43
4= Merhi       43

Round 7: Brands Hatch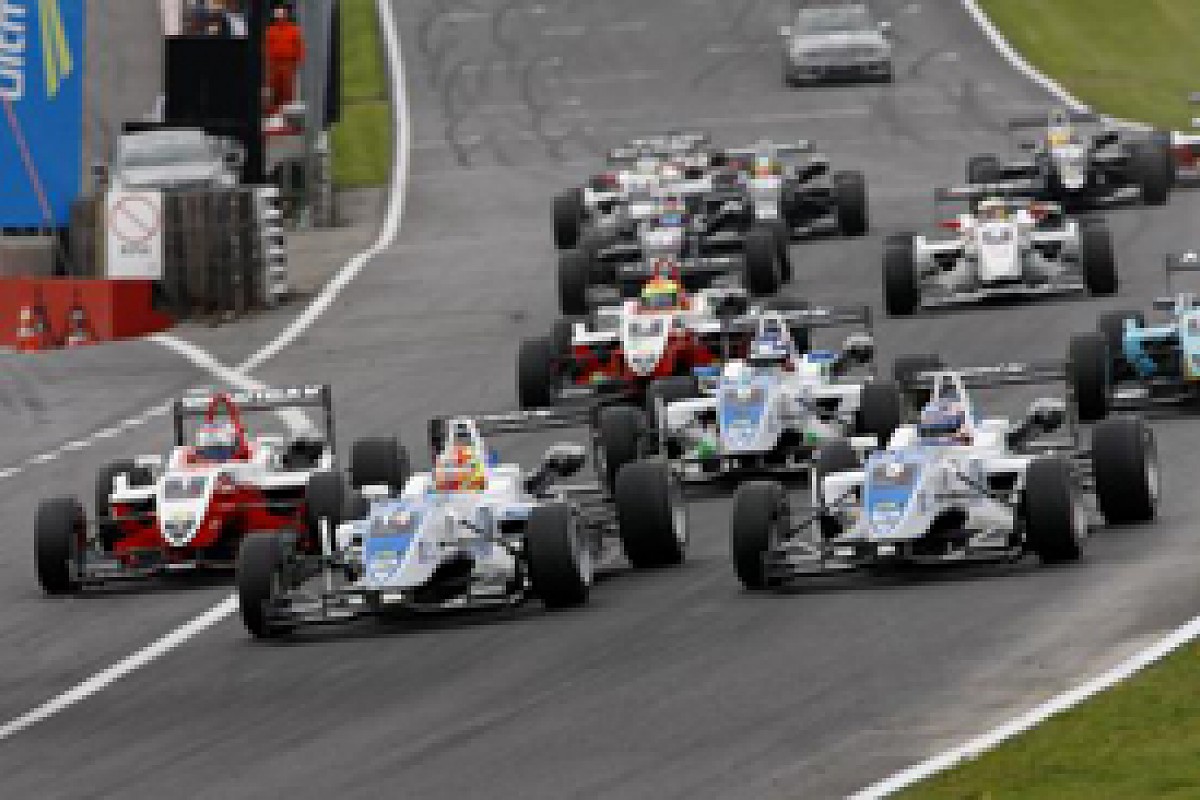 Mortara barges to the front at Brands
Why anyone would want to hold an F3 race on the Brands Indy circuit is a mystery. Another Mortara win seemed unlikely when he qualified third on the grid, but a bold, almost rude move between his team-mates Wittmann and Vanthoor at the first corner gave him a lead he wouldn't lose.
After a fast start of his own, Bottas threw away more points by going off when attacking Vanthoor for second, allowing Wittmann to complete a Signature podium lockout.
Da Costa made it a hat-trick of race two wins on the Sunday, while there were more team-mate collisions further back. Mortara registered his first DNF after a punt from Vanthoor, while Sims lost out badly following a clash with Bottas as they disputed fourth place.

Points:
1. Mortara     87
2. Wittmann    63
3. Bottas      51
4. Sims        48

Round 8: Oschersleben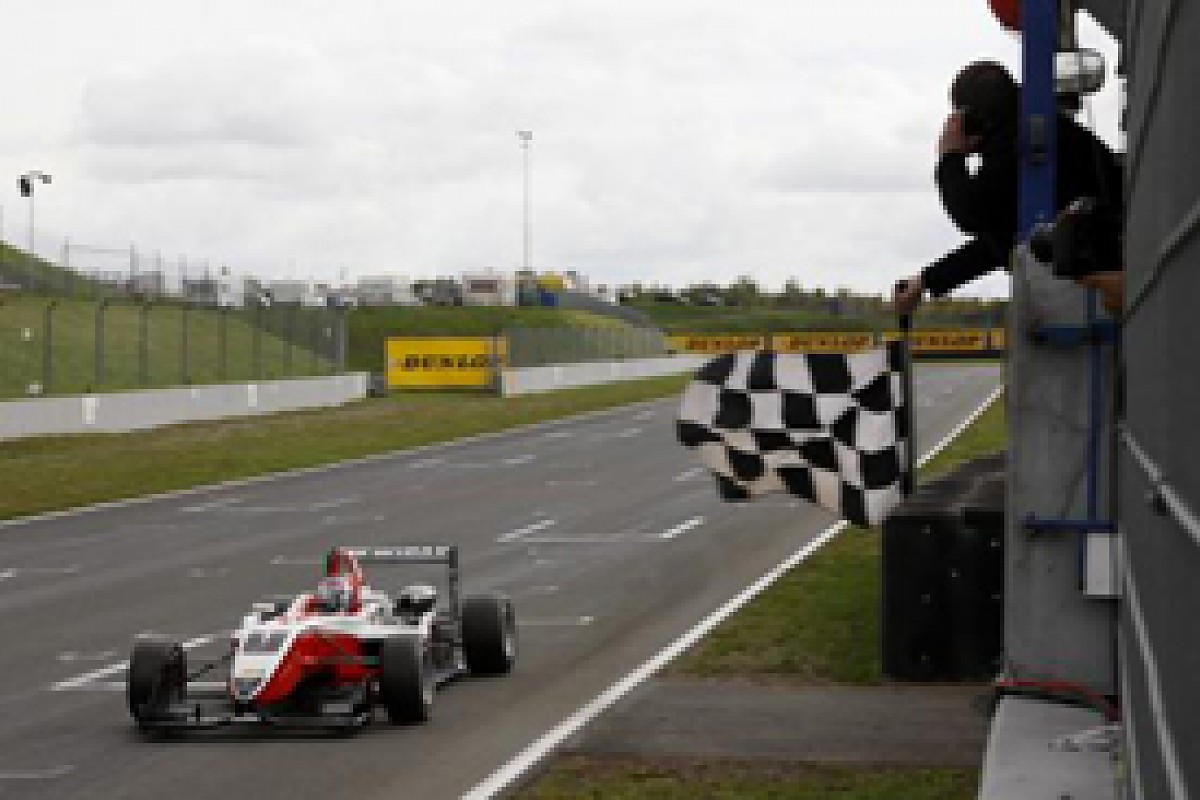 Bottas dominated at Oschersleben
For the first time all season, ART looked like its old self. A front row lockout for Bottas and Sims was converted into a 1-2 finish, although there were 22 seconds between the pair by the flag.
Signature had a weekend to forget performance-wise, but it was most definitely a weekend to remember as Mortara sealed the title in race one. But even he was "pissed off" to be crowned with a sixth place finish.
Carlos Munoz was on course for a maiden victory in race two, before he hit a kerb and fired himself off the road with three laps to go. That handed the spoils to the third ART car of Pla, who came through a chaotic race to win from ninth on the grid.

Points:
1. Mortara     90
2. Wittmann    70
3. Bottas      62
4. Sims        56

Round 9: Hockenheim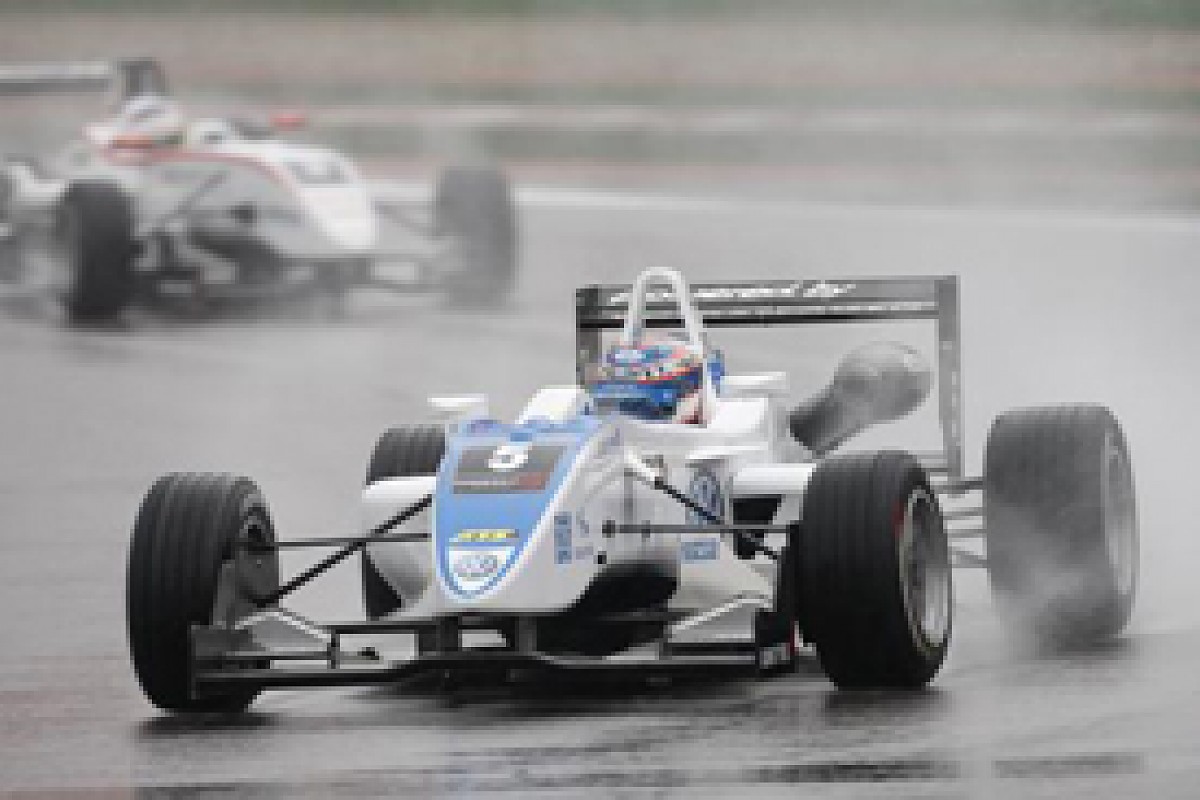 Mortara won again in the wet at Hockenheim
Wittmann and Bottas were yet to settle their scrap for second, but the odds were stacked in the German's favour. Mortara helped Wittmann by winning race one, but Bottas nearly stole it.
The Finn chased down Mortara in very wet conditions, but when he got close with two laps to go he missed his marker boards on the back straight and braked way too late. It left him needing to win the reverse-grid race from seventh on the grid and hoping that Wittmann didn't score.
Bottas ran as high as third before he was bumped off the road by Vanthoor, but he was handed the place back when Mortara ran out of fuel on the final lap and Vanthoor was excluded for not having enough fuel in his car to give a sample to the officials post-race. If he'd won on Saturday, it would have been enough to pip Wittmann to second.
Ahead of all that, Juncadella capped an impressive but erratic season with a maiden victory. And then spun as he did a stoppie by the pitwall when his battery died.

Points:
1. Mortara    101
2. Wittmann    76
3. Bottas      74
4. Sims        63

Full 2010 championship standings
For a full analysis of the 2010 Formula 3 Euro Series season, including interviews with champion Edoardo Mortara and the ART team, read this week's AUTOSPORT magazine, available in digital form here.