Jules Bianchi has gone through a lot in the latter stages of 2009. After wrapping up a dominant F3 Euro Series campaign where it appeared he could do no wrong, he went to the Macau Grand Prix and was well and truly humbled.
But the same weekend, it was announced that Ferrari had signed the 20-year-old to a long-term contract, and just a couple of weeks after that he was having his first experience of a Formula 1 car courtesy of the Prancing Horse.
With all the furore that has surrounded him since his season finished, it's easy to forget just how impressive the Frenchman's F3 season was. Nine wins from 20 races isn't particularly comparable to Lewis Hamilton's haul of 15 victories in 2005, but the Briton didn't have to contend with reverse-grid races. With that taken into consideration, Bianchi was every bit as dominant as the man who would go on to become Formula 1 world champion in 2008.
Bianchi had no choice but to blitz the field this year - after a strong end to his rookie season in 2008 he was expected to win the title, so unless he did it in style he wasn't going to raise many eyebrows.
Along with his engineer, Bianchi had set a target to dominate the year, but only because the pair wanted to surpass the achievements of Nico Hulkenberg, who had been a commanding champion in 2008.
"I didn't think about being the favourite," he says. "It's difficult not to think about the pressure, especially when people were always asking me questions. Sometimes it was strange, like when people started talking about me and Ferrari [mid-season]. It was difficult to deal with, but I didn't worry about it. My goal with my engineer was to get more victories than Hulkenberg. He got seven, we got nine, so we did it which was fantastic."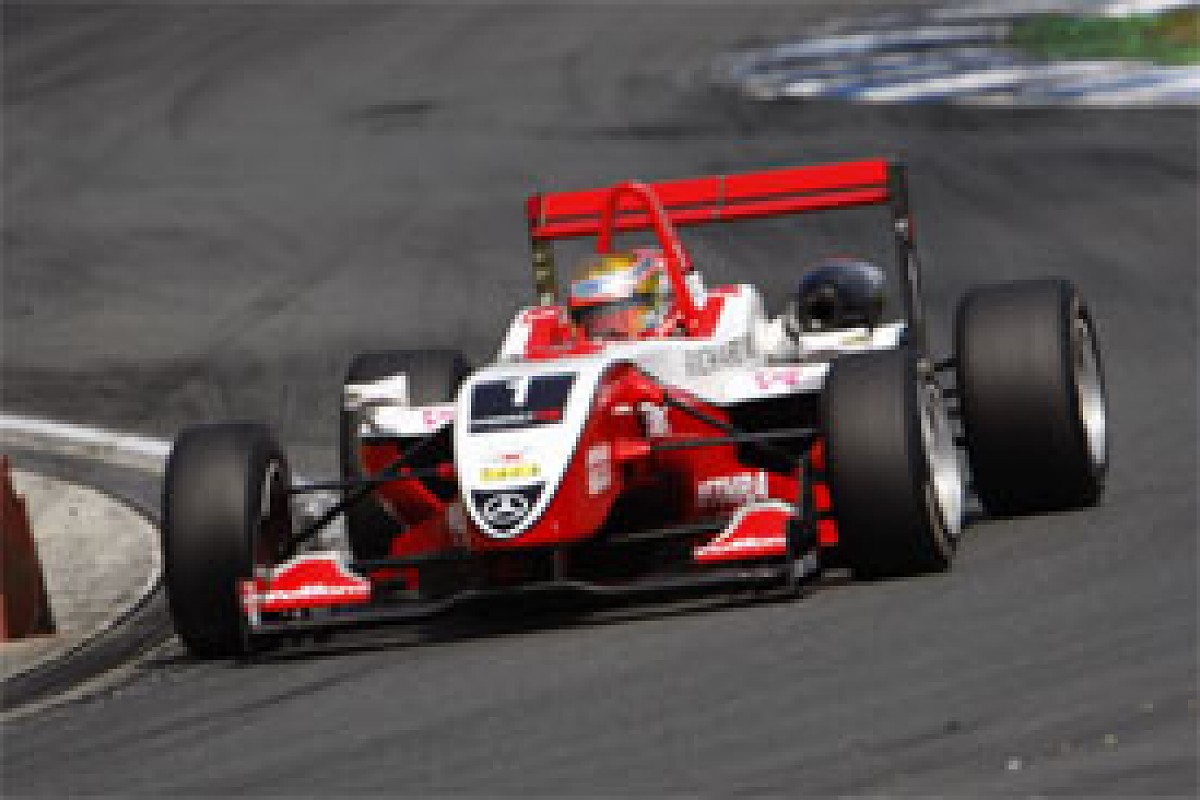 Jules Bianchi leads at Oschersleben © LAT
There's no question that Bianchi was more dominant than Hulkenberg, because on most occasions he didn't just cross the finish line first - he crossed it an age before anyone else. He was making it look easy, yet after every race (including his win by 14 seconds at Oschersleben) he would claim that it wasn't.
"It looked easy when I had a good gap to second place, but my goal is to go fast every lap, even if I have a gap already," says the ART driver. "So I concentrate for the whole race to go as fast as possible, not making any mistakes, instead of pushing for five laps then waiting for the victory.
"I will have to drive like that in the future, you need to be fast and consistent for a long time, so it's better to start doing that now."
Despite all the plaudits he received as the year went on, there were a handful of blips along the way this season. The favourite stumbled out of the blocks at Hockenheim to head to round two just fourth in the standings, although that performance was later attributed to a broken damper.
Then, while on a relentless run during the summer, Bianchi had the weekend that his rivals had been dreaming of at Brands Hatch. He crashed in qualifying, leaving him 16th on the grid, then crashed again while trying to come through the field in race one. He started race two from the back, but eventually withdrew, citing neck problems which he hoped would heal for a guest appearance at the British F3 round at the Algarve the next weekend.
As it turned out, ART's decision to take on the British championship for the second time of the year was crucial to Bianchi's Euro Series title bid. While he didn't show it at the time, his confidence was shot after the Brands Hatch disaster, but he was back on form following a double win in Portugal.
"Confidence comes when you are doing well on track, so it was not easy to get over the bad times," he says. "After Brands Hatch, fortunately we had the British F3 race and that helped me a lot.
"We got two victories, and I said to myself 'Ok, I made a mistake at Brands Hatch, but it is not the end of the season - we're not finished'. I just had to stay focused, and then it wasn't a problem."
The only other mishap along the way came at Dijon, the penultimate round of the season where the title was there for the taking. With the race seemingly in the bag, Bianchi then fluffed a restart after a safety car period, having to back off to avoid passing the Mercedes before it had peeled into the pits. It bottled the frontrunners up behind him, allowing fifth-placed Christian Vietoris to sweep past them all into the first corner.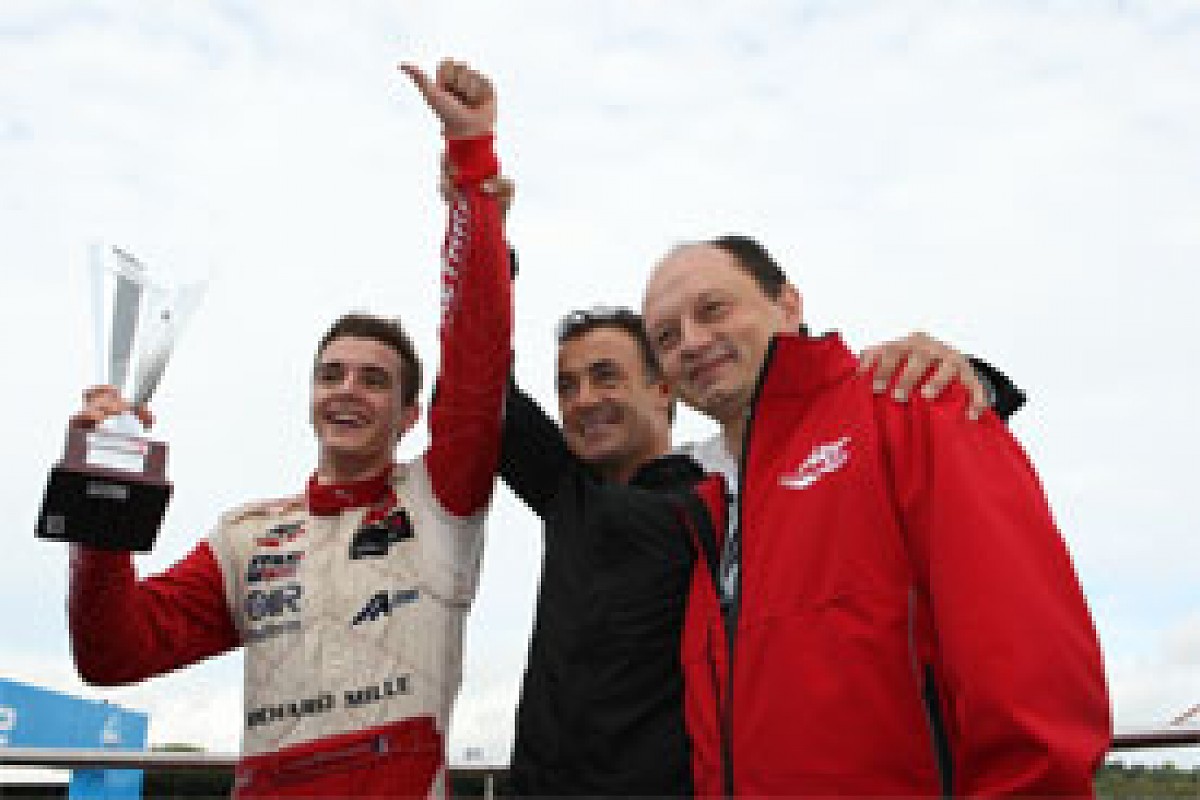 Jules Bianchi celebrates clinching the F3 Euroseries championship with Jean Alesi and ART boss Frederic Vasseur
Bianchi then shot his tyres trying to catch the German, who was the only man who could stop him sealing the title. Vietoris had kept the title fight alive for at least another day, and despite the result only prolonging the inevitable, Bianchi was distraught afterwards.
But come Sunday, he was back to his usual calm self and he charged from seventh on the grid to take his second win of the season from the fourth row, wrapping up the championship in style. The transition from Saturday afternoon to Sunday morning was a testament to his maturity, an area he believes he made big gains in 2009.
"In 2008 I wanted to win too much," he says. "That wasn't good, because when I was behind someone I just wanted to push and overtake straight away, so I made a lot of mistakes. I think I improved a lot in the mental part this year and I had more confidence in the car."
That confidence was of little use when he got to Macau in November, hoping to take ART's first win in the big race since 2004. He struggled all weekend and was overshadowed by team-mates Valtteri Bottas and Sam Bird, and at the end of the weekend he admitted that street circuits were something he would have to work on.
"I was just not fast," he said at the time. "This has shown me that I still have areas to improve - because if I drive like this at Monaco in GP2 I will be last."
That's obviously an exaggeration - but it might do this latest star in the making a lot of good to have ended a near perfect season by realising that he's not the finished article yet. If there is more to come from him, then further success surely beckons.