Daniel Ricciardo dominated the race for this year's British Formula 3 championship. The Australian rookie quickly took control of the title battle and clinched his Carlin team's first back-to-back British F3 crown with a round to spare. In doing so, he became the first Australian driver to win the championship since 2009 Le Mans 24 Hours winner David Brabham, 20 years ago.
The Formula Renault Eurocup graduate's Red Bull backing brought the Volkswagen engine back to British F3 and the Wolfsburg marque was in no mood to play second best to Mercedes, which had won the previous three titles.
The combination of the young Australian charger, Volkswagen engine and the championship's top team started the season as title favourite - and delivered. Ricciardo was the class of the field, a fact that became apparent from the first round of the year at Oulton Park.
Round by round
Round 1 Oulton Park, April 11-13
Ricciardo makes the perfect start to his British F3 career by claiming a double win in Cheshire - VW's first British F3 race victories for almost 18 years.
After setting the pace in practice, Ricciardo fails to get the best from his tyres in qualifying (something that would become a recurring theme in the first half of the year), but still lines up on the front row for both races.
Ricciardo's Carlin team-mate Max Chilton takes pole for race one and is all set to claim his maiden British F3 win, but he jumps the start and is slapped with a time penalty that drops him to 17th and hands the win to his team-mate. Chilton courts further controversy in race one by holding up Nick Tandy's pursuit of Ricciardo. The JTR pilot is unhappy with his rival's tactics, but nothing comes of it post race.
Tandy and Hitech's Walter Grubmuller fill out the podium in both races, with each taking a second and a fastest lap to leave Oulton with a share of second in the points standings, but already an ominous-looking 12-point gap to Ricciardo.
Round 2 Silverstone GP, May 1-3
Ricciardo makes it three wins from four races in the FIA GT Tourist Trophy support round at Silverstone, but the story of the weekend is Dutch F3 veteran Renger van der Zande. He is drafted in as Grubmuller's team-mate at Hitech and wins on his series debut.
Chilton begins to establish a reputation as the category's qualifying king by taking pole for both races, but fails to win either. He gets beaten to the draw by van der Zande at the start of race one and finishes second, but leads the second race until the penultimate lap, when a garbled gear change at Chapel allows Ricciardo to sweep into the lead at Stowe and claim the spoils.
Grubmuller slumps to fifth in the points after a pair of anonymous runs to seventh, while Tandy's Mygale struggles badly for speed at Silverstone. He qualifies poorly, but races well, and emerges from the weekend still second in the standings - albeit now trailing Ricciardo by 18 points.
Round 3 Rockingham, May 30-31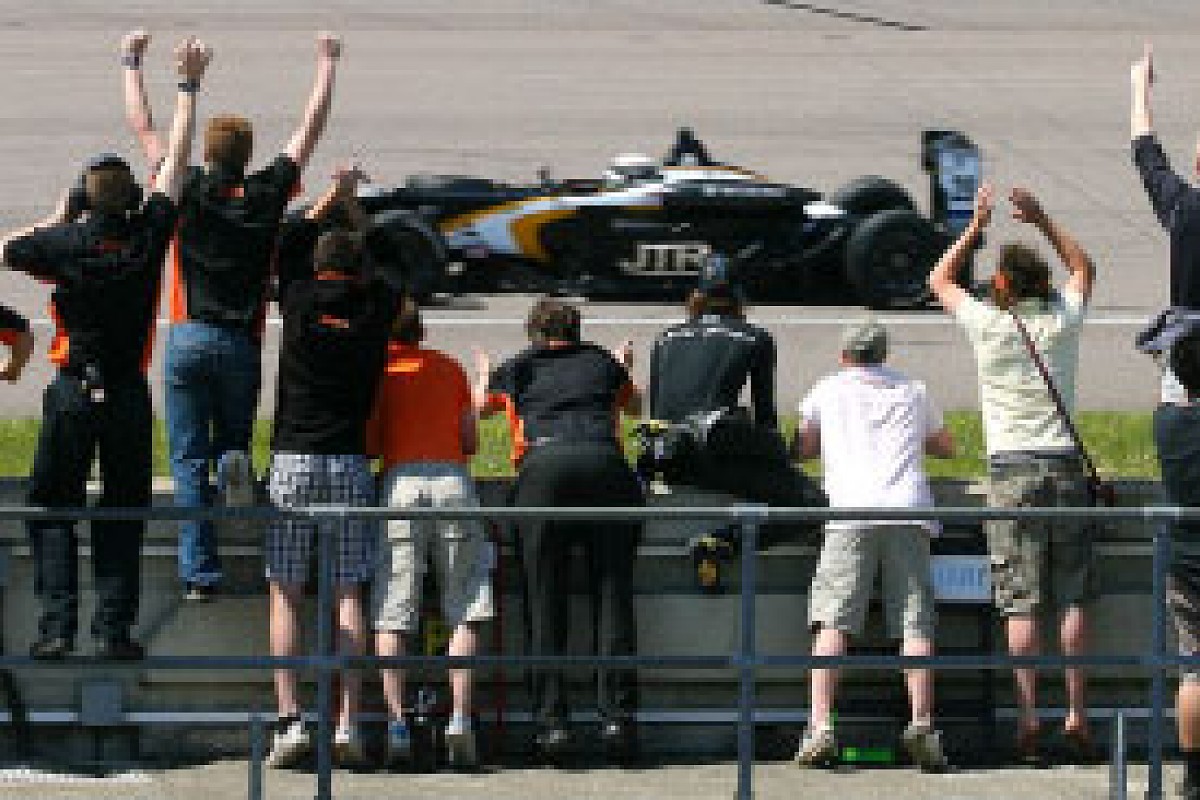 Nick Tandy wins for Joe Tandy Racing at Rockingham © LAT
The paddock is rocked in the build-up to Rockingham by the sudden death of JTR team boss Joe Tandy in a road accident at the age of 25.
Brother Nick pays the perfect tribute by claiming his and JTR's maiden British F3 win in race one, which he dominates after poleman Ricciardo crashes into the back of van der Zande on the first lap.
Swedish racer Marcus Ericsson, who finished fifth in the 2008 championship, makes his series return with Double R Racing. He finishes second to Tandy in race one, leading home rookie team-mates Daisuke Nakajima and Carlos Huertas, before claiming his own maiden win from pole in race two - on the anniversary of Double R's last British F3 triumph.
Formula Renault UK graduate Riki Christodolou leads for much of the way and looks set to build on a fine start to his rookie F3 season with Fortec by winning his first race, but overshoots his front row grid spot lining up for the start, earns a drivethrough penalty, ignores it, and then gets black flagged.
Despite his race one retirement, Ricciardo still leaves Rockingham with a 15-point lead over Tandy. The race one winner collides with van der Zande on the first lap of race two, while Ricciardo delivers a quiet run to fifth.
Round 4 Hockenheim, June 6-7
The 2009 series' first trip abroad brings a second win for Ericsson and a maiden victory for Grubmuller. The benefit of having Mercedes junior driver van der Zande in the Hitech line-up begins to show, both in the increased speed of the team's Dallara-Mercedes and in Grubmuller's much improved performance behind the wheel.
Ericsson is the only driver able to take the fight to Hitech at Hockenheim and he comes out on top in a duel with van der Zande to win race one. Grubmuller delivers part one of his best performance of the year by storming up from eighth on the grid to take third. He then becomes the first Austrian to win a British F3 race in the second event, leading from lights-to-flag from pole position.
Van der Zande completes a Hitech one-two, but rivals complain about the Dutchman backing up the field deliberately to help team-mate Grubmuller.
Ricciardo goes backwards in both races, but emerges with his 15-point lead intact as Tandy again struggles on a high-speed circuit and Grubmuller leaps to second in the standings.
Round 5 Snetterton, July 4-5
Hitech clearly has the fastest car in the heat of mid-season, but Ricciardo still manages to finish second twice and extend his championship lead to 23 points.
Van der Zande takes pole for both races and a dominant win in the first, but fluffs his start in the second.
Team-mate Grubmuller assumes the lead, but is mugged by Fortec rookie Christodoulou in the early stages and the Brit goes on to claim his sole victory of the season as Grubmuller slumps to third.
Nearly a month on from Joe Tandy's death, the JTR squad begins to run into financial and legal trouble. Nick Tandy practices at Snetterton, but does not race, and instead departs for a funded drive in the F3 Euro Series.
The British series thus loses a team, its most combative driver and the only frontrunning non-Dallara.
Round 6 Donington Park, July 18-19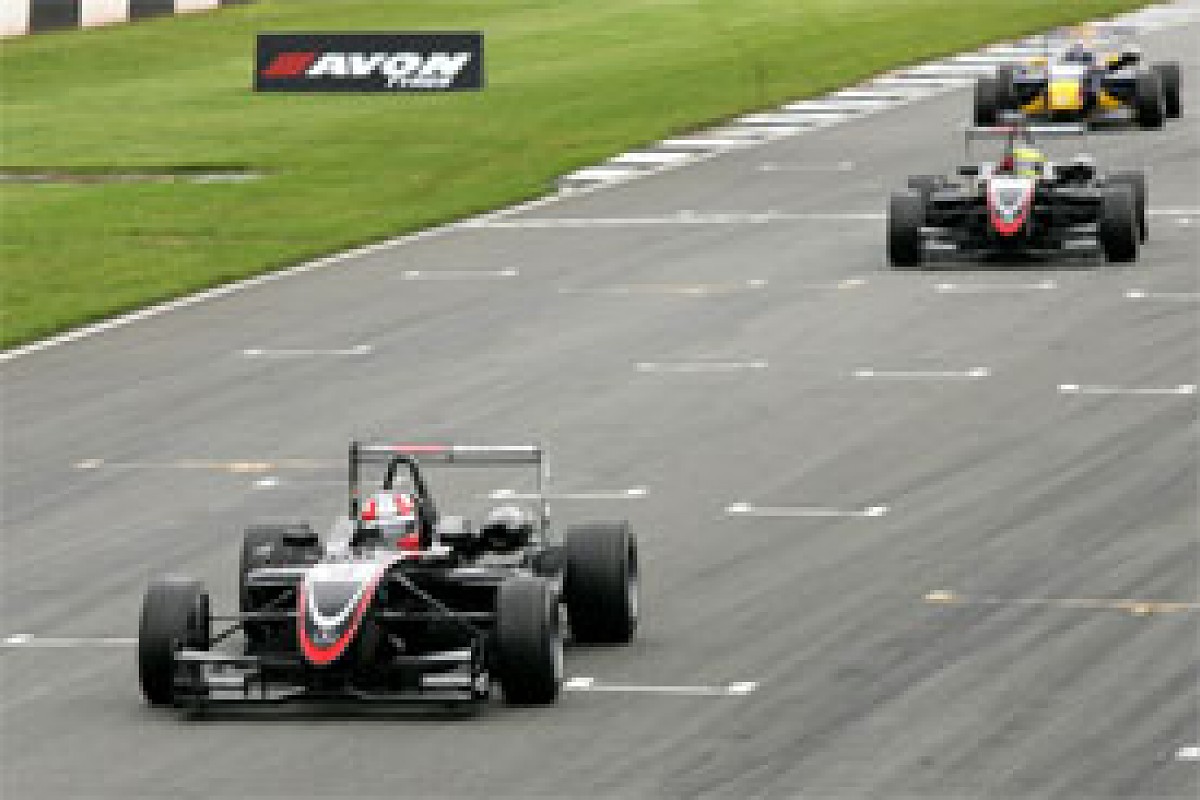 Walter Grubmuller wins at Donington while team-mate Renger van der Zande holds off Daniel Ricciardo © LAT
The bubbling row about Hitech's team tactics boils up at Donington, as Grubmuller slashes Ricciardo's points lead to 13 and extends Carlin's losing streak to eight races.
Poleman van der Zande backs out of the throttle at the start of race one to allow team-mate Grubmuller through to claim his second win of the year, while Ricciardo charges impressively back to third after a poor start.
Ricciardo and van der Zande clash controversially in the early stages of a rain-affected second race - leading to a time penalty for the Dutchman and cries of Hitech foul play from rivals Carlin.
Reigning British Formula Ford champion Wayne Boyd delivers a masterclass in how to drive with slicks on a damp track and claims a memorable maiden win from ninth on the grid. The Northern Irishman leads home Brazilian team-mate Adriano Buzaid, as 2008 title challenging squad T-Sport claims its first ever one-two finish - the high point of a largely difficult season.
Round 7 Spa Francorchamps, July 23-25
F3 Euro Series dominator ART joins the British F3 field as an invitation entry for the series' second foreign round of the season.
Many expect the French squad to win a race, but ART comes away empty handed. Having finally sussed out how to get the best from his tyres in qualifying at the previous round, Ricciardo takes his second consecutive pole and ends Carlin's losing streak by dominating race one. Jules Bianchi and Valtteri Bottas complete the podium for ART after van der Zande's engine goes sick. Meanwhile, Grubmuller's title hopes are dealt a huge blow when he crashes with Nakajima and Christodoulou at La Source on lap one.
Buzaid dominates a wet second qualifying to claim T-Sport's maiden pole, and he converts it in another rain-affected race to take his first F3 win.
Van der Zande continues to court controversy by dropping back to allow team-mate Grubmuller onto the podium and Hitech make idle threats to drop the Dutchman before the next round because of the ongoing row about his role in the championship.
Round 8 Silverstone International, August 15-16
The series returns to action after a summer break and Ricciardo edges closer to the title with one of the most impressive drives of the year in race one.
He streaks away from his fourth pole of the season and circulates within 0.25 seconds of his fastest lap for 10 consecutive tours en route to victory. Team boss Trevor Carlin later describes the Australian's driving as "perfect."
Van der Zande looks like the only driver capable of taking the fight to Ricciardo, but he again drops back to allow team-mate Grubmuller to take second and keep his fading title hopes alive.
The Dutchman is let off the leash in the second race though, and chalks up win number three in emphatic style after working his way past front row starters Nakajima and Chilton.
Ricciardo repels Grubmuller's advances to take third and extend his championship lead to a commanding 45 points with two rounds remaining.
Round 9 Algarve, September 12-13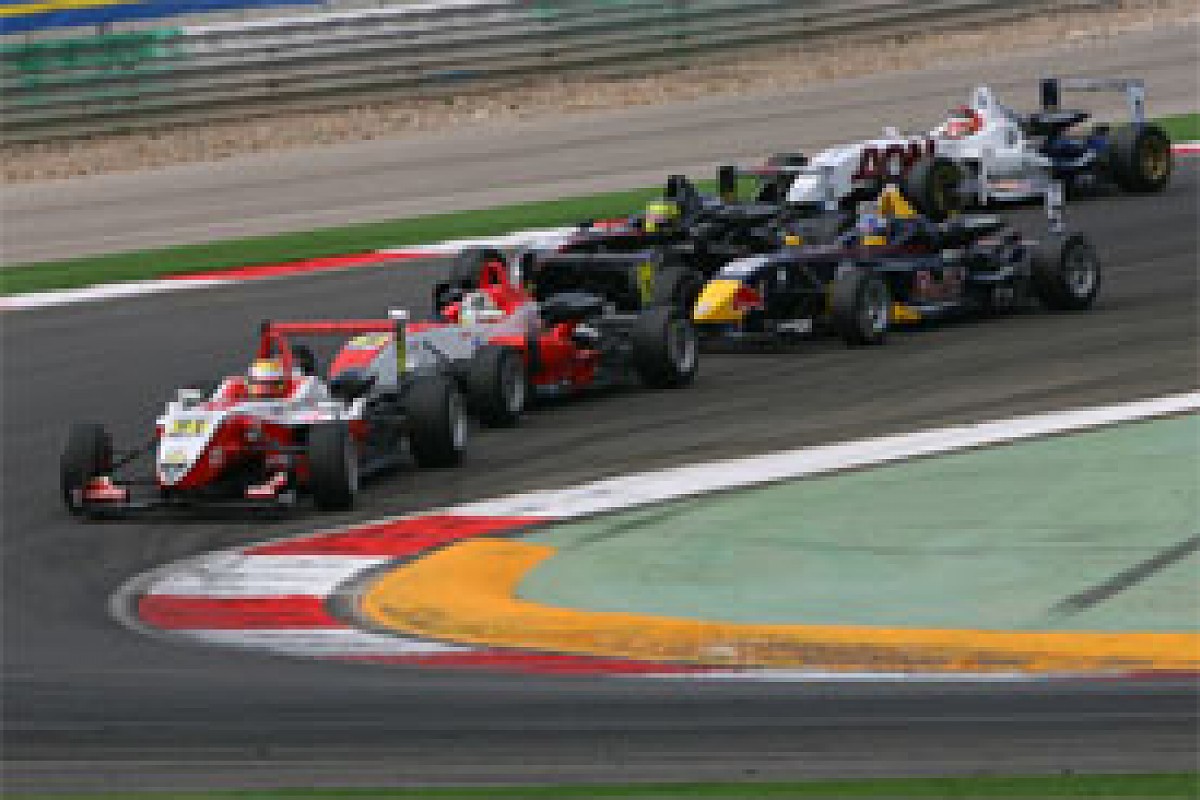 Jules Bianchi leads the field at Algarve © LAT
A bumper 30-car entry makes the voyage to Portugal for British F3's maiden visit to the new Algarve circuit - host of the penultimate round of the season.
ART comes back for another crack at beating the British boys and manages it this time, as Bianchi successfully adjusts his driving style to the softer and peakier Cooper tyres and claims a pair of wins.
In the first race, the Frenchman fights with van der Zande until the Dutchman suffers a slow puncture and slumps to fourth, behind Bianchi's Mexican team-mate Esteban Gutierrez and Ricciardo.
The guest entries don't score points in the championship, so Ricciardo's podium in race one gives him a maximum score and brings him to the brink of title glory.
Fifth place and third in class in race two is more than enough for Ricciardo to end the title race a round early. Arch rival Grubmuller suffers a nightmare weekend and accidentally slumps to third in the standings, behind van der Zande. This is despite van der Zande deliberately dropping back from the lead fight in the late stages of race two, amid claims a piece of the circuit's Astroturf has become lodged under his car.
Round 10 Brands Hatch GP, September 19-20
Newly crowned champion Ricciardo signs off in style by dominating much of the final weekend of the season. No one can get within six tenths of the Australian in free practice, and only team-mate Chilton is able to get close in qualifying, as Ricciardo claims his first double pole of 2009.
The Red Bull Junior then delivers the most dominant dry weather drive of the year to chalk up his sixth victory of the season in race one. Ricciardo takes six tenths out of Jaime Alguersuari's 2008 lap record and his 15.531s winning margin is easily the largest of the year.
The only mistake Ricciardo makes all weekend costs him the chance of bowing out of British F3 by doubling up in race two. He fluffs the start, which allows team-mate Chilton through to claim a maiden win in his final F3 race, after three seasons of trying.
Van der Zande is absent from the final round, which allows Grubmuller to overhaul the Dutchman in the points by scoring a pair of solid, but unspectacular fifths. He finishes the season a whopping 87 points behind the first Australian British F3 champion for 20 years. There was no one more deserving than Ricciardo in 2009.
Five key moments
1. Ricciardo takes three wins from the first four races to immediately mark himself out as the man to beat.
2. Van der Zande is drafted in as Walter Grubmuller's wingman at Hitech Racing, leading to various controversial moments throughout the season as the Dutchman tries to help his less talented Austrian team-mate win the title.
3. Joe Tandy's sudden death in a road accident before the third round at Rockingham sends JTR into decline and eventually robs the championship of a genuine frontrunner in Nick Tandy.
4. Ricciardo claims his second pole position of the season in second qualifying at Donington. Having previously struggled to get the best from his tyres in qualifying, this session marks the point at which the Australian's chief weakness is eliminated.
5. Ricciardo produces two champion's drives, at Silverstone International and the season finale at Brands Hatch, to underline his position as the dominant force of 2009 in British F3.