Renault Formula 1 junior Jack Aitken made a sensational late move at Brooklands stick to take the Formula 2 sprint race win in tricky conditions at Silverstone.
The British-South Korean driver made a demon start to run third behind Louis Deletraz and Nyck de Vries in the early stages.
Deletraz was able to move clear of DRS out front while de Vries and Aitken battled, but Aitken made a late move at Village stick on lap seven of 21 and edged clear of DRS.
He began eating into Deletraz's margin, and came from over a second back with five laps to go.
Aitken then surprised the Carlin driver, launching up the inside at Brooklands in a daring move from far behind.
That bold pass required some co-operation from Deletraz to succeed but his Campos rival was easily faster, speeding away to finish over three seconds clear in a brilliant performance in changeable conditions.
Deletraz's weekend started by being hit by Sean Gelael at Brooklands, in what the former called a "racing incident", with his second place a strong turnaround from a difficult start to both the weekend and his season as a whole.
De Vries appeared to struggle once passed by Aitken, and slow-starting pole-sitter Callum Ilott was on his tail.
But Ilott struggled to remain close to de Vries in the quick corners, running agonisingly close yet unable to make a move.
Nicholas Latifi took fifth, after feature race winner Luca Ghiotto suffered a left-rear puncture in the closing stages and had to pit.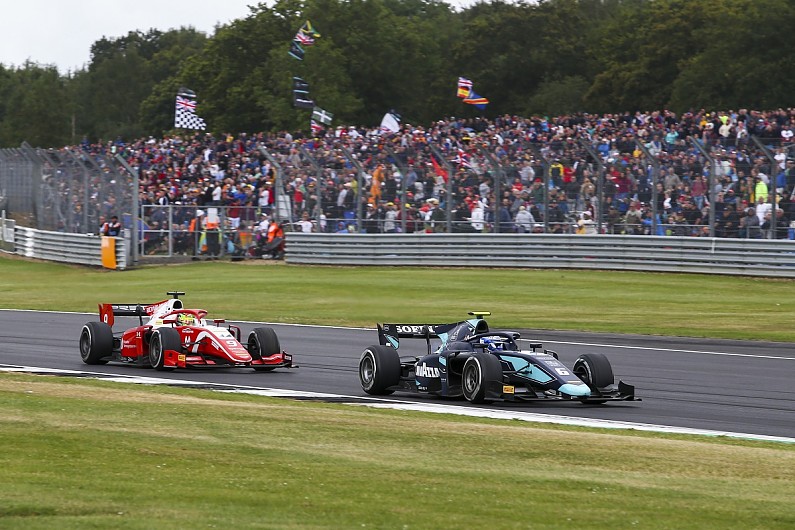 As Ghiotto fell back, Latifi had to hold off the charging Mick Schumacher who came from 11th to take sixth at the end, going airborne as Latifi edged him wide at the exit of Stowe.
The Ferrari junior and Prema Racing driver was racing alone after Gelael withdrew, but continued his strong form in sprint races to score points.
Honda junior Nobuharu Matsushita ensured two Carlins reached the top seven, by jumping Ghiotto's Virtuosi Racing team-mate Guan Yu Zhou.
The latter had tried to pass Schumacher but left himself vulnerable and Matsushita jumped him at Copse.
Behind Zhou - who took the final point - Jordan King and Juan Manual Correa sealed the top 10.
Ghiotto finished 15th after his puncture.
Result - 21 laps
| Pos | Driver | Team | Gap |
| --- | --- | --- | --- |
| 1 | Jack Aitken | Campos Racing | 36m47.822s |
| 2 | Louis Deletraz | Carlin | 4.997s |
| 3 | Nyck de Vries | ART Grand Prix | 8.194s |
| 4 | Callum Ilott | Sauber Junior Team by Charouz | 8.850s |
| 5 | Nicholas Latifi | DAMS | 16.203s |
| 6 | Mick Schumacher | Prema Racing | 19.222s |
| 7 | Nobuharu Matsushita | Carlin | 19.666s |
| 8 | Guanyu Zhou | UNI-Virtuosi | 20.181s |
| 9 | Jordan King | MP Motorsport | 21.731s |
| 10 | Juan Manuel Correa | Sauber Junior Team by Charouz | 25.820s |
| 11 | Anthoine Hubert | BWT Arden | 34.309s |
| 12 | Nikita Mazepin | ART Grand Prix | 37.426s |
| 13 | Arjun Maini | Campos Racing | 40.581s |
| 14 | Dorian Boccolacci | Trident | 47.259s |
| 15 | Luca Ghiotto | UNI-Virtuosi | 57.696s |
| 16 | Tatiana Calderon | BWT Arden | 59.998s |
| 17 | Sergio Sette Camara | DAMS | 1m09.991s |
| 18 | Mahaveer Raghunathan | MP Motorsport | 1m10.157s |
| - | Giuliano Alesi | Trident | Retirement |
Drivers' championship
| Pos | Driver | Points |
| --- | --- | --- |
| 1 | Nyck de Vries | 170 |
| 2 | Nicholas Latifi | 139 |
| 3 | Luca Ghiotto | 122 |
| 4 | Sergio Sette Camara | 121 |
| 5 | Jack Aitken | 113 |
| 6 | Guanyu Zhou | 105 |
| 7 | Anthoine Hubert | 77 |
| 8 | Nobuharu Matsushita | 65 |
| 9 | Louis Deletraz | 60 |
| 10 | Jordan King | 41 |
| 11 | Juan Manuel Correa | 36 |
| 12 | Dorian Boccolacci | 30 |
| 13 | Callum Ilott | 27 |
| 14 | Mick Schumacher | 26 |
| 15 | Artem Markelov | 16 |
| 16 | Sean Gelael | 11 |
| 17 | Nikita Mazepin | 6 |
| 18 | Ralph Boschung | 3 |
| 19 | Giuliano Alesi | 1 |
| 20 | Mahaveer Raghunathan | 0 |
| 21 | Tatiana Calderon | 0 |
| 22 | Arjun Maini | 0 |
| 23 | Patricio O'Ward | 0 |
| 24 | Ryan Tveter | 0 |