Renault Formula 1 reserve driver Jack Aitken says his new Formula 2 team Campos Racing is capable of "mounting a challenge" for the 2019 championship.
Campos went winless in 2018, but took just three races this year to break that duck with Aitken - who had switched from the ART Grand Prix squad - surging through the field to win the Baku feature race last weekend.
Aitken followed that victory with a third in the sprint race, while team-mate Dorian Boccolacci took a career-best fifth in the feature race and then rebounded from grid penalty to score seventh in the second race.
"I knew that the potential was there otherwise I wouldn't be here, and they were all really pleased [after the feature race win]," Aitken told Autosport.
"Hopefully it will become a bit more frequent through the year, they are more than capable of mounting a challenge this year.
"People maybe don't give them - and other teams in the midfield - the credit they deserve.
"Hopefully we can do a bit more of that [winning]."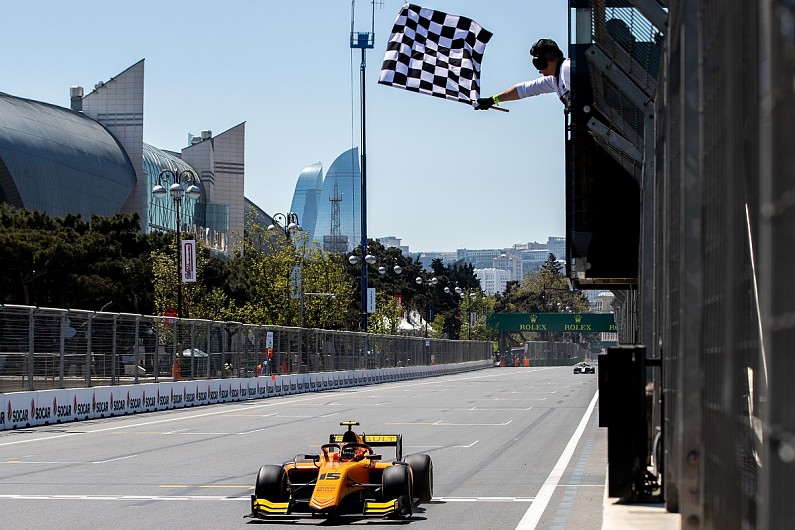 Aitken struggled in his debut F2 season, taking a sprint race win in Spain and a second in Baku on his way to 11th in the standings, while his team-mate George Russell swept to the title and a Williams Formula 1 seat.
In the last five seasons, ART's lead driver has finished outside of the top three in the standings only once, while the second driver has finished inside the top 10 only once.
Aitken - who Renault kept as part of its F1 set-up despite his 2018 F2 struggles - says that the his Baku win does not mean last year's problems are completely solved, but feels he is making progress.
"The last 12 months were very difficult at times because you're looking everywhere for an answer and that means you're looking at the team, luck, yourself - of course I looked at a lot of things on my side," said Aitken.
"It's not as if because I've won this weekend, all of those questions have been put to bed, it's not that simple. It never is, but it's a step in the right direction.
"I think we were more on top of what I wanted from the team, we're still getting to know each other a bit."
The Baku weekend put Aitken second in the standings behind Williams junior Nicholas Latifi.
The next F2 round is at Barcelona in two weeks, the venue where Aitken won the sprint race last year.