Nirei Fukuzumi says watching fellow Honda protege Tadasuke Makino take a first Formula 2 victory played "heavy on his mind" and that he needs to regain his confidence.
Fukuzumi - who finished third in the GP3 Series with ART Grand Prix last year - has had a nightmare debut season in F2, which he is dovetailing with a Super Formula campaign.
He lies 17th in the standings with a best finish of sixth as his Arden International team have struggled for pace for most of the year, while team-mate Maximilian Gunther is 13th in the championship.
Honda wants a Japanese driver in one of its Formula 1 cars and Red Bull athlete Fukuzumi would have been high on the shortlist for a seat at Toro Rosso. But the 21-year-old won't have enough points for a superlicense, although he has enough for free practice outings.
Makino is less experienced in Europe than Fukuzumi, who has had an extra season on the continent and an extra two years of experience on the Pirelli tyres. Makino ran the more durable Hankooks in the European Formula 3 Championship last year and is in his first season on the degrading Italian rubber in 2018.
After starting on the medium tyre compared to the leaders on the supersofts, Makino - nicknamed 'Tada' - drove a brilliant opening stint in Saturday's feature race, before holding off Russian Time team-mate Artem Markelov for victory.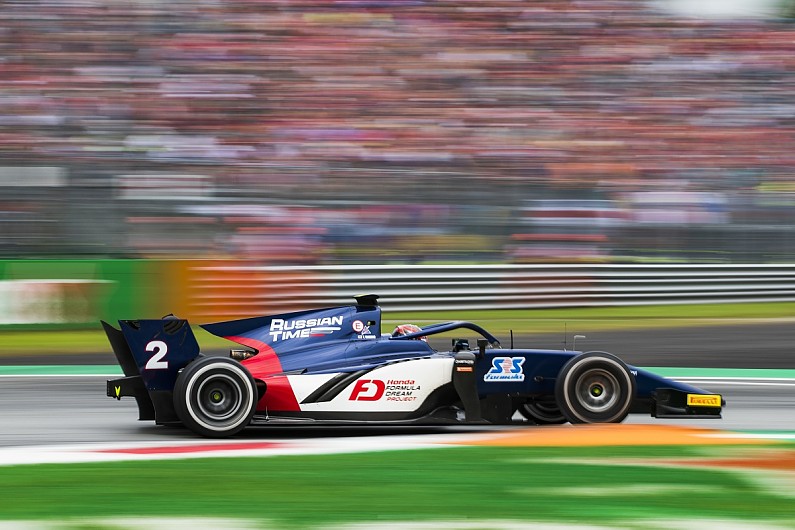 "Of course last night and yesterday was very hard, it was very heavy on my mind," said Fukuzumi after Makino's win.
"I try not to care about Tada['s win], as a driver I try to do the maximum which is my job every race weekend.
"I have to get back my confidence for the future. I don't know at the moment [what to do to regain the confidence]. I have to find the enjoyment again."
In Monza, Arden was struggling with tyre degradation and Gunther was 12th, two places ahead of Fukuzumi in the feature race. Fukuzumi took 13th while Gunther was 16th at the end of race two.
"My start today [in Sunday's sprint race] was very poor, and after we didn't have the pace, I was suffering with tyre degradation," said Fukuzumi, with Gunther having similar issues.
"We had a lot of oversteer and I was not able to do anything this weekend.
"We know what's happening with the car and what is the issue with the degradation, so we need to try and get better and improve to fix this problem."