Carlin's Sergio Sette Camara topped Formula 2 practice at Monza in a session affected by wet weather, which limited dry running.
The track was ready for dry tyres with just over a quarter of the 40-minute session remaining, after a morning thunderstorm had drenched the circuit.
GP3 practice was cancelled, while the previous Formula 1 session helped to shift some of the standing water.
Some of the leading title contenders remained in the pits with medium tyres on while the track was still wet but, with just under 30 minutes to go, the likes of George Russell and Lando Norris elected to switch to wets and get some running under their belts.
With more cars on track, the surface dried quickly and most runners switched to medium tyres with 10 minutes to go.
Russian Time driver Artem Markelov had just improved on his fastest time when he lost the rear end of his car at Turn 1, and was perched atop the curb on the inside. He later got going.
Just before that spin, in-form Sette Camara stole top spot and headed Markelov, title contender Alexander Albon, Honda Junior and Markelov's Russian Time team-mate Tadasuke Makino, plus Campos Racing's Luca Ghiotto, come the end of the session.
Title contenders Russell and Norris had tricky sessions.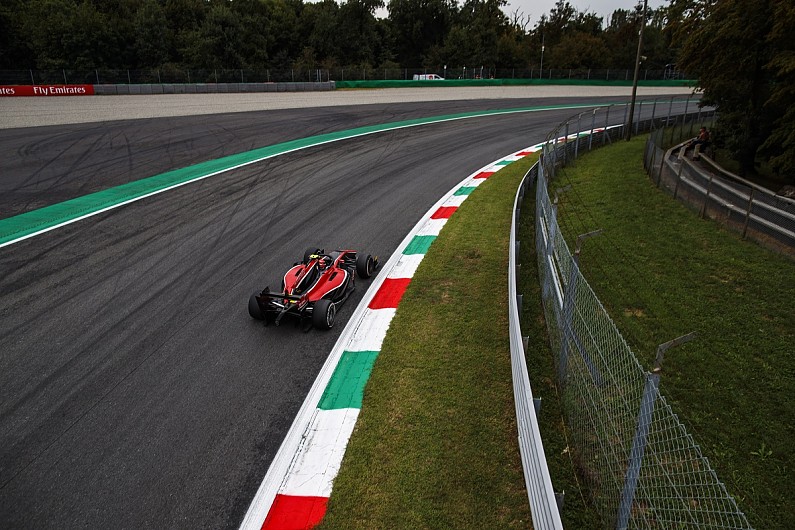 Norris waved his hand in fury on two separate occasions as two of his flying laps were ruined by traffic, and almost ploughed into the back of Jack Aitken, as he and Russell tried to avoid Nicholas Latifi's DAMS-run car at the Parabolica with just under five minutes to go.
He then encountered more traffic on the next lap exiting the Ascari chicane.
Russell improved on his last run to take seventh, despite also suffering with traffic, while Norris was ninth.
Nyck de Vries' recent momentum took a hit as he suffered technical issues.
The winner of the last two feature races with Prema Racing, Dutchman de Vries ran slowly out of the pits with 12 minutes to go and appeared to be in limp mode.
He spent the remainder of the session in the pits while mechanics worked frantically on his car.
Charouz Racing System driver Louis Deletraz made the most of early wet and dry running, completing more laps (18) than any other driver.
Practice times
| Pos | Driver | Team | Time | Gap | Laps |
| --- | --- | --- | --- | --- | --- |
| 1 | Sergio Sette Camara | Carlin | 1m33.810s | - | 11 |
| 2 | Artem Markelov | RUSSIAN TIME | 1m33.858s | 0.048s | 13 |
| 3 | Alexander Albon | DAMS | 1m34.287s | 0.477s | 13 |
| 4 | Tadasuke Makino | RUSSIAN TIME | 1m34.646s | 0.836s | 11 |
| 5 | Luca Ghiotto | Campos Vexatec Racing | 1m34.677s | 0.867s | 12 |
| 6 | Antonio Fuoco | Charouz Racing System | 1m34.793s | 0.983s | 11 |
| 7 | George Russell | ART Grand Prix | 1m34.812s | 1.002s | 11 |
| 8 | Arjun Maini | Trident | 1m34.817s | 1.007s | 13 |
| 9 | Lando Norris | Carlin | 1m34.828s | 1.018s | 11 |
| 10 | Dorian Boccolacci | MP Motorsport | 1m34.848s | 1.038s | 15 |
| 11 | Jack Aitken | ART Grand Prix | 1m34.932s | 1.122s | 11 |
| 12 | Ralph Boschung | MP Motorsport | 1m34.958s | 1.148s | 14 |
| 13 | Louis Deletraz | Charouz Racing System | 1m35.216s | 1.406s | 18 |
| 14 | Nicholas Latifi | DAMS | 1m35.461s | 1.651s | 13 |
| 15 | Roy Nissany | Campos Vexatec Racing | 1m35.480s | 1.670s | 15 |
| 16 | Sean Gelael | Pertamina Prema Theodore Racing | 1m35.568s | 1.758s | 12 |
| 17 | Nirei Fukuzumi | BWT Arden | 1m35.677s | 1.867s | 11 |
| 18 | Maximilian Guenther | BWT Arden | 1m35.954s | 2.144s | 12 |
| 19 | Alessio Lorandi | Trident | 1m36.559s | 2.749s | 12 |
| 20 | Nyck de Vries | Pertamina Prema Theodore Racing | - | - | 3 |