The FIA's Charlie Whiting has labelled the Formula 2 start issues which have plagued its new car as 'history' after no stalls in two races at Budapest last weekend.
The championship brought in a new car for this year with a turbo engine, bigger wings and a halo device.
But since the start of the season, drivers have struggled to operate its tricky clutch, which has also suffered from issues related to software.
This resulted in the FIA introducing rolling starts on safety grounds for the Red Bull Ring and Silverstone races in July.
But last weekend in Budapest, the series had two races with fully successful getaways, despite stalls in practice and qualifying.
"I think we've overcome that problem now," said Whiting.
"I was completely confident we can do a standing start, whether drivers make mistakes, we can't prevent that.
"We saw two clean starts, I don't think we need to discuss that more. It's history.
"I think the changes that have been made to the engines, clutch control and the clutch itself appear to have worked."
The series was hamstrung by poor weather at the beginning of the year affecting its ability to test, and series boss Bruno Michel says the apparent start fixes are the result of continued work done across the season.
"It's a result of a lot of hard work," Michel told Autosport. "There's been massive improvement, we've noticed it and the teams have noticed it.
"When it's a new car sometimes it takes a little bit of time.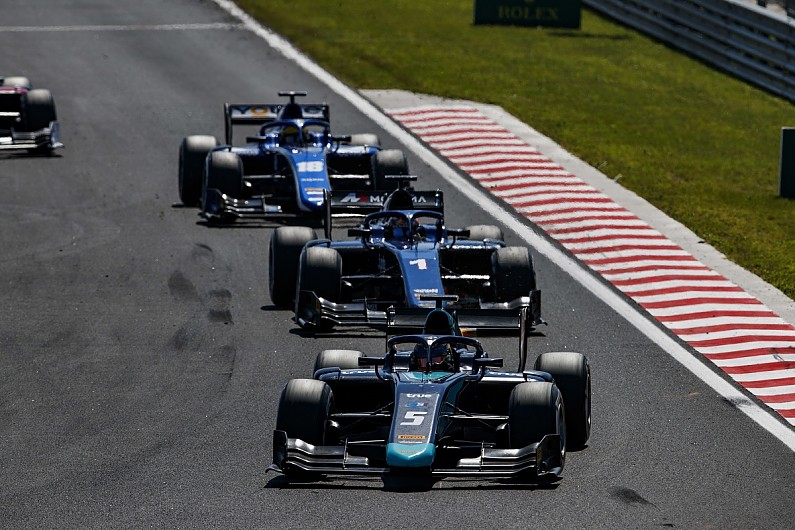 "Our car is very complex and, what you have to keep in mind all the time, is that we are supplying a car that is almost performing like Formula 1 but with one-hundredths of what F1 costs.
"It's getting more complex, there's more electronics, the turbo, the technology is evolving a lot.
"This car is much more evolved than the previous one, it's a massive change. Dallara, Mecachrome and Hewland have all had to work together to make it work.
"It's taken some time and we may still have some issues, 100% reliability doesn't exist in this business. It's all going in the right direction.
"Every time we introduce a new car we've always had some problems. We went through them and here we are."
The series has made software changes throughout the season in a bid to combat some of its issues, but Budapest had new parts introduced.
"We did a physical change on the clutch, we have a new clutch basket with a new diaphragm, which means less friction," said F2 technical boss Didier Perrin.
"That's better for the clutch control.
"The second change we've made is to the engine mapping, the engine delivers more torque at the precise bite point.
"On top of that we have provided to the team a new clutch control setting which is precisely set to match the new clutch basket.
"The improvement is clear and the feedback from the teams is positive."