George Russell has kept his Barcelona Formula 2 feature race win, after being investigated and his ART team fined €3000 for him throwing a water bottle out of the car.
Russell jettisoned the bottle on lap seven under a virtual safety car. It had come loose in his cockpit and he drove with it between his legs for three laps.
"It moved slightly so when I was trying to turn there was nowhere for my arm to go to," Russell explained to Autosport.
"I managed to rip it off and I stored it between my legs for three laps. I planned to keep it there until the pitstop and throw it out at a safe time.
"But when I saw the opportunity of the virtual safety car, I thought it was a good and safe opportunity to get rid of it, but consequently we've been given a €3000 fine and a penalty point on my licence."
The bottle was only included after a late weight check before the race encouraged Russell and his ART Grand Prix team to fit it as a precaution.
"The reason it was there in the first place was I jumped on the scales beforehand and I was lower than I expected, so we put the bottle in, so it was a last minute bodge job," Russell explained.
"It [the water bottle] was mounted on the chassis [with tape].
"As it happened I came in and my weight was fine, we didn't actually need it.
"It's not ideal, it was just something extra to think about and I was leading the race at the time."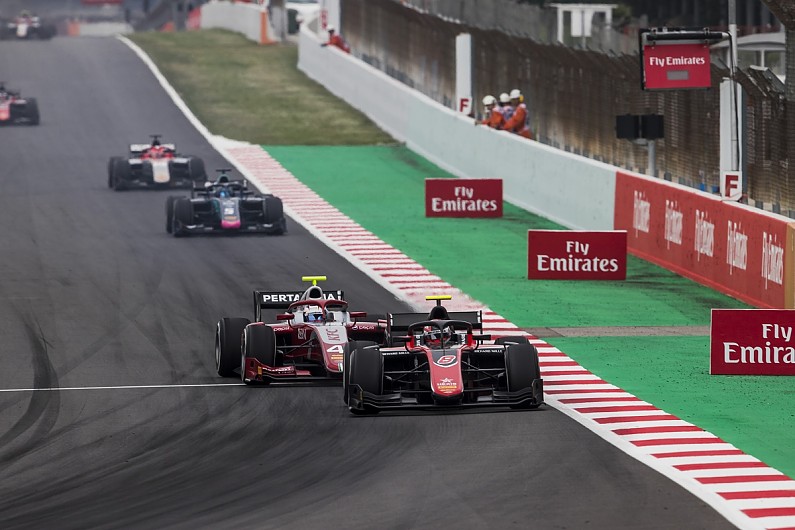 Russell won the feature race after surviving a late lunge from Nyck de Vries.
The McLaren Formula 1 junior ran Mercedes protege Russell - who had to take evasive action - off the road at Turn 1 while he was leading the feature race in Baku a fortnight earlier, and tried another late move on Russell following a late-race VSC at Barcelona.
"It was [a scary moment]," Russell said of de Vries' overtaking effort.
"I got a little bit unfortunate with the timing of the virtual safety car as it was on the straight, I believe he had DRS.
"I knew if he went for the move he wouldn't make the corner so I left the door open and let him go."