Haas Formula 1 junior drivers Santino Ferrucci and Arjun Maini will both race for Trident in Formula 2 this season.
Ferrucci joined the squad mid-way through 2017 after switching from DAMS' GP3 squad and stays on for a full F2 campaign in '18.
Maini, a race-winner with Jenzer Motorsport in GP3 last year, graduates to F2 after finishing ninth in the third-tier category last year.
Both drivers were in action for Trident at the recent F2 shakedown at Magny-Cours, where they finished with 58 laps completed between them - the most of any team.
"I'm extremely satisfied and motivated by our 2018 line-up which is a highly competitive and challenging one," said Trident team boss Giacomo Ricci.
"We will be able to rely on two undoubtedly talented drivers in order to build a prestigious future together.
"Santino merged with our team in perfect fashion last season and really impressed our engineers for his speed, driving skills and commitment.
"We hope to see him bring home solid results over the course of the season.
"On the other hand, we have been following Arjun for a while. He showed great driving skills and race conduct which are going to be some really important aspects in a demanding series like F2.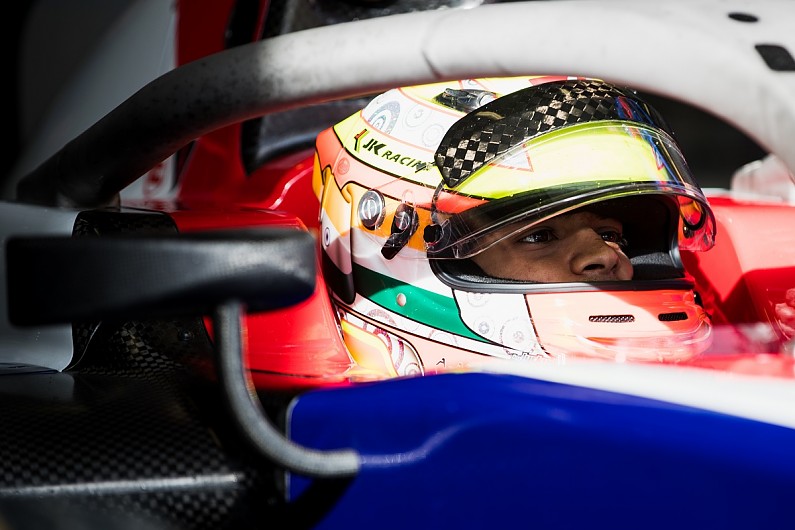 "We have plenty of work ahead including the rollout of the new cars so I can't wait for the season to start."
Ferrucci twice scored a best finish of ninth place in F2 last season, which he achieved in feature races at successive rounds in Hungary and Belgium.
He joined Haas's F1 junior programme in 2016.
"I am very proud to be back at Trident for my first full season of FIA F2," said Ferrucci.
"I fit extremely well in the team and we have strong potential this season to fight for a championship.
"I cannot wait to get back behind the wheel for our first pre-season test."
Maini, who tested for Trident and Russian Time in the end-of-season F2 test in Abu Dhabi last year, became a Haas development driver ahead of the 2017 GP3 season.
In addition to his reverse-grid GP3 win at the Barcelona season-opener in 2017, Maini scored a further podium finish in the first race at the Yas Marina circuit.
"I'm very excited to be competing in the FIA F2 championship with Team Trident," said Maini.
"I felt we were quite competitive during the post-season test and given that the series is using all new cars for the coming year, I'm quite excited for the year ahead.
"Trident is a very strong team and I'm sure that if we work hard we'll be in for some strong results during the course of the coming season."