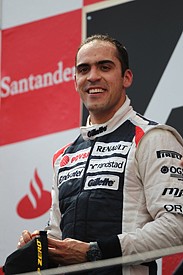 Pastor Maldonado did more than enough with his victory at the Spanish Grand Prix to be able to tell his critics to 'shut up', says Williams board member Toto Wolff.
The Venezuelan driver delivered a stunning performance at Barcelona to produce the maiden victory of his Formula 1 career, and prove that his value to the team is more than just the millions of pounds of sponsorship he brings.
Wolff knows that Maldonado has faced criticisms in the past for being a 'pay driver', but now he thinks those who were against him can no longer complain.
"I think silencing his critics is being diplomatic with language," Wolff told AUTOSPORT. "I think he has shut them up with his performance in Spain.
"I have said it many times before that the economic environment [in motor racing] has changed. If you want to run in GP2 you need one and a half million pounds, so the drivers there are not only quick and talented but these guys have been able to attract partners too.
"Pastor has been very successful in attracting partners and many others have been too. So let's forget about this phrase 'pay driver', as we have to get used to this situation in the future."
Wolff believes that Maldonado has made big progress with his driving this year, and thinks that the lessons of his final-lap crash in Australia were valuable in helping him improve.
"It is a lot about learning, and Pastor learned a very hard lesson in Melbourne," Wolff explained. "He thought about it a lot and before the race, when we discussed the strategy, he said: 'I am OK coming out of lap one in a position that is not in the lead. I am out there to score points.'
"He wasn't putting himself under pressure, which I think is very important. In the race, he was faultless and he was very well managed from his race engineer about conserving the tyres."