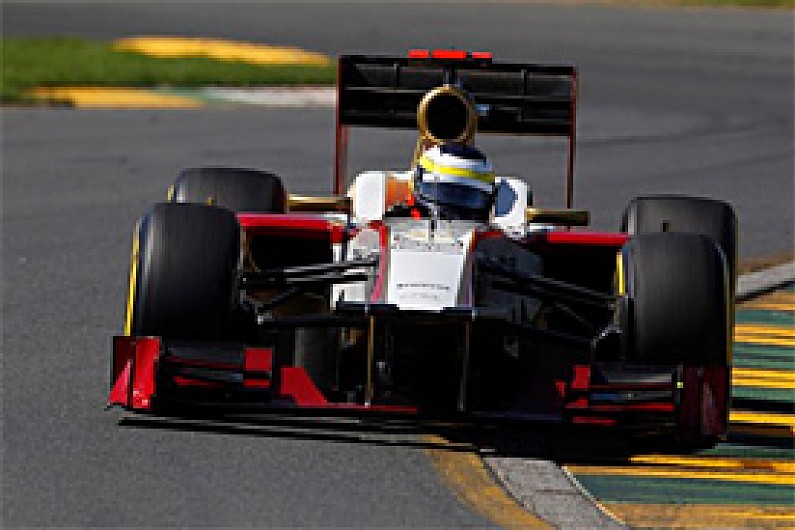 The HRT team will not be allowed to race in tomorrow's Australian Grand Prix after failing to qualify on Saturday.
Neither Pedro de la Rosa nor team-mate Narain Karthikeyan managed a lap within the 107 per cent of the quickest time in Q1.
Although the Spanish squad requested permission to race, the stewards said the team will not be allowed to take part in the season opener.
"The stewards having considered all relevant material decide not to allow both cars to take part in the race in accordance with Article 36.1 FIA Formula 1 Sporting Regulations," the stewards said.
It is the second year in a row HRT has missed the first race of the season.
Karthikeyan said after qualifying that his car's DRS not working was a huge disadvantage.
"I didn't have the DRS working and had issues with the power steering, so we could have easily been in," he told AUTOSPORT.
"The DRS alone is worth about nine tenths, and the power steering is virtually non-existent, it's almost impossible to drive. I think the problem is that the hydraulics are getting so hot, the viscosity of the fluid is thinner."
The Indian is not expecting next week's Malaysian Grand Prix to be any easier for the team, but he believes HRT will be fine by the third round in China.
"It's going to be damn hard in Malaysia," he added. "It's going to be a lot hotter and we have cooling problems already, so it's going to be very hard. We don't want to bullshit ourselves, it's going to be very difficult.
"With HRT I was under a false impression with the new car. I obviously knew there would be problems but I thought we could get in, and I am very wrong.
"I don't see it as a long-term problem but I won't be surprised if Malaysia is the same situation. Back to backs in a situation like this is almost impossible; we have a few small remedies but to work on the hydraulics is a humungous job. It won't happen overnight. By China we should be okay, relatively speaking."