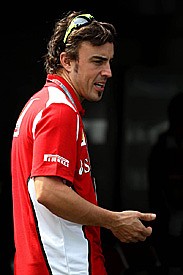 Fernando Alonso is not ruling out fighting in front of the field in Australia despite a difficult pre-season for Ferrari.
The Maranello squad has admitted it has not reached the targets set for winter testing with its F2012 car, but Alonso said on Thursday that does not mean Ferrari will be slower than its rivals when the racing kicks off.
"I'm confident. I'm very relaxed about the possibilities of our car," said Alonso during a Shell VPower promotional event on Thursday in Melbourne.
"I think the winter has been tough for us with so many tests to do. It's quite a complex car in terms of set-up and understanding it.
"Maybe we didn't reach our targets but it doesn't mean that we are slower than the other cars. That we will not know until Saturday.
"We want to be world champions in November, that's the ultimate target, and in Melbourne we need to have a good start. But we will find out how competitive we are on Saturday."
The Spaniard insisted he has full confidence that Ferrari will be fighting for victories eventually if the start of the season proves to be difficult.
"We will put all the best pieces together in Melbourne for the first time. In the winter tests you are always doing different programmes. I believe in this team. I trust this team completely and it will be a long championship and Ferrari will always be there."
Team-mate Felipe Massa conceded he was happy the waiting is over to see how strong Ferrari actually is.
"I hope we can see a competitive car, even more than we saw in the tests, which was not what we expected. Now we are going to get the answers," he said.
"We expected to be a little bit stronger, so we are waiting for the first race. Now we are going to stop talking and we'll see on track the real results. Testing is always testing and we'll see how it's going to be now."