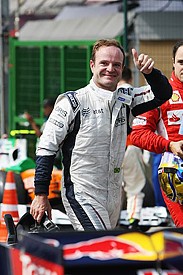 Rubens Barrichello says all he wants for 2012 is a competitive car - after revealing that he has the motivation, the backing of his family and a new helmet design already in place for next year.
The Brazilian experienced an emotional Interlagos weekend, with uncertainty about his future in Formula 1 leaving him unsure whether it was his last grand prix.
However, Barrichello has reiterated his hunger to carry on - and says his spirit has been boosted by a 2012 helmet design that his youngest son Fernando drew for him before the race.
"My son painted the helmet for me for next year, and if I sign the contract that will be my design for the first race," said Barrichello. "I really am not ready to finish yet."
Barrichello said that such is his conviction that he will get an F1 race seat that he did not want to wave goodbye to fans after the chequered flag - or do a donut in case it earned him a penalty for next season.
"The only thing that I knew when I was on the slowing-down lap was that I could have said goodbye to them [the fans], but I was just waving - I know I will be back," he said.
"I was revving the engine like mad at the end, because I know you could get a penalty for donuts. If it was my last race then I would have done donuts everywhere, but I have to think of next year."
Barrichello believes that the efforts he has made with Williams - which is believed to be seriously considering signing Adrian Sutil - should justify another campaign with the outfit.
"I think I deserve the race drive for next year," he said. "This year it was tough to lead the team, with the exit of Sam [Michael] and the entry of Mark [Gillan] - but they know if anyone can lead, I can do it.
"In F1, people come and go because pretty much you don't have the situations you have in F3, F3000, GP2 or whatever. The pressure is a lot more involved in F1 and sometimes the teams need to make decisions that make you disappointed, so with that, you can get depressed.
"People just come and go, and so many fast drivers went because they were not so happy with F1. How many drivers we have seen like that? When [Juan Pablo] Montoya left F1, we heard that F1 was so crap and people just don't like it - but I love it.
"I am using the positive side and the negative is gone. I am ready to give everything I have for the passion I have behind the steering wheel. Just give me a piece of paper with three lines: you sign on your side, I sign it and I am ready to do it.
"I don't need a big contract; I just need something that tells me I am driving next year in a competitive car. I just want a competitive car. I don't want any favours and I don't want to drive just for the sake of driving."