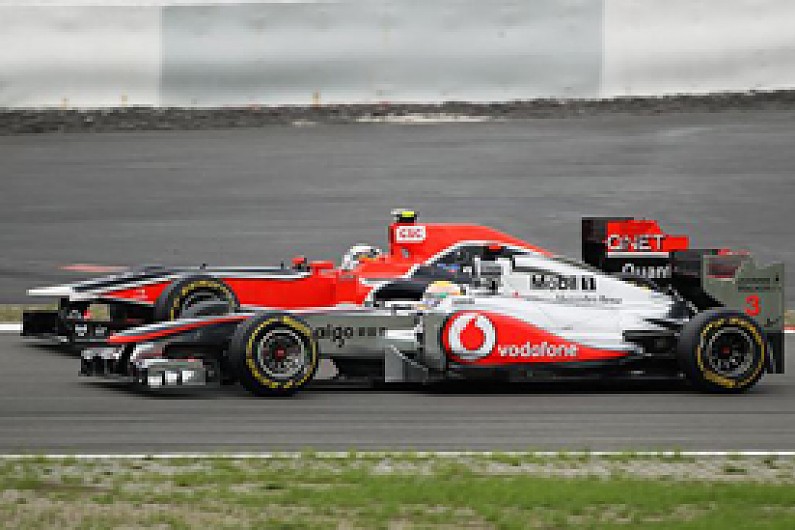 Formula 1 chiefs are to discuss the future of technical co-operation deals between teams later this week, in a move that could open the way for full-blown customer car deals.
AUTOSPORT has learned that issues regarding the sharing of intellectual property between teams have been added to the agenda for a meeting of the Formula 1 Commission that will take place in Geneva next Thursday.
Sources have revealed that following a request from a team, two topics are now up for discussion at the November 3 meeting. These relate to a clarification of the definition of a constructor, plus a debate about whether the placement of staff at other teams could lead to an illegal sharing of 'confidential intellectual property.'
It is understood that the issue has come to light on the back of scrutiny about just how far teams are allowed to share information - especially with McLaren now having technical deals with both Force India and Virgin Racing for next year.
Team principals were informed about the IP debate by Bernie Ecclestone during a meeting in the Indian Grand Prix paddock on Friday.
It was made clear that amid pressure from different camps to clarify the situation - with bigger teams wanting to supply customer cars and smaller outfits wanting more help - it was felt important that the matter be discussed at length in the F1 Commission.
McLaren team principal Martin Whitmarsh insisted, however, that the scope of the partnerships between McLaren Applied Technologies and the Force India and Virgin Racing teams were totally within the terms of the Concorde Agreement.
"I am very comfortable that we comply," he said, when asked by AUTOSPORT about the situation.
"When we went into the first contract, the schedule of works and the contract was shared with the FIA and with FOM, and we also at that time wrote to the teams and explained what we were doing, and why it was compliant. And we have kept with what we said we were doing at that point.
"With Marussia [Virgin], we wrote to FOM and the FIA. Inevitably it is a competitive environment and I think we have seen Force India as a competitive team, so I suspect that raises people's concerns maybe. I didn't personally put it on the agenda [for the F1 Commission] so I cannot tell you the motivation behind it."
Force India team principal Vijay Mallya did not understand why the matter had come up now, because the deal with McLaren had been so long-running.
"Please understand that our relationship with McLaren Applied Technologies Ltd is a three-year-old one," he said when asked by AUTOSPORT. "If we were flouting any of the rules of the Concorde Agreement I can tell you, with a degree of certainty, that many people in this paddock would have complained a long while ago.
"Three years into our relationship what is the need to start complaining now? And I would also like to add, and I said this in zest [in the team principals' meeting], that every email that I exchange with Martin Whitmarsh has a comment from him that this has to be Concorde compliant, so that is how seriously McLaren take it and obviously we take it as well. I am not worried about it. We can discuss it at the F1 Commission meeting, but as far as I am concerned we are in compliance with Concorde."
Ferrari has made no secret of its desire to expand customer relationships to full-blown customer cars in the future, but Whitmarsh made it clear that McLaren was against such a move.
"This is where I guess we would be accused of being hypocrites, but we don't think customer cars are the right way to go," he said.
"If you allow customer cars, then there would be a customer Red Bull, a customer McLaren, a customer Ferrari, and maybe a customer Mercedes - and that is quite tough on some of the other teams."
He added: "We have 12 entrants at the moment and what we should be concentrating on is developing a viable business model of sustainable budgets for 12 teams. That is a healthier and better way to go, but that is my opinion. I respect others have a different view."
Autosport has produced a standalone special magazine to celebrate our 70th birthday. All current print subscribers will receive a copy for free. To order your copy of the 196-page Autosport 70th Anniversary issue, please go to: autosport.com/autosport70th