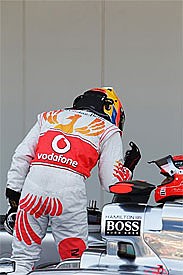 Lewis Hamilton was left frustrated after he was unable to complete his final run in qualifying for the Japanese Grand Prix, labelling his incident with Michael Schumacher as dangerous.
The Briton did not cross the finish line in time to start another run after he was overtaken by Mark Webber and Schumacher during his warm-up lap.
Hamilton admitted he was surprised by the situation, as he believes Webber's and Schumacher's moves were dangerous.
"You could see on TV. I would have to watch replay," said Hamilton. "Jenson was in front of me, he slowed down to get his gap and I was coming to the last corner trying to make sure I had a gap between him and me.
"It wasn't that big and then just was I was coming into the chicane, I looked in the mirror and saw Mark diving inside me. And then I didn't see Michael but he came past me and we nearly crashed with me to the left. It was quite dangerous."
Hamilton had looked like one of the favourites for pole, but his failure to complete the final run left him down in third, which he labelled as good enough.
"It is what it is. But we are still on second row so that is good enough," he said.
Schumacher, meanwhile, said Hamilton had pushed him onto the grass.
"I had Webber in front because Hamilton slowed down. I don't know what was in front of him, if he really had to slow down that much, but it was tight for all three of us so we all had to push somehow to make it through and do another lap.
"At that moment I was set to do a lap because I didn't know whether Kobayashi, or somebody, may go out [to set a time]. I tried my best and Lewis pushed me a little bit wide onto the grass. I made it through, but a bit of an awkward start of a qualifying lap."
The Mercedes driver said he final lap had not been compromised too much by the incident, but he still believes Hamilton was driving too slowly.
"Not really [compromised], luckily nobody else - or at least Kobayashi - didn't go out again to set another lap, because that would have meant I would have been shy by probably a second. Which was a bit stupid - at the last chicane everybody was driving so slow.
"I saw my time, so I knew I had to go through somehow otherwise I wouldn't make it. I just missed it [the flag] by a second. Bit of a shame, but it didn't make a problem in the end."
Autosport has produced a standalone special magazine to celebrate our 70th birthday. All current print subscribers will receive a copy for free. To order your copy of the 196-page Autosport 70th Anniversary issue, please go to: autosport.com/autosport70th