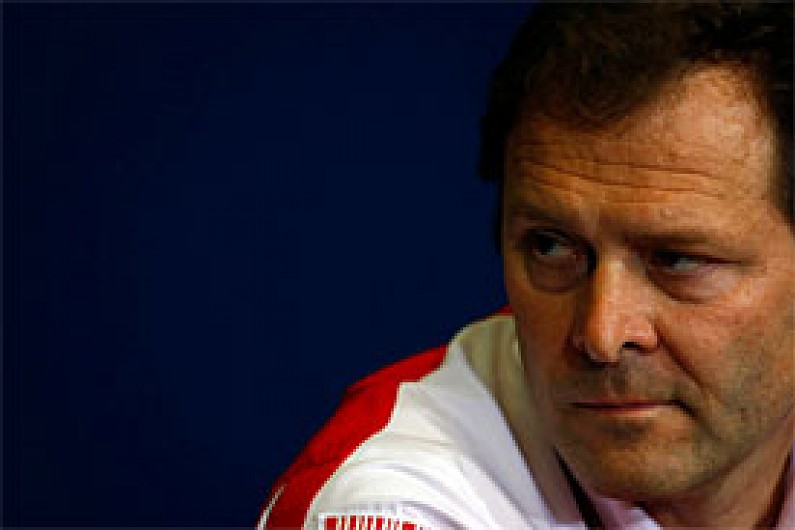 Former Ferrari technical director Aldo Costa will join the Mercedes GP team alongside Geoff Willis, the German manufacturer confirmed on Friday.
Costa left Ferrari in May after a disappointing start to the season for the Italian squad, and, as reported by AUTOSPORT earlier this month, he will work again alongside Ross Brawn at Mercedes.
The duo worked together at Ferrari during Brawn's spell at the team. Costa will join Mercedes as engineering director on 1 December.
Willis joins Mercedes after having left the HRT squad recently, and he will work as technology director starting 17 October.
"I am delighted to announce that Aldo Costa and Geoff Willis will be joining the team," said Brawn. "Geoff is a highly respected engineer with over twenty years of Formula 1 experience, and we look forward to his arrival next month.
"Having worked closely with Aldo for many years, I know that he will bring dedication and championship-winning expertise to the team when he joins in December.
"Building a winning team is an exciting challenge for us all as we work towards the competitiveness and standards that we aspire to as the Mercedes-Benz works team. With a strong technical structure led by Bob Bell, we are moving ourselves into the best possible position to achieve our ambitions."
Brawn said recently that Mercedes GP needed to ramp up its infrastructure if it was going to take on big-money teams like Red Bull Racing, McLaren and Ferrari.
His outfit had cut back its staffing numbers considerably following Honda's withdrawal, and he suggested that once it was happy with its structure it would look to expand its head count so it moved up to the limit of F1's Resource Restriction Agreement.
"To add people you have to have the structure you need, and obviously one of the big things for the team is Bob Bell joining us," Brawn said. "The infrastructure has to be in place before you can start adding numbers. And I think we've strengthened the structure.
"It's always nice to do well with the smallest number possible, and there is the RRA limit, and we are looking to move to that absolute limit.
"At the same time the other teams are coming down to it because they are still on the glide path down to the RRA limit, so in 2011 the teams who are bigger still have the benefit of that glide path down to the RRA targets."