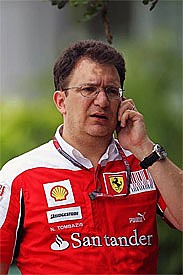 Ferrari seems like a team back on form now, but a slow start to the season has left the Italian squad on the back foot.
That is why the Maranello team is taking a much more aggressive approach in the hope of hitting the ground running in 2012.
AUTOSPORT heard from chief designer Nikolas Tombazis, who explained the team's plans for next year.
Q. Can you give us some idea of what areas of the car you have been focusing on to bring improvements to the car in your bid to overtake Red Bull Racing?
Nikolas Tombazis: First of all we've made some improvements in the area of the exhaust. We believe that that still has a lot of scope for improvement, and clearly after various rule clarifications and so on, we have a slightly clearer view about what we can do over the next few races to further improve that area. As we have seen there is quite a bit of performance there.
Further to that, for this race, we had a new rear brake duct. We had in the last race a new rear wing, and we can work with that further because with the DRS this year the wing has some scope for improvement. And we also have a fairly pushy front wing programme that for the next few races will show some further improvements.
Q. Did the upgrades to the wind tunnel you had this year have an impact on your programme?
NT: This is an on-going process. We obviously had a very-well publicised issue in the wind tunnel in the early part of the year which gave us some bad surprises. I hasten to add that that was not the only reason that we were behind, but it was one of the reasons. There were other reasons as well and I would not like to use that as an excuse. We have understood some of these issues and we are proceeding with a number of upgrades that should bring us some more pace. I have to say that modern F1 cars, I doubt that there is any among them that has a complete correlation. A modern F1 car has so many difficult interactions between vortices and wakes etc., that are extremely sensitive, and you only need a vortex to move by a few centimetres and it can really change the characteristics quite a lot.
Q. We have seen photographs of various cars on the grid now running with a rake similar to that used by Red Bull Racing to try and get the front wing closer to the ground. Is that something Ferrari has been looking at?
NT: I think if you study our car you will see that sometimes we play with these parameters as well. It has got to do largely with how your diffuser and exhaust interact with that gap that is between the floor and the ground. There are certain conditions when it will be to your benefit to have a bigger rake on the car.
Q. Are you happy that the rules have gone back to the Valencia-spec engine mapping?
NT: We could spend a good part of the evening and tomorrow discussing that. Compared to Valencia and Silverstone it is clear to see who has the biggest advantage or not, but now we have a gauge about what it is we need to be doing. It is good to have clarity now.
Q. With blown diffusers banned for next season, and the move to the periscope exhausts, how much resource do you put into this area now for the rest of the year?
NT: We obviously don't only work in that area. This is an area of clear performance gain that we have found for this year's car, so some resource naturally has to be spent on this year's car because we want to win races, and we do have quite a few more races ahead of us. Therefore we want to get more wins under our belt. Obviously, the research is not applicable for next year's car but other things we are doing for this year's car also has some bearing towards next year's car, so it is a bit of a mix on that - trying to prioritise best our resources to cover both cars.
Q. One of the biggest challenges coming over the next few years is the switch to V6 engines and the aero regulations rule changes. How do you prepare for that?
NT: The new rules are for 2014, and they offer a range of things - the most important one of which is the engine. There are also some quite significant aero rule changes, but now we have still two-and-a-half years ahead of us, so that is a bit too early to start on that programme. The main objective is three fold: one is to win more races this year hopefully. The next is that we apply a very fresh approach to what we do next year because we believe we have not performed to our normal standards this year or the last couple of years, so we have made a lot of progress in that regard and next year's car has a lot of interesting features, so our objective is next year we need to be able to genuinely fight in the front end of the championship against very strong opponents. And the third objective is that we, at the moment, for 2011 make sure that in terms of engine packaging and directions, because the turbos are quite new and the big boxes we need to fit in the car, our engine colleagues produce an engine package that can maximise what our car can be. But to say we have started research for our 2014 car would be a bit too early.
Q. Is there enough margin to improve the car this year this season in order to fight with Red Bull Racing and McLaren?
NT: I think as long as we are not winning on a race-by-race basis then there is enough margin. I think that Silverstone was an indication of a performance improvement, and the Nurburgring is not what would have been considered a track that was favourable to us a few months ago, and a few months ago we would have been further behind. I think that the developments that we have in the pipeline for the next few races should enable us to be up there fighting.
Q. Is there a push now for regular updates to keep chipping away, or is there a plan for a bigger package at a specific race?
NT: We are now in mid-late July, and we are going to have updates that are significant from an aerodynamic and performance point of view, but we are not going to have a total rethink of the car that will have structural implications and so on, because it is far too resource-consuming for the performance benefit that it has. This time of the year you can do front and rear wings, you can do bodywork, you can do exhausts, but you cannot do suspension, or gearbox. Our updates are mainly aimed for what is the best aero performance but not a totally new car.
Q. The 2012 car - will it be an evolution of this car or will it be a completely clean-sheet concept?
NT: I think neither to be honest. We have taken a very fresh approach, and there are a lot of areas of the car that will change substantially. In that regard it represents a bigger change compared to previous years and previous cars, and quite frankly we need to do that because we need to make a bigger step forward than we have done previously. In modern F1 you never start with a clean sheet and throw everything in the bin, and say, 'Okay guys, let's start from zero.' You do have a lot of things you learn from the previous years and you have to apply them. I think if you look at the different cars in the pit lane you will find strong points in every single car, even the ones that are slowest, so nobody starts from a totally clean sheet ever. I think the degree of change will be quite big.