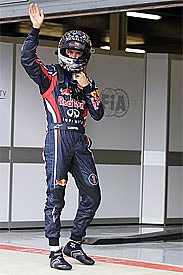 Sebastian Vettel was happy with second place on the grid for the British Grand Prix, as the team showed it was still ahead in qualifying trim despite the diffuser row.
"I am happy with the result, as I think it is important to qualify in the front," said Vettel, who finished second, behind team-mate Mark Webber as Red Bull continued with its perfect record of pole positions this year.
"It was not an easy session with the conditions changing. It was easy to go wide and go into travel like Fernando, so all in all it was very tight.
"There's not much between the cars and if you get a chance to try again you could find a sniff here or there. It was a good step today."
The world champion admitted he was happy to be able to leave all the talk about rules behind to simply drive the car.
"We kept our heads cool," he said. "We thought there might be a lot of talk, so we are happy when we jump into car, because we are allowed to focus on what is important. Tomorrow a is long race, the tyres will be very important. It is a bit of driving into unknown tomorrow from the start, but we will see."
Vettel denied Red Bull was under bigger pressure following the rule changes, and was glad to see his team was still the one to beat.
"I wouldn't say the most pressure, but I think it was a difficult session with the conditions changing. When it starts to rain on different parts of the circuit, it is quite difficult to see where it is wet or where it is fine.
It's a shame we could not get the second run, but it was a very good result for us today, especially wit the amount of talk going into qualifying and race here.
"It's good to see that we are still on top of our game and still can produce reasonable quick laptimes. I am quite happy, this circuit is quite tough on tyres so we'll see what we get tomorrow."