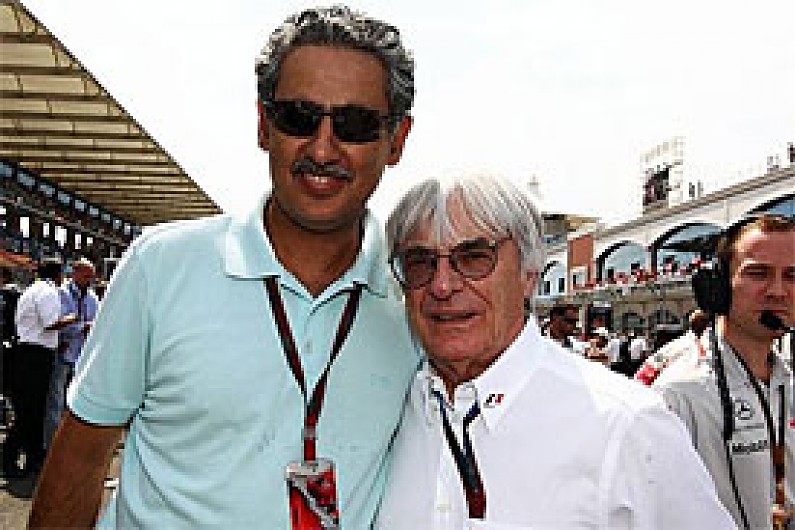 The future of the Bahrain Grand Prix has been the subject of much speculation ever since political turmoil in the Gulf State forced organisers to postpone the season opener.
A final decision on whether or not the race will take place is due to be taken in the next month, but representatives for the race are in Turkey this weekend to meet with F1 chiefs for an update on the situation.
AUTOSPORT spoke exclusively to the chairman of the Bahrain International Circuit, Zayed Rashed Al Zayani, to find out the latest.
Q. What is the latest situation regarding the future of the Bahrain Grand Prix?
Zayed Rashed Al Zayani: It was our decision at the beginning of the year to postpone the race because there were more priorities happening in Bahrain. Things are calm now, life is back to normal. We are in a position to have international events once again - and we have already confirmed the CIK event in November plus other motorsport events. And we are happy to have F1 back in Bahrain. We have been there for seven grands prix already and we would like to continue.
Q. What guarantees have the FIA asked to be put in place before they are willing to put the race back on the calendar?
ZRAZ: We didn't get that far. We didn't get into any detailed discussions about guarantees, or dates, or possibilities. We are just taking it a step at a time.
Q. But have you lodged a request with the FIA to have the race back on the calendar?
ZRAZ: Well, we never lodged a request in the first place not to have the race. We just asked for it to be postponed. It was never cancelled to be reinstated. When we did that back in March, we did say that we will continue to monitor the situation. And that is exactly what we are doing. We are monitoring the situation and hopefully if things permit...Security is not an issue now. We feel confident that everything is restored back to normal, but things like logistics, and getting it into the calendar - it will be great to have it back. We are looking forward to it.
Q. So are you here in Turkey this weekend to speak to the teams and update them on the situation?
ZRAZ: Yes, but that is not why we are here primarily. That is part of it - to update them on what has happened. This is our first grand prix this year, we haven't been to any so far.
Q. In terms of slotting it into the calendar, it is going to need some shuffling of other events. How is that going to work out? Whose responsibility is that?
ZRAZ: That is for Mr. Ecclestone to sort out. Without his consent or blessing, it doesn't matter what we say or what the others say. It is his responsibility. He has issued statements about being receptive to the idea, and being co-operative with Bahrain. And that is the general sentiment we have felt in the paddock talking to the other teams, but there are a few issues that need to be cleared up to get the race back.
Q. What are those issues?
ZRAZ: They just want some reassurances about logistics, fitting it into the calendar and stuff like that.
Q. How confident are you that the race is going to take place this year?
ZRAZ: If it was up to us, we are ready. We are happy to have it. We are ready to host it. But unfortunately it is not our decision alone. There are many factors involved. We are hoping for the best and would like to have the race back obviously.
Q. Would it not be better to wait until March to host the next race though, so there is a longer period for things to settle down? Or are you desperate to have it this year?
ZRAZ: It is not an issue of desperation. March is March, and it is 2012. I don't see one affecting the other. This is a different season. I don't see them related to be honest.
Q. So what is the next step for you regarding the FIA, as you have a June deadline to meet?
ZRAZ: The next step is that we have to find a solution with them. We have to reach a solution, whether we have a race or not. And if we have the race, then they will need to work more than us on the date. We are there any day of the year. And if they can slot us in somewhere, then we will start planning for the actual event to take place. Otherwise, if the consensus is not to have a race for this year, then we will wait for the 2012 calendar and then we will plan accordingly.