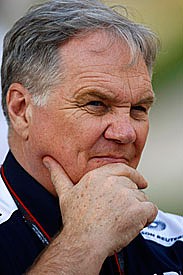 As Williams gears up for its flotation on the Frankfurt Stock Exchange next month, the F1 team's bosses are adamant nothing will change from their side.
Patrick Head explained the decision to the media on Wednesday and AUTOSPORT was there.
Q. Can you give us some idea about how this flotation idea came about? Some are viewing it as a way for you to raise money and cash in your shareholding, while the team says it is purely to secure its long-term future. Can you shed some light on it?
Patrick Head: I don't think it would have happened without (Williams shareholder) Christian Wolf's involvement, and fundamentally he always intended, as part of his initial purchase, to do an IPO.
I don't think Frank and I would have contemplated that on our own. For myself, as a minority shareholder, at the age of 65, although I am retaining some shareholding going forward, it seemed a good time to raise some value from my shares. So ultimately that is the motivation.
I have obviously spent most of my life in F1 and, for Frank, it is the be-all and end-all, and he will go on as long as he feels that is capable of contributing to Williams - which I am sure is quite a few more years to go.
The vague idea in the background of us selling together is probably not normally how a minority shareholder might get his value out of his business, but the opportunity came up. And I think when some numbers were done, I went down to a number that was pretty small and I said if that was the proposal then I would rather sell most of my shares.
Q. You talked in the press conference earlier about taking a more back-seat role in terms of F1. Is that a formal change of position for you?
PH: No, not really. In terms of presence at the race track, the performance of a car is fixed and established back at the factory - so the people going out to the race, they can only really make a mess of it. They either achieve what it is capable of or they make a mess of it!
For quite a long time my main work has been in the factory rather than outside, so I generally go to half the grands prix. I tend to be at the first three or four because that is where unexpected engineering problems come up, and with all my years behind me I can sometimes help sort them out on the field.
Then towards the end of the year, Frank doesn't tend to go to some of the far distant ones, so I have been going as a sort of 'in-loco team principalis', so to speak, for the end. I will probably go to six or eight this year, but I don't like going to a grand prix if I am just there to watch. As long as I have something to do, I am happy to go to grands prix.
Q. So will there be a slight step back then in terms of what you did in F1 last year?
PH: I will probably be less present in the F1 activity, but more present in the other activities that we do.
Q. Is there an element of sadness that you are selling up what was such a huge part of your life?
PH: I don't have any great aspirations for spending money particularly. It is a change and there probably will be a slight step - but I think I will still be getting on my scooter to get to Paddington, and getting on the train at some ridiculous early hour of the morning. It is not like I am going to start working three days a week or anything like that!
But inevitably time moves on - I think Frank and I thought that time wouldn't move on for us, but inevitably you find it does in the end. I am a pretty fit 65 - I expect to be contributing to it for a few more years to come.
Q. The Williams group as a whole has made a profit for the last few years so the business side looks good. What state do you think the team is compared to its rivals in F1?
PH: The thing is that the standard of the top teams in F1 is extremely high. Meanwhile, obviously Williams has spent a number of years as one of the potential winning competitors and we have been away from that position for quite a few years. Although we won our last GP in 2004, we last seriously competed in the championship in 2003 - and that is too long ago. The requirement is to see the team back.
As Adam [Parr, CEO] has said, some of our competitors in recent years have been spending five, six and more times our budget, and that is a pretty difficult environment to work in - in particular against teams targeting very good people in our company and offering them three or four times the salary. That is quite difficult to compete against
The newer environment of the RRA doesn't mean a totally level playing field, because there will still be teams with more money to spend, but it does mean instead of the slope [we are climbing] being vertical it is shallower.
Q. Where do you think Williams fits in the F1 pecking order at the moment, because you don't have the resources of a Ferrari or McLaren to throw money at winning a title?
PH: You have to recognise that, albeit that maybe it was maybe a fairytale story and albeit that the money that was spent to create the design was enormous, only a year and a half ago, Brawn GP won the world championship. And in the year they won the world championship they were a company of 450 people with a quite a small operating budget - although a lot of money was spent to create the design of that car.
So it is always possible. We have fully competitive resources, facilities and equipment. Maybe in terms of the number of people we are not quite as big as some of our competitors, but there is really no reason other than capability of our design engineers as to why we cannot get back to being competitive.
Q. What about the form of the current car? What is the feeling after the Valencia test?
PH: I went there for day two and three, and I am pretty pleased with what I saw. I think the car has a lot of development potential and I think it will be a very competitive car. But there is a lot of work to do between now and the beginning of the season.
Access even more news on Autosport.
Register for free to increase your monthly limit from 15 to 25 stories - or subscribe today and get unlimited access.
Get unlimited news
Full access to our news and in-depth Autosport Plus features - all in an ad-free enviroment.
Subscribe to Autosport Plus
Get 10 free extra stories
A quick upgrade and you'll boost your monthly news limit instantly - for free.
Register for free