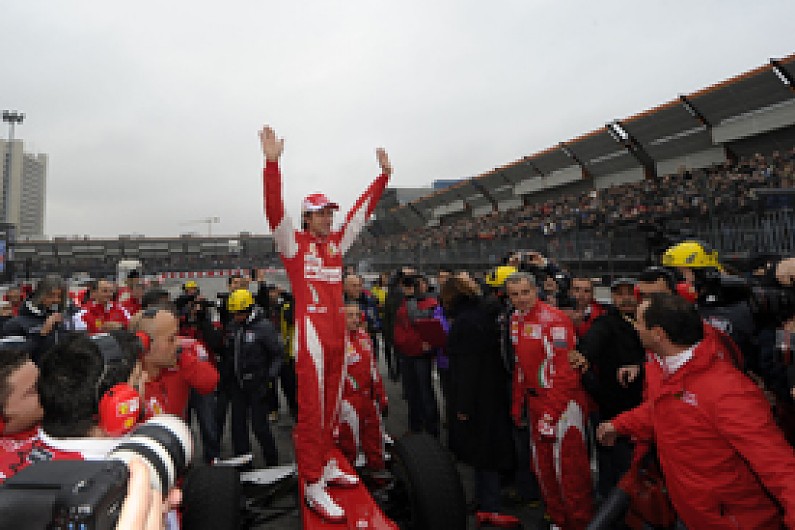 Luca Badoer said his only regret as his 13-year stint as a Ferrari test driver came to an end was that he had only twice managed to race for the team in Formula 1.
The 39-year-old Italian had a farewell demonstration run in a 2009 Ferrari F1 car at the Bologna Motor Show today.
"Even after so many years of doing it, driving a Formula 1 car here, so close to the spectators, so as to let them get a close up feel for the power of these cars is a feeling one never gets used to," said Badoer.
"Plus, today's experience was more emotional than usual, because it is my last appearance in my role as official Ferrari test driver."
Badoer, who had previously raced for Scuderia Italia and Minardi in F1, originally joined Ferrari in 1998. He spent the vast majority of the next decade as the lynchpin of the team's testing efforts, but also raced in the European and Belgian Grands Prix in 2009 following Felipe Massa's head injury and the neck issue that prevented Michael Schumacher from stepping into his place.
However Badoer's comeback was not a success, and after struggling at the back of the field at both events, he was stood down in favour of Giancarlo Fisichella.
"The only regret is that I was only able to do two races," Badoer admitted. "The team had confidence in me at that time and that is something I will always be grateful for.
"Unfortunately, at the time, I had not been driving for 10 months and found myself at the wheel of a car that was difficult to adapt to and so I could not show what I could do."
He said he had been quite happy to spend the majority of his F1 career in a largely unseen role.
"The thing I will miss most is driving the Formula 1 car. I have never been one for the bright lights, as the one and only thing I wanted centred on my job of taking a car to its limits, working out where there was room for improvement," said Badoer.
"Although this is something I have missed for quite a while now, as testing has been cut back and there is not much for a test driver to do."
Autosport has produced a standalone special magazine to celebrate our 70th birthday. All current print subscribers will receive a copy for free. To order your copy of the 196-page Autosport 70th Anniversary issue, please go to: autosport.com/autosport70th