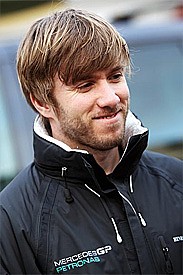 The Mercedes GP team has confirmed that it has released Nick Heidfeld from his contract in order for the German to become Pirelli's official test driver.
Heidfeld was the team's reserve driver for this season, but will start driving for Pirelli at the start of today's test at the Mugello circuit, where the German will be at the wheel of a 2009 Toyota F1 car.
"We can confirm that the team is pleased to allow Nick Heidfeld the opportunity to join Pirelli and contribute to their development work for the company's imminent return to Formula 1," said Mercedes GP boss Ross Brawn.
"Nick is an extremely experienced driver and we are confident that his racing knowledge and technical feedback will prove extremely useful to Pirelli and therefore of benefit to the sport as a whole.
"Nick has been a real asset to Mercedes GP Petronas since joining our team this year and we are pleased to see his career progressing."
Heidfeld was left without a racing seat following last season, when he raced for BMW Sauber before the German car maker withdrew from the sport.
He joined Mercedes this season as third and reserve driver but has not driven the car.
"First of all I would like to thank Ross Brawn, Norbert Haug and Nick Fry for allowing me the opportunity to become Pirelli's official test driver," he said. "The team has always said that they would not stand in my way if such a chance arose and they have kindly allowed me to take up this exciting new role.
"I would like to thank everyone at Mercedes GP Petronas for the great cooperation that we have had this year. I have greatly enjoyed supporting the team in my position as Reserve Driver and have felt welcome right from the outset.
"It was impressive to have the opportunity to work with the current World Champions and I wish the team all the best for the remainder of the season and beyond."
Mercedes said it was in no hurry to find a replacement for Heidfeld.
"We have no plans at the moment to appoint a new reserve driver," said a spokesperson.