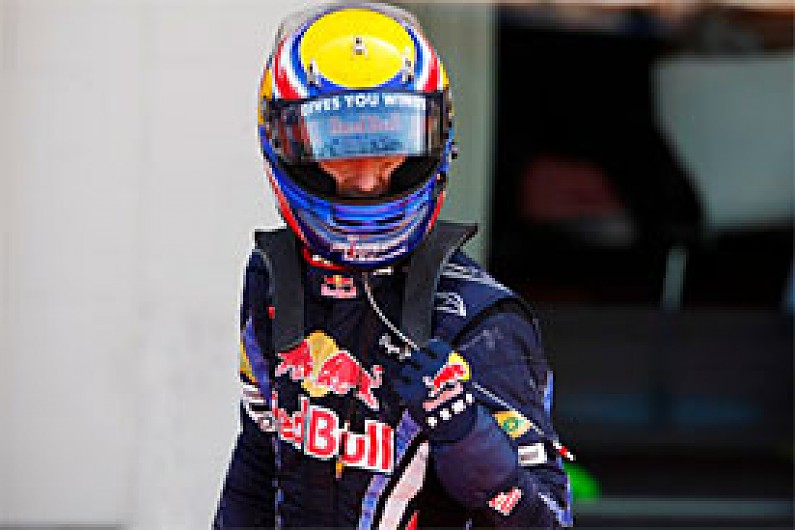 Mark Webber says he would not have signed a contract extension with Red Bull Racing had he believed he was going to be treated the way he was at Silverstone this weekend.
Red Bull has been surrounded by controversy since yesterday after the team decided to give one of Webber's front wings to team-mate Sebastian Vettel.
The decision left Webber clearly unhappy amid accusation of favouritism Red Bull has denied.
The Australian, starting from second position behind Vettel in today's race, went on to take a commanding win, and made it clear he was still angry by telling his team on the radio, "Not bad for a number two driver".
Webber hopes yesterday's situation was a one-off and he claimed he would not have signed a new contract with Red Bull if he had believed he would be treated that way.
"Yesterday was really a unique situation, and it was the first time we had one bit. I would never have signed a contract for next year if I believed that was the way going forward," said Webber after the race.
"I was disappointed. We will see how it goes in the future, I will keep doing what I am doing and I hope it is enough."
"I have had a few hurdles in my career, sometimes privately as well, so I think you can judge a person's character by how they come back from adversity. Some drivers have that, I've had a bit more than others.
"It can work but obviously it is not how long is a piece of string - you have to make sure it is not constantly happening because it can test you too much but if the balance is right it can put some fuel on the fire."
He said the team will sit down and talk things over tomorrow.
"Yesterday I wasn't happy, clearly, and I am sure we will have some pretty decent chats tomorrow. Today went well for me... and that is it," he said.
When asked if today's win was poetic justice, he replied: "An appointment with Karma? Yeah."
"I don't think it should happen, honestly. I wasn't massively in favour of the decision but that is the way it goes sometimes....some of the drivers offered me front wings on the parade lap from their cars but I said stick with what I've got. Seb didn't!