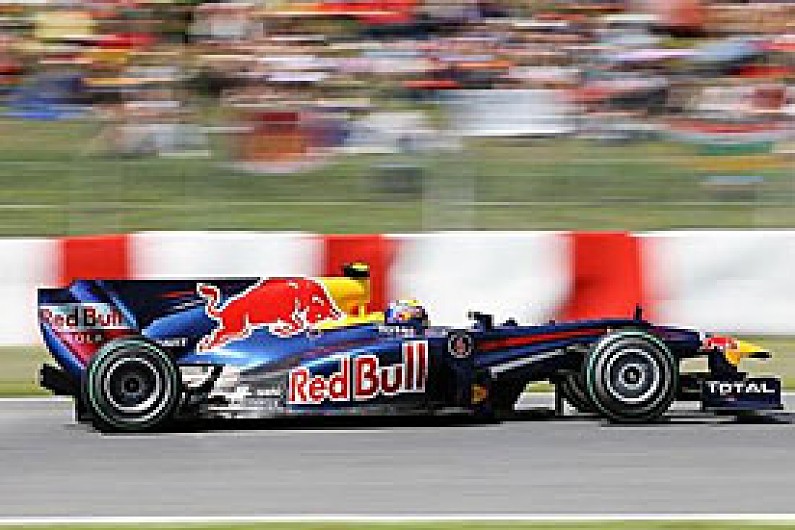 Mark Webber led a dominant Red Bull 1-2 in qualifying for the Spanish Grand Prix, coming out on top in a tight head-to-head contest with Sebastian Vettel.
The Red Bulls had comfortably topped the first two qualifying sessions, with Webber leading the way both times. He remained quicker than Vettel after their first runs in Q3, but had to dig deep after his team-mate briefly snatched top spot in the closing moments.
Behind them, Lewis Hamilton was best of the rest for McLaren, but the 2008 world champion was 0.8 seconds adrift of Webber's pole lap.
Local hero Fernando Alonso took fourth for Ferrari, while Jenson Button completed the top five in the second McLaren.
Behind them, Michael Schumacher outqualified his Mercedes team-mate Nico Rosberg for the first time this season in sixth, and the two Germans were split by Robert Kubica's Renault.
Felipe Massa was only ninth in the second Ferrari, while Kamui Kobayashi completed the top 10 as Sauber put in a stronger all-round performance than the team managed in the first four races, with Pedro de la Rosa managing 12th on the grid.
Kobayashi's last-gasp lap in Q2 meant that Adrian Sutil was bumped down to 11th for Force India, but the German could take some comfort from qualifying six places ahead of his team-mate Vitantonio Liuzzi.
Rubens Barrichello, who decided against running the Williams update package after trying it in free practice, was the high-profile casualty in Q1. The Brazilian blamed traffic for his plight, and it was de la Rosa who bumped him down to 18th with just 20 seconds left on the clock.
Behind the Brazilian, Jarno Trulli led the battle of the new teams as the Lotus upgrades enabled the team to comfortably defeat Virgin, while Karun Chandhok was the quicker of the HRT drivers on the back row of the grid.

Pos  Driver         Team                   Q1        Q2        Q3            
 1.  Webber         Red Bull-Renault       1:21.412  1:20.655  1:19.995 
 2.  Vettel         Red Bull-Renault       1:21.680  1:20.772  1:20.101  
 3.  Hamilton       McLaren-Mercedes       1:21.723  1:21.415  1:20.829  
 4.  Alonso         Ferrari                1:21.957  1:21.549  1:20.937  
 5.  Button         McLaren-Mercedes       1:21.915  1:21.168  1:20.991  
 6.  Schumacher     Mercedes               1:22.528  1:21.557  1:21.294  
 7.  Kubica         Renault                1:22.488  1:21.599  1:21.353  
 8.  Rosberg        Mercedes               1:22.419  1:21.867  1:21.408  
 9.  Massa          Ferrari                1:22.564  1:21.841  1:21.585  
10.  Kobayashi      Sauber-Ferrari         1:22.577  1:21.725  1:21.984  
11.  Sutil          Force India-Mercedes   1:22.628  1:21.985    
12.  de la Rosa     Sauber-Ferrari         1:22.211  1:22.026    
13.  Hulkenberg     Williams-Cosworth      1:22.857  1:22.131    
14.  Petrov         Renault                1:22.976  1:22.139    
15.  Buemi          Toro Rosso-Ferrari     1:22.699  1:22.191    
16.  Alguersuari    Toro Rosso-Ferrari     1:22.593  1:22.207    
17.  Liuzzi         Force India-Mercedes   1:23.084  1:22.854    
18.  Barrichello    Williams-Cosworth      1:23.125
19.  Trulli         Lotus-Cosworth         1:24.674
20.  Kovalainen     Lotus-Cosworth         1:24.748
21.  Glock          Virgin-Cosworth        1:25.475
22.  di Grassi      Virgin-Cosworth        1:25.556
23.  Chandhok       HRT-Cosworth           1:26.750
24.  Senna          HRT-Cosworth           1:27.122

All Timing Unofficial