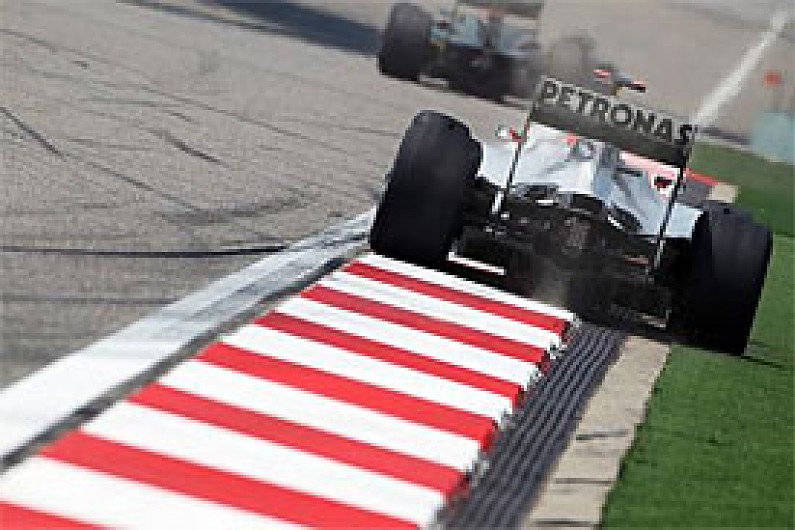 Michael Schumacher is not expecting any changes to the running order at the Chinese Grand Prix, but he reckons his Mercedes GP team is getting closer to some of its rivals.
"Not really," said Schumacher when asked if he was expecting changes to the pecking order in China.
"Obviously the weather will have a big impact, like in Malaysia. I think the ranking stays as it was before. We have made slight improvements with the car, but nothing major."
He added: "We are improving steadily. We are in the situation where you have Red Bull, Ferrari fighting out front, then you have McLaren, us and Renault in a group just behind that.
"We seem to have got closer to some of the guys in front, but we have to prove that on Sunday."
Schumacher finished a promising fourth quickest in second practice on Friday, nearly four tenths of a second off Lewis Hamilton's pace.
The German admitted McLaren's top speed, aided by the use of its F-duct, was a boost for the British squad in Shanghai.
"It's naturally helpful to have the speed they have, but it's only good for the ones who have them," he said. "I think the only reason why I was as quick is because I had a very good tow ahead of me. Otherwise we are certainly slower down the straight."
And the seven-time champion claimed his practice had been better than expected after his promising times.
"It's actually been better than I expected it to be, especially with fuel. The handling was pretty much okay."