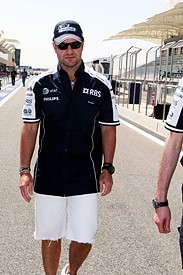 When Rubens Barrichello met the media in the Bahrain paddock this morning, reporters were keen not just to hear about his thoughts on new employer Williams's prospects, but also to get his views on the end of mid-race refuelling, as he had raced in the previous full tanks era in 1993.
AUTOSPORT was there to hear Barrichello's analysis.
Q. Where do you think Williams are at this year?
Rubens Barrichello: I tell you, I don't think anybody really knows where anybody is. We understand that in true pace, for a qualifying lap, probably, the Red Bull is the car to look at. We understand that probably the Ferrari is the long pace runner, but after that I don't think we understand anything because unless we know what level of fuel people were using I think it's just guessing and predictions. They could all be fake predictions.
Q. In your whole career has there ever been a season where you began not knowing where you stood compared to the other teams?
RB: That's a good point. Right now it has never felt so open like this. In 1993, you had a Williams that was so far in front or a McLaren that was trying to get Senna so was trying to go for quick times. In those days you had a lot of fuel on board too, but the variations? last year you know it was 50 kilos, 60 kilos max. Some people would run 40. Now you are talking about 10 to 170! And that can add five seconds on things, so it's really open. It's really nice to have that type of challenge.
Q. Some drivers say it is a little bit boring to drive with another 60 kilos on board because it is so slow, but isn't it a different challenge just to be as quick as possible.
RB: There is two ways of looking at it. It is sad in a way because racing drivers are looking for speed. So when you do a run on low fuel and then you go out with it all onboard you do feel the car so lazy and so slow. But for me it changes the technique as well and you have got to save fuel, but you still have to do the same times, and you have to comply with that. That makes it a big challenge.
Q. Has it turned it more into a thinking man's game?
RB: Oh yeah. It has to. If you flat spot your tyres on the first lap you're done. So yes you have got to be much more of a thinker.
Q. Is it easier to screw the brakes or the tyres in the early laps?
RB: The tyres. Because the brakes might be cold, so if you overreact on the pedal you just flat spot the tyre. You cannot do 70 laps on a flat spot tyre but you can drive with brakes that are not working as good.
Q. Will every driver be able to adapt or do you think there will be some who are just not going to able to cope?
RB: They will have to. We need to understand what sort of a pace we might have at the beginning of a race. I think it's different from the 1993 times because we say we are looking after the car, but all we need to work is to go flat out from the beginning to the end with tyres and the amount of fuel you have on the car. I remember '93 days when you had a board that said, 'keep it straight' or 'look after tyres' or 'look after the engine'. I don't think you will be able to do that anymore these days, you just gonna go flat out with what you have on hand.
Q. Do you think because of the fuel loads the first laps will be less competitive than last year?
RB: I think there will be more overtaking most probably. I think it is going to be a mixed thing because there will be cars that are eventually better on low fuel than high fuel, or the other way around, so I think the grid is going to be a bit more mixed and that will allow more overtaking. Which hopefully we are going to get.
Q. Do you think some teams will try crazy strategies to try and gain track position?
RB: Some. It depends on traffic, but at least in the first couple of laps, when a guy makes a pitstop he's going to be able to overtake, but the difference on pace might be greater than a second and when we are talking that much it's an overtaking opportunity.
Q. How often do you think the strategy will be decided during the race?
RB: It's a fifty-fifty now. It used to be that you could come in at any time in 1993. You could come in if you felt like people were holding you up, but now you have so much calculation about where you will end up with traffic and who you are going to be dealing with. You could be behind a guy who is 10km/h faster on the straight so that might determine the time when you stop on the pitlane.
Q. Are you excited by it all?
RB: Very much yes! My wife said I look young this so guess she was saying that I look eager to leave her at the hotel and come to the track!
Q. Do you still have the same energy and excitement as you did last year after the positive tests with Brawn before the season?
RB: Yes absolutely. It's a different thing altogether because with Brawn there was much more suffering because we didn't know if we had a car or not and then bang it was a super car. So there was also a relief. But this one was a stressful February with lots of mileage. I think Williams covered the second most mileage behind Ferrari.
It was stressful because we were focused on mileage. Even if you had torrential rain it didn't matter because you had to do that 100 laps, it was all about running. But in a way that's very different from last year. So if you are asking me do I have a quick car to perform? My feet are on the ground but at the same time I am letting them fly a little bit because I don't know, as you guys don't know, who is who.
Obviously you have a good feeling within yourself. Apart from the top four, you have Force India, Williams and Sauber most probably that have some capacity to get in the middle and maybe actually surprise but it is up to us to do a good job and get it done. I don't think we had any notice from the winter test to say 'Yes this is it', or 'That is that'.
Access even more news on Autosport.
Register for free to increase your monthly limit from 15 to 25 stories - or subscribe today and get unlimited access.
Get unlimited news
Full access to our news and in-depth Autosport Plus features - all in an ad-free enviroment.
Subscribe to Autosport Plus
Get 10 free extra stories
A quick upgrade and you'll boost your monthly news limit instantly - for free.
Register for free