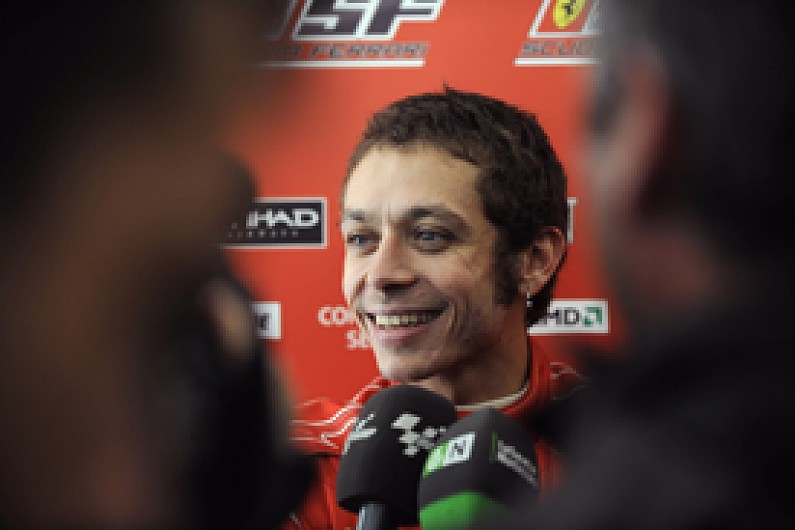 Valentino Rossi was ecstatic after lapping close to recent Formula 1 pace at the end of his two-day Ferrari test at Catalunya.
The MotoGP champion set a time of 1m21.900s during a qualifying simulation late this afternoon. Although direct comparisons are impossible as Rossi was using a 2008 Ferrari chassis fitted with GP2 specification slick tyres, Jenson Button's pole time at the venue last year was a 1m20.527s, while Kimi Raikkonen took the top spot on the 2008 grid with a 1m21.813s.
"We kept the last three quarters of an hour to try a 'time attack' with little petrol and fresh tyres," said Rossi. "I would have given anything for such a lap time."
He added that he found the Barcelona track more enjoyable than Mugello, the venue for his last F1 test in November 2008.
"It's more fun here, because it's a little bit easier," said Rossi. "It's more effort in Mugello, but this track here is really wonderful, with motorbikes and cars, although I have to say that Turn 10 is a little tight and you're braking much later."
Ferrari's Luca Baldisserri said Rossi had made great strides during the test, which had been disrupted by poor weather.
"We tried different set-ups and he improved a lot," said Baldisserri. "This means that the driver learns quickly and has room for improvement."
Rossi will now hand the F2008 over to Felipe Massa, who will test tomorrow to continue his preparation for returning to F1 after last year's head injury.