After the dust had settled at Interlagos last Sunday night, no one could remember a more dramatic or closely contested season finale than the one that encapsulated the 2008 Brazilian Grand Prix.
So autosport.com asked Adam Cooper to relive the emotions in the pitlane in the immediate aftermath of Lewis Hamilton's breath taking, and historic, title victory, and asked him the question: Was this the greatest season finale of all time?
There was a nice touch at Interlagos as I waited alongside ITV's Ted Kravitz and some other TV crews about an hour after the end of the Brazilian GP.
As rain continued to fall, Felipe Massa had been doing the rounds of the broadcasters, speaking to the Brazilians, Germans and the Italians. Naturally the whole process was taking time but he remained patient and courteous, coming up with astonishingly composed replies, bearing in mind the huge disappointment he'd just undergone.
He'd yet to have a chance to go back and see his team and family, and his wife decided she'd had enough of waiting. Instead she came down to the TV interview area and waited for her man to finish speaking to the Italian crews. When the two finally embraced, Felipe's eyes told their own story.
I don't think a word was said - it didn't have to be. It was also deeply affecting moment that the few of us who witnessed it will remember for a while, and it was far removed in tone from the craziness that was going on further down the paddock at McLaren.
And it had been an emotional day in many ways. For me one of the most touching cameos came in the Red Bull garage, when David Coulthard walked in just minutes before he was due to be strapped into the car. He got a round of applause from the whole crew as a lone bagpiper piped him in.
DC even did a little Scottish jig as he tried to make light of it all, but I'm sure that it was a tough few minutes for him as he forced himself to focus on the race ahead. One that turned sadly turned out to be rather short.
Meanwhile at neighbouring McLaren the tension was palpable before the race. Everything had been done that could possibly be done, so team members were standing around. There were a few nervous conversations, but mostly crew members just started across the track to the grandstands, from where a regular torrent of anti-McLaren feeling emerged.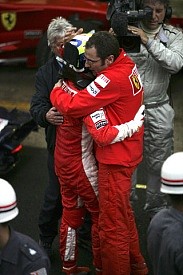 With about 20 minutes to go before heading to the grid Lewis Hamilton emerged into the garage, and proceeded to walk around and shake the hands of everyone, including the crew of the sister car. He looked about the most relaxed person in the place. Impressive.
Ron Dennis didn't see this, but when he came into the pitlane I told him about it: 'That's what makes him different,' he said. So how did the boss feel? 'We've done everything we can. There's no point in having any angst about it.'
A couple of hours later Lewis was back in the garage, and this time the atmosphere was rather different. It was total madness in fact, as half the world's media and many hangers on pushed their way in as the new champ began the celebrations with his guys.
Emotions were of course heightened by the way that extraordinary race ended. Everyone in the place, and not just the Ferrari and McLaren camps, experienced the amazing roller-coaster of fortunes over the last three laps, and for the Woking guys that made the last second victory all the sweeter. Throw in nearly a decade of what Ron jokingly called 'famine,' not to mention all the craziness of last season, and you had the ingredients for some serious celebrations as the pressure was finally relieved.
Nobody had experienced anything like it before. Well perhaps one man had, veteran sporting director Dave Ryan, who has been with the team since 1974. He was at Fuji in 1976 for an uncannily similar situation. In the closing laps a pit stop dropped James Hunt out of a title winning position, but he charged back into contention and got the third place that he needed. It wasn't quite the last corner like this time, but it wasn't far off in terms of sheer drama.
Not many other title showdowns have matched this cliff-hanger, certainly since I've been witnessing them first hand. My first was at Adelaide in 1994. Of course there was the drama of the Hill/Schumacher crash, but as soon as Damon retired, Michael was champion. The same thing happened in 1996, when Jacques Villeneuve retired at Suzuka, and Hill was instantly crowned champ.
It was a bit less clear cut at Jerez in 1997, the scene of another Michael-inspired collision, since Jacques still had to finish in order to secure the title. Ditto Mika Hakkinen in 1999, when Eddie Irvine led into the final race. That was certainly the one in which I had the most direct personal involvement, since Eddie was a pal with whom I'd spent a lot of time, and I knew quite a lot about the dramas going on behind the scenes.
There have been other final round conclusions, and perhaps the most tense was last year's, when three drivers were in the frame and again Kimi Raikkonen could not afford to put a wheel wrong in the closing laps.
But nothing has ever matched what we saw last weekend, and I struggle to think of a comparison in any other major series, never mind at the very pinnacle of the sport. Will we see anything like it again? Well, I wouldn't want to bet on another last corner title resolution happening in our life times.
Next year we'll be lucky to see the title go down to the last round, as the new world of KERS, slick tyres and reduced downforce ensures that there is no chance of the field being as closely bunched as it was this year. Five teams won races, four others earned podiums. The only one that missed out was Force India - and even there, a fourth place at Monaco went astray through no fault of Adrian Sutil.
What a race - what a year - what a champion. In fact two top blokes who, all things considered, both truly deserved to win the title. This post-Schumacher era isn't too bad after all, is it?