Valtteri Bottas topped second practice for Mercedes after Red Bull's Max Verstappen led the opening session for the Formula 1 Abu Dhabi Grand Prix. Here's how and when to watch qualifying.
Following a dramatic Sakhir GP, F1 has arrived in Abu Dhabi for the 2020 finale, with world champion Lewis Hamilton returning to action after missing last weekend's race due to a positive COVID-19 test.
Despite not leading either of the Friday practice sessions, Hamilton made a solid comeback by slotting into second place behind Bottas in FP2, describing his return as like the "first day back to school" as he reacclimatised to his Mercedes W11.
It means his Sakhir GP replacement George Russell has returned to Williams for the 2020 F1 finale, which in turn has seen Jack Aitken resume his reserve driver role for the team.
Pietro Fittipaldi remains in place at Haas with Romain Grosjean ruled out of his final F1 race by injury following his horrendous Bahrain GP crash two weeks ago. The team's driver and newly-crowned F2 champion Mick Schumacher was also in action in Abu Dhabi for FP1 as he steps up his preparations for his F1 debut.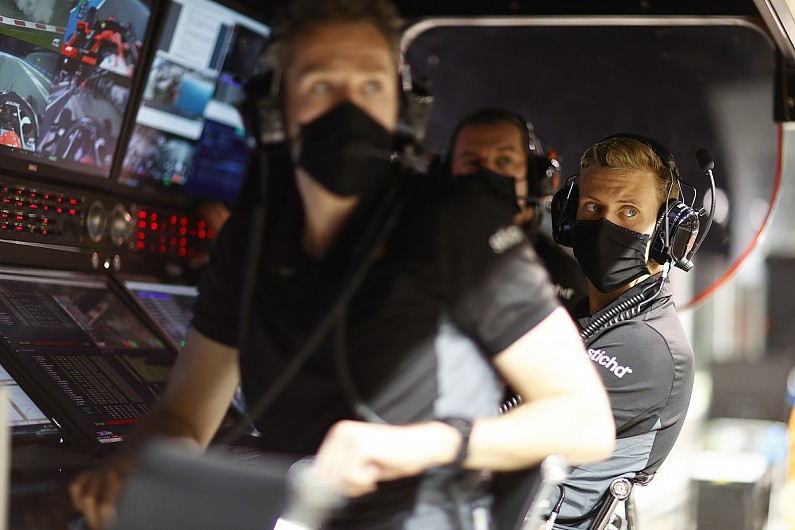 Will fans be allowed at the Abu Dhabi GP?
Fans will not be allowed to attend the Abu Dhabi GP, with the Yas Island going into a 'biosphere' bubble which will only include F1 personnel, circuit officials and hotel workers in the area. The strict lockdown is part of the United Arab Emirates' COVID-19 measures.
What time does qualifying for the Abu Dhabi Grand Prix start?
Qualifying for Abu Dhabi GP starts at 5pm local time (1pm GMT), using the regular Q1, Q2 and Q3 knockout session format.
Date: Saturday 12 December 2020
Start time: 5pm local time - 1pm GMT
How can I watch qualifying?
In the United Kingdom every F1 practice, qualifying and race is broadcast live on Sky Sports F1, with qualifying coverage starting at 12pm GMT.
Channel 4 is broadcasting highlights of qualifying for the Abu Dhabi GP at 4:30pm GMT. Autosport will be running a live text coverage of qualifying.
What's the weather forecast for qualifying at the Yas Marina Circuit?
Mostly clear conditions are forecast for Saturday evening at the Yas Marina Circuit and it is expected to remain dry throughout. Temperatures are set to be 24 degrees Celsius at the start of qualifying - around the same conditions as the Bahrain GP two weeks ago.
Results - Abu Dhabi GP FP2
| Pos | Driver | Car | Gap |
| --- | --- | --- | --- |
| 1 | Valtteri Bottas | Mercedes | 1m36.276s |
| 2 | Lewis Hamilton | Mercedes | 0.203s |
| 3 | Max Verstappen | Red Bull/Honda | 0.770s |
| 4 | Alexander Albon | Red Bull/Honda | 0.987s |
| 5 | Lando Norris | McLaren/Renault | 1.162s |
| 6 | Esteban Ocon | Renault | 1.229s |
| 7 | Sergio Perez | Racing Point/Mercedes | 1.230s |
| 8 | Charles Leclerc | Ferrari | 1.232s |
| 9 | Daniel Ricciardo | Renault | 1.232s |
| 10 | Lance Stroll | Racing Point/Mercedes | 1.284s |
| 11 | Daniil Kvyat | AlphaTauri/Honda | 1.320s |
| 12 | Carlos Sainz Jr. | McLaren/Renault | 1.340s |
| 13 | Pierre Gasly | AlphaTauri/Honda | 1.624s |
| 14 | Kimi Raikkonen | Alfa Romeo/Ferrari | 1.792s |
| 15 | Sebastian Vettel | Ferrari | 1.922s |
| 16 | Kevin Magnussen | Haas/Ferrari | 2.228s |
| 17 | Antonio Giovinazzi | Alfa Romeo/Ferrari | 2.288s |
| 18 | George Russell | Williams/Mercedes | 2.541s |
| 19 | Pietro Fittipaldi | Haas/Ferrari | 2.751s |
| 20 | Nicholas Latifi | Williams/Mercedes | 2.856s |