George Russell thought his lead over Valtteri Bottas was "too good to be true" before the pit stop blunder and puncture that cost him a maiden Formula 1 victory.
On his Mercedes debut deputising for Lewis Hamilton, who was ruled out after testing for positive for COVID-19, Russell qualified second and took the lead from team-mate Bottas off the line.
Russell built up a decent lead through the first stint of the race, and pitted three laps before Bottas, allowing him to increase his advantage to around eight seconds thanks to the undercut.
But a safety car period prompted Mercedes to try and double-stack its cars in the pits, only to fit Russell's car with Bottas' tyres, forcing the Briton to come in one lap later and drop to fifth.
A subsequent fightback was then ended after a late puncture, resigning Russell to a ninth-place finish at the chequered flag.
PLUS: The unseen mistake that nearly cost Perez victory in Russell's race
It marked Russell's first time leading a race since winning the Formula 2 title in 2018, having spent his F1 career to date racing towards the back of the grid with Williams.
"It was nice to be in that position, to be leading the race, to be at the front, something that I've not had for so long," Russell said when asked by Autosport about the sensation of leading a race again.
"But in an odd way as well, as a driver, apart from the fact that you want to win, you want to just get the best result possible with your equipment.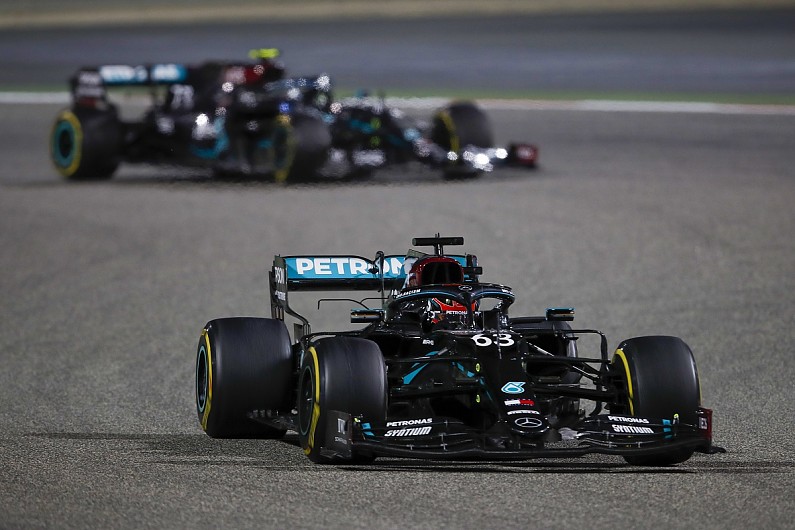 "My 18-month spell at Williams, we have some fantastic races which are coming home in a P12 or a P14.
"That is almost a victory for us in that position. Or qualifying into Q2, that's a pole position for us. That buzz I get from that performance, it's still massive. But ultimately, winning is another level.
"But I didn't want to get carried away with myself. I was still focused on the job.
"Probably halfway into the race, I had like an eight-second lead over Valtteri. I thought, 'this is too good to be true'.
"And turns out, it was too good to be true."
Russell was able to fight past Bottas on the run to Turn 1, but admitted after the race the start was what he was most concerned about, given his traditional weakness and the fact the clutch paddles were designed for Hamilton.
"The start was a phase of the race that I was most nervous about all weekend to be honest," Russell said.
"I was using Lewis's clutch paddles that were moulded to his hands and fingers, didn't fit me properly.
"I must have done hundreds of practice starts in our little rig that we have set up in my room, in the car just practice, practice, practice.
"I was super pleased just to get off the line, good start, down the inside of Valtteri."