Esteban Ocon says that his Renault Formula 1 team mate Daniel Ricciardo has been "blessed" in 2020 after losing out to the Australian once again in qualifying in Bahrain.
Ricciardo has had the upper hand on one-lap pace all season, and at Sakhir he edged out Ocon by just 0.002s as the pair earned sixth and seventh places on the grid.
Ocon had been ahead after the first round of laps in Q3, but ultimately fell behind after Ricciardo's final run.
The French driver has only outqualified Ricciardo once in 2020, at July's Styrian Grand Prix.
"He is blessed, obviously he had a very good year, a very strong year," Ocon said of Ricciardo.
"He was faster than me most of the season, but when we came close, it's always in his favour. It's up to me to change that for the next two.
"[It was] a good session I think overall, very well managed by the team. We managed to get through Q1 with only one set, which was the target, and we've done it.
"Then qualifying on the medium was also something not easy, it's never an easy thing to change compounds between sessions. But we made it work in only one run, because of the red flag.
"So that was also nice, and in Q3, the car was working very well. And I was pretty happy with the balance, and I was feeling comfortable. It's a track that I really enjoy to drive. So I took pleasure today, it was great fun."
Despite being ahead once again Ricciardo suggested that the gap should have been bigger, and says he let Ocon "get too close".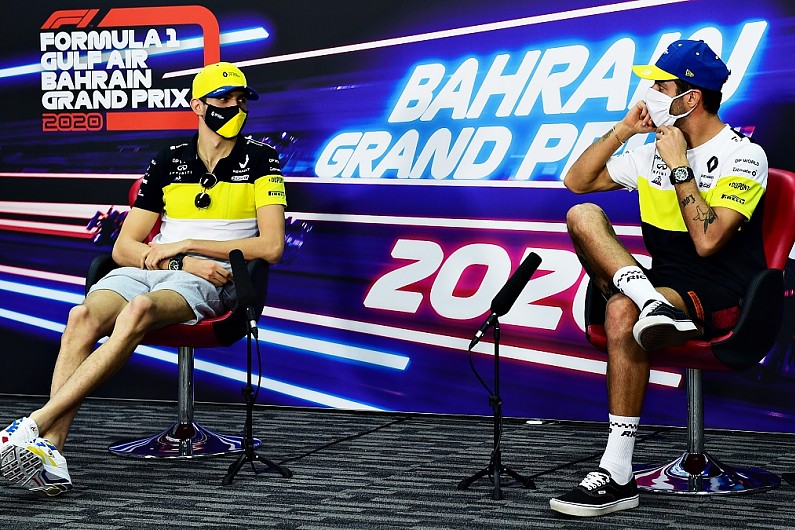 The McLaren-bound Ricciardo has outscored Ocon considerably in 2020, with 96 points to the latter's 40, and the Bahrain margin in qualifying is the closest that the two have been on a Saturday.
"I mean, it all counts," he said. "When I see that, I'm obviously I'm glad to be on that end of it. But the competitor in me says, it's not enough, I let him get too close.
"I just watched Esteban's lap on the onboard, and he did a really strong last lap. So it was clean, and it definitely looked like one of his good ones this year.
"And I think also, any margin, at the end of the day, it's a grid spot. And that's three or four extra metres that I'm closer to Turn One.
"So, obviously in the battle with [Sergio] Perez, in the drivers' and constructors', I'm definitely happy to have been two-thousands quicker today."
Ricciardo, who lost fifth place to Perez right at the end of Q3, added that it had been a good day for Renault as two of its competitors had fallen by the wayside in Q2.
"Certainly from a team point of view, we're pretty happy," he said.
"Mr Perez is still in front, but otherwise, we are sixth and seventh, and poised to go well. Carlos [Sainz Jr] I guess had a mechanical issue, and Lance [Stroll] was out.
"So I think Perez is really our guy, but everyone else seems to be a bit further back. So we're in a good spot. Not a bad day, pretty stoked with that one."