Lewis Hamilton claimed pole position for the Italian Grand Prix ahead of Mercedes team-mate Valtteri Bottas and McLaren's Carlos Sainz Jr. Here's how and when you can watch the race.
Reigning Formula 1 world champion Hamilton notched up his 94th career pole with another flawless performance in qualifying at Monza to beat team-mate Bottas by 0.069 seconds.
Sainz stunned to take third place in qualifying, admitting he was left "shaking" after his last lap to put his McLaren on the front of the second row ahead of Racing Point's Sergio Perez.
That left Max Verstappen only fifth for Red Bull having struggled for performance at Monza, but refutes the issue is down to the engine "party mode" ban which was introduced from this weekend.
McLaren's Lando Norris will join Verstappen on the third row of the grid ahead of Daniel Ricciardo for Renault, with Lance Stroll qualifying in eighth place for Racing Point.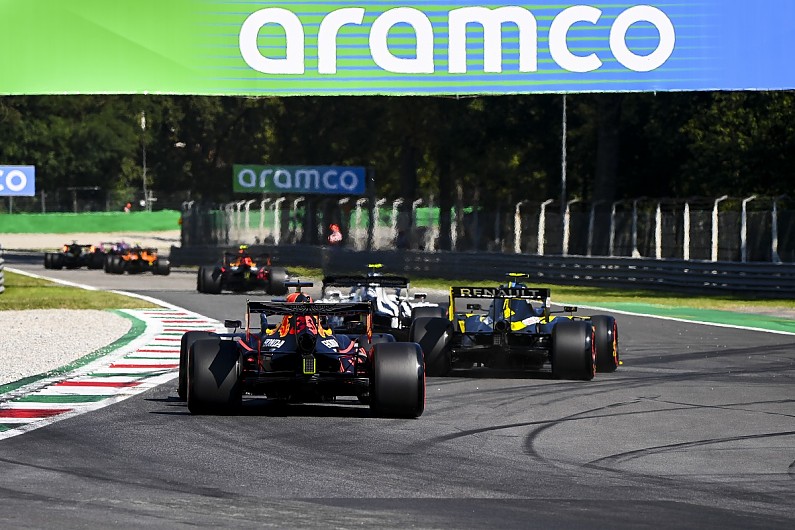 After having his first lap in Q3 deleted for exceeding track limits, Alexander Albon could only reach ninth place as AlphaTauri's Pierre Gasly rounded out the top 10 having shown strong form during practice.
But it was another nightmare qualifying for Ferrari, with Charles Leclerc in 13th place and Sebastian Vettel failing to get out of Q1 in 17th place.
It marks the first time since the 1984 Italian GP that no Ferraris will start inside the top 10 at Monza, with Leclerc conceding the team's struggles "hurt even more" at its home event.
During qualifying there was also focus on drivers fighting for a tow and track position, with an incident towards the end of the first session with Esteban Ocon, Nicholas Latifi and Kimi Raikkonen all put under investigation by the race stewards. No further action has been handed out to the trio, meaning they will retain their qualifying grid positions.
When is the F1 Italian Grand Prix?
Date: Sunday 6th September 2020
Start time: 3:10pm local time, 2:10pm BST
How can I watch the Italian GP?
In the United Kingdom, Sky Sports has exclusive live broadcasting rights (excluding the British GP), with the Italian GP race shown live on Sky Sports F1. Pre-race coverage will be starting at 12:30pm BST ahead of the race start at 2:10pm BST.
Channel 4 will be showing extended highlights of the race on Sunday evening, starting at 6:30pm BST.
Autosport is running a live text commentary for the Italian GP.
What is the weather forecast for the Italian GP?
Current weather forecasts predict sunny conditions at Monza on race day, with overcast conditions set to arrive during the race to provide a small chance of rain. The temperature is expected to be 26 degrees Celsius for the start of the race - three degrees cooler than the temperature for qualifying and Friday's FP2 session.
How many laps is the Italian GP?
The race is scheduled to be 53 laps of Monza, covering a total race distance of 306.720km.
Italian GP starting grid
| Pos | Driver | Team | Gap |
| --- | --- | --- | --- |
| 1 | Lewis Hamilton | Mercedes-AMG Petronas Formula One Team | 1m18.887s |
| 2 | Valtteri Bottas | Mercedes-AMG Petronas Formula One Team | 0.069s |
| 3 | Carlos Sainz Jr. | McLaren F1 Team | 0.808s |
| 4 | Sergio Perez | BWT Racing Point F1 Team | 0.833s |
| 5 | Max Verstappen | Aston Martin Red Bull Racing | 0.908s |
| 6 | Lando Norris | McLaren F1 Team | 0.933s |
| 7 | Daniel Ricciardo | Renault DP World F1 Team | 0.977s |
| 8 | Lance Stroll | BWT Racing Point F1 Team | 1.162s |
| 9 | Alexander Albon | Aston Martin Red Bull Racing | 1.203s |
| 10 | Pierre Gasly | Scuderia AlphaTauri Honda | 1.290s |
| 11 | Daniil Kvyat | Scuderia AlphaTauri Honda | 1.282s |
| 12 | Esteban Ocon | Renault DP World F1 Team | 1.347s |
| 13 | Charles Leclerc | Scuderia Ferrari | 1.386s |
| 14 | Kimi Raikkonen | Alfa Romeo Racing ORLEN | 2.039s |
| 15 | Kevin Magnussen | Haas F1 Team | 2.686s |
| 16 | Romain Grosjean | Haas F1 Team | 2.252s |
| 17 | Sebastian Vettel | Scuderia Ferrari | 2.264s |
| 18 | Antonio Giovinazzi | Alfa Romeo Racing ORLEN | 2.319s |
| 19 | George Russell | Williams Racing | 2.700s |
| 20 | Nicholas Latifi | Williams Racing | 2.830s |