Red Bull Racing Formula 1 driver Alex Albon said hitting a "river" on his final Q3 run cost him a potential third place on the grid for the Styrian GP.
Albon had to settle for seventh place, five positions and over half a second behind team mate Max Verstappen, but he was convinced that he should have been right behind the Dutchman without running wide on his best lap at Turn 4.
The Thai driver, who missed out on a first podium in last week's Austrian Grand Prix when he tangled with Lewis Hamilton and then had an electrical problem with his power unit, accepted blame for the time loss.
"[It was] just my fault, I braked a little bit later than I normally did," Albon said.
"We were on actually for a pretty good lap. I think P3 was almost, I won't say definite, but there was a lot of time there.
"I had a bit more margin that I knew of, and the thing is there's a river going to Turn 4, and I just locked the outside front wheel in the river and went wide.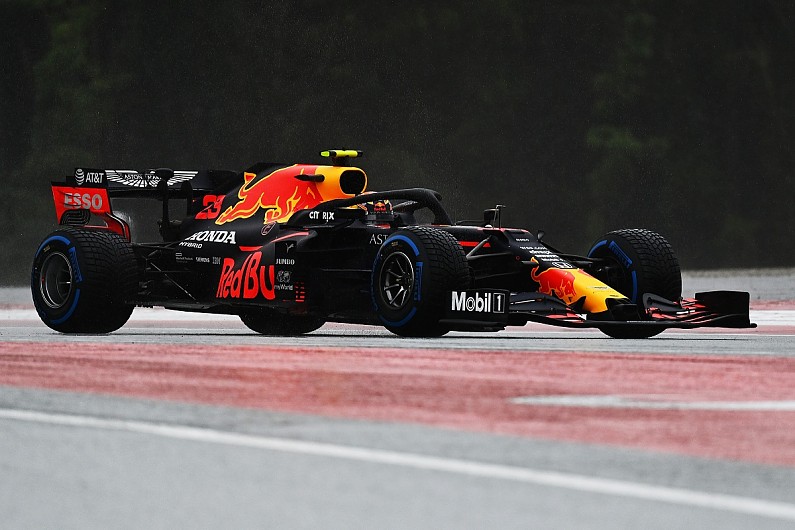 "In Q3 it was really hard rain until the last two minutes. That's where my mistake hurt me the most, because I locked up on the best lap, when the track was quick."
Verstappen was given a new nose concept to try last weekend, but both Red Bull drivers opted to run the team's older spec front wing for the Styrian GP with Albon explaining that it was "better suited" to the track.
Albon added that he was finding the RB16 "more difficult" to drive than he had one week ago, having suffered several spins approaching the limit in practice.
"This weekend I'd say I found a little bit more difficult than last weekend, I just need to figure out why," he said.
"I think the package this weekend's a bit better, but I'm just struggling to maximise it.
"Rain does tend to highlight areas with wherever you're you feel a bit weaker than others it can make the car harder to drive, like the rear being a bit on edge in some places."
Autosport has produced a standalone special magazine to celebrate our 70th birthday. All current print subscribers will receive a copy for free. To order your copy of the 196-page Autosport 70th Anniversary issue, please go to: autosport.com/autosport70th