Renault Formula 1 driver Daniel Ricciardo admits confidence had dropped at the team in recent weeks, and hopes his strong Japanese Grand Prix run will generate some "positivity".
Ricciardo and team-mate Nico Hulkenberg have regularly qualified well in the events after the summer break, but have experienced a difficult run of races with several spoiled by first lap incidents. The team earned just a ninth and a 10th place from Singapore and Russia.
In Japan Ricciardo was left stranded in 16th on the grid after suffering in qualifying with a rear suspension issue, which necessitated the replacement of a hydraulic line for the race. He subsequently put in a strong drive to an eventual sixth place.
"Certainly [after qualifying] I was thinking, 'same kind of crap,'" said Ricciardo. "And that we can't really get a break with issues and whatever. But I feel like we finally got a result we deserve.
"We've got back-to-backs coming up now, some fun ones. So hopefully we can get a string of points finishes and try to just get something for the team.
"We get there, and then we drop, kind of the heads drop a bit, and we're trying to get back up.
"So just for everyone's sake we need to try to keep some positivity before the year is out."
Ricciardo said he tried to take a 'smart' and 'attacking' approach at Suzuka as he ran a long first stint on medium tyres then switched to softs for a late charge. A rare request to the pitwall for help from team orders also paid dividends.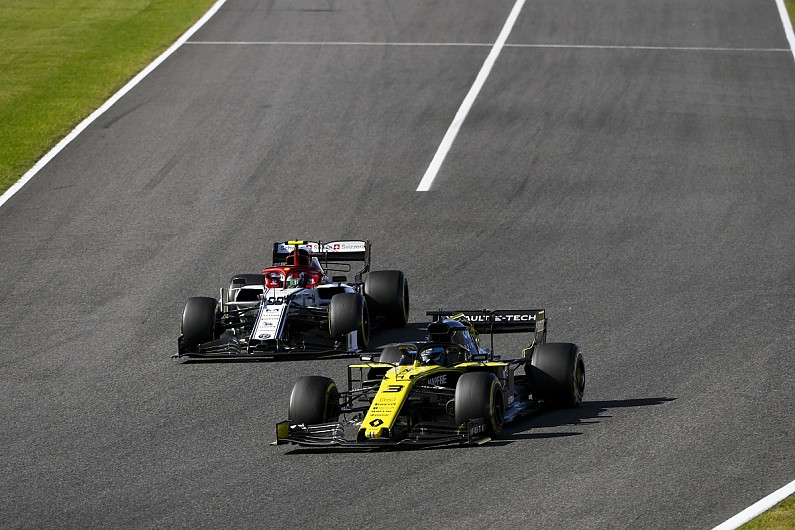 "It sounds simple - try and pass them as soon as you can - but being able to do it and not sit behind them for too long - especially in the first sector - and hurt the tyres, that really allowed me to keep the momentum going, and basically go through cars without damaging the tyres too much," he explained.
"We attacked in the right places and were smart about it, and obviously had pretty good straightline speed, which helped us out.
"It was fun. The DRS wasn't always easy, I was opting for the outside for Turn 1, and that gave me more momentum to carry the braking a bit later and a bit deeper, and also roll the brake off.
"You kind of hope that the guy on the inside doesn't run you wide, but I think everyone was relatively well-behaved, so I was happy with that."
With around 10 laps to go Ricciardo was caught behind team-mate Hulkenberg, who was on the opposite strategy.
At that point he asked the team and asked for their positions to be swapped - something Ricciardo said he is usually reluctant to do.
"I saw that we were all in a DRS train. I think he'd been in [Lance] Stroll's DRS for quite a few laps, so I came on the radio" he explained.
"I don't normally like to call for things, but I just said, 'guys if he can't pass, release me.' I said 'I'm sure I can get them'.
"I think after two laps they released me, and then I reassured them, 'guys I'm going to get them, trust me we've made the right decision.'
"And obviously we did. I thanked them after, and I think clearly in the end it was the right call.
"I don't always ask, because I think a lot of the time people ask looking for a favour.
"But I really believed I obviously had the pace and the tyre to do it, so that's why I had a lot of confidence that once being released I could get the guys in front."
Hulkenberg, who ended up 10th, said he had no qualms at all about accepting the order.
"He was on very young soft tyres, and he had a lot of pace in the car," he said.
"Of course for the team's sake, no question.
"As you saw, he went past everyone very easily. We were all stuck behind [Pierre] Gasly, who was holding up the pace.
"He was massively fast on the straights, that was the problem, and that Honda doesn't have much derate time on the straights, so it's really hard to come by him.
"In the corners he was just holding everyone back. I spent the entire second stint in traffic, and obviously that eats into your tyre life, and makes it quite hard."
He admitted Renault needed the boost of a double points finish.
"For the team it's just very positive that we managed to get something out of it, and some good points again, after the last few weekends were difficult and not as successful. It's quite a relief," said Hulkenberg.